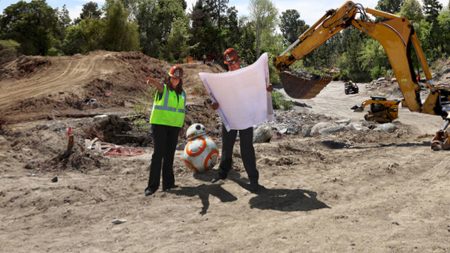 Work has officially begun on the Star Wars expansions at both the Disneyland and Walt Disney World Resorts. The announcement of the official groundbreaking at both resorts was made today via the Disney Parks Blog with an accompanying 360 degree photo. The photo included quite a few Star Wars bonuses that featured BB-8, R2-D2, Storm Troopers, and several other vehicles (both land and space).
The photo was taken on the 14-acre site at Disneyland that will become the largest-ever single-themed land expansion. It will also be the largest-ever single-themed land expansion at the Walt Disney World Resort as well and will be found at Disney's Hollywood Studios. This new experience will take guests to a planet that has never been seen before in Star Wars.
See the entire 360 degree photo on the Disney Parks Blog here.