Marvel has some big announcements this week.  A new Miles Morales series will be premiering soon!  All New X-Men will have a brand new storyline!  Dave Bautista is on the first of a new series on YouTube called "Ask Marvel."  Deadpool is celebrating his 25th anniversary!  And a big event in Marvel history will hit on Free Comic Book Day: Civil War II.  This is sure to change things in the Marvel Universe.  A couple of teases, one already mentioned in the Civil War II tease, but the other will be a big exciting mystery.  "Dead No More" is what we get as a tease to someone returning.  Is it the true Wolverine?  Modern day Jean Grey?  Cyclops?  Uncle Ben???  Only Marvel knows for now.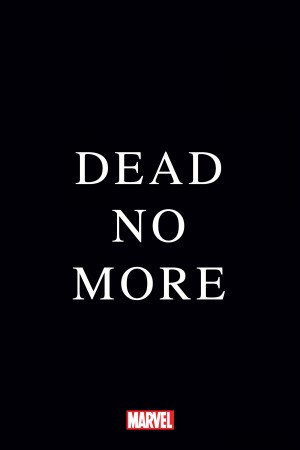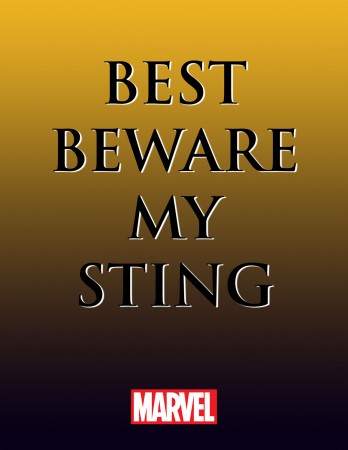 The Opening Salvo of CIVIL WAR II Will Be Fired on FREE COMIC BOOK DAY!
Plus the Debut of the All-New Wasp!
New York, NY—January 15th, 2016— The biggest heroes, the biggest creators and the biggest stories in comics are coming to FREE COMIC BOOK DAY this year!
Today, Marvel is proud to officially peel back the curtain on just one of our can't miss offerings for FREE COMIC BOOK DAY 2016! The biggest story of the year comes to your local comic shop in FCBD CIVIL WAR II #1, and fans can get their very first taste of the ensuing war this May! Before hero stands against hero, Brian Michael Bendis and Jim Cheung bring you a snapshot of the conflict that will split the Marvel Universe in two!
But that's not all! Beware the sting of the All-New Wasp! FCBD CIVIL WAR II #1 will also feature a special second story from All-New, All-Different Avengers writer Mark Waid and legendary artist Alan Davis. Be there as this mysterious new character makes their big debut! Are they friend or foe? How will their coming impact on the lives of the All-New, All-Different Avengers? The answers may surprise you, True Believer!
"Free Comic Book Day this year is the perfect chance to dive headlong into the Marvel Universe," says Marvel SVP Sales & Marketing David Gabriel. "Not only will you get a lead in to the escalating conflict of Civil War II, but you'll also be introduced to a big new character with the All-New Wasp. Oh, and did we mention this is just one of our Free Comic Book Day offerings? Make sure you support your local retailers and head to a comic shop that weekend to get your hands on these!"
This May, the powder keg of Civil War II ignites and the All-New Wasp rockets into the Marvel Universe. No fan can afford to miss out on FREE COMIC BOOK DAY – May 7th at participating comic shops nationwide!tyi
FCBD CIVIL WAR II (JAN160009)
Written by BRIAN MICHAEL BENDIS & MARK WAID
Art by JIM CHEUNG & ALAN DAVIS
Cover by JIM CHEUNG
Coming Free Comic Book Day!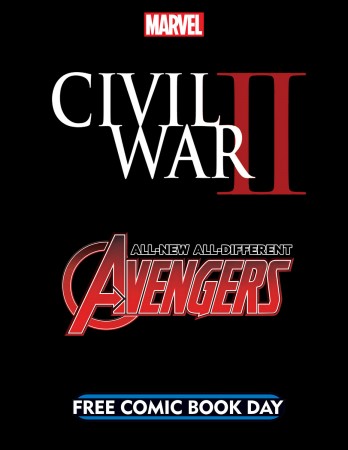 MARVEL INTRODUCES "ASK MARVEL" 
New video series gives fans the chance to have their Tweets answered by
some of the biggest names from Marvel
New York, NY—January 15, 2016— Inquiring minds want to know! Beginning today, Marvel is excited to present an all-new video series devoted to giving fans the chance to have their Tweets answered by some of the actors, creators and names that are synonymous with the House of Ideas with ASK MARVEL.
Available today Marvel.com and on Marvel's YouTube page, ASK MARVEL places Drax himself, Dave Bautista, in the hot seat to grill him with some of the most thought-provoking and off-the-wall questions that intend to offer a new and never-before-seen side to Dave "The Destroyer" Bautista.
Fans will have the chance to get their questions answered by Tweeting them with the hashtag #AskMarvel. A panel of Marvel's best and brightest from across the galaxy will tackle the most important questions in an impromptu-style Q&A session. Questions such as: What does Hawkeye do in his free time? What kind of pizza does the Punisher eat? If your character had their own fragrance line, what would it be called?
New episodes will be made available every Thursday on Marvel.com and on Marvel's YouTube page with guests likeCharlie Cox, Joe Quesada, and many more scheduled to appear.
"We've been answering fans' questions in our letters pages, at convention panels, and on our This Week in Marvel podcast for years, so we felt it was time to collect the burning questions our fandom constantly poses, get them in front of a wide array of Marvel folks, and put it all on video," says Ryan Penagos, VP & Executive Editor for Marvel's Digital Media Group.
What do you want to know Marvel fans? Start Tweeting your questions to #AskMarvel and tune in weekly to see if your questions make it to your favorite Marvel talking head.
Miles Morales Comes to the Marvel Universe in SPIDER-MAN #1!
New York, NY—January 11th, 2016 — Welcome to the Marvel Universe Miles Morales, hope you survive the experience! That's right, he's here – and the Marvel Universe will never be the same again. Today, Marvel proudly presents your look inside SPIDER-MAN #1 – the highly anticipated new series from blockbuster Miles Morales co-creators Brian Michael Bendis and Sara Pichelli! Sure, he's been doing the super hero thing for a while now, but following the events of Secret Wars, Miles finds himself a full-fledged member of the Marvel  U. Swinging next to Iron Man, Captain America and Thor as a member of the Avengers and patrolling the Big Apple's rooftops as NYC's own Spider-Man! But it's not all fun and games. A lot has transpired in the eight months since Secret Wars and an entire new universe awaits him – friend and foe alike. Plus, his grades are in the toilet. The adventure begins this February in the can't-miss SPIDER-MAN #1!
SPIDER-MAN #1 (DEC150723)
Written by BRIAN MICHAEL BENDIS
Art & Cover by SARA PICHELLI
Hip-Hop Variant by ADI GRANOV (DEC150724)
Variant Covers by MICHAEL CHO (DEC150725),
SKOTTIE YOUNG (DEC150726), and MARK BAGLEY (DEC150727)
Blank Variant Also Available
FOC – 1/11/16, On-Sale – 2/03/16
Happy Birthday Wade! DEADPOOL #7 Celebrates
25 Years of the Merc With a Mouth!
New York, NY—January 13th, 2016 — And lo' there came a day unlike any other, in February of 1991, when merc and mouth united for a common goal. And on that day, Deadpool was born! Now, a mere quarter of a century later, we're celebrating Deadpool's 25th Anniversary this February in the colossal sizedDEADPOOL #7! That's right – that same regenerating degenerate who tore through the New Mutants and into your very hearts is turning 25, and he wants to party with you! Featuring a massive 80 story pages and an all-star creator lineup, Wade's silver anniversary is sure to be a night to remember. First, Gerry Duggan and Scott Koblish bring you a full length Merc With a Mouth adventure. Then, Deadpool creators past and present regale you with tales of Wade's newest allies – the Mercs for Money! Get ready for more Terror, Foolkiller, Slapstick, Massacre, Stingray and Solo and shine a spotlight on Deadpool's newest employees. So put on your party hats and cut the cake and don't miss DEADPOOL #7 on sale this February!
DEADPOOL #7 (DEC150853)
Written  by GERRY DUGGAN, CULLEN BUNN, AMY CHU, BEN ACKER, BEN BLACKER, MIKE HAWTHORNE, and TIM SEELEY
Art by SCOTT KOBLISH, TYLER CROOK, EMILIO LAISO, DANILO BEYRUTH, MIKE HAWTHORNE, MIKE NORTON and PHIL NOTO
Cover by TONY MOORE
25th Anniversary Variant by TONY HARRIS (NOV158423)
Action Figure Variant by JOHN TYLER CHRISTOPHER (DEC150854)
Young Variant by SKOTTIE YOUNG (DEC150855)
Secret Comic Variant by SCOTT KOBLISH (DEC150856)
Hip-Hop Variant by RAHZZAH (DEC150857)
FOC – 1/18/16, On-Sale – 2/10/16
"Flesh Wounds" Starts Now! Your New Look at ALL-NEW X-MEN #4!
New York, NY—January 15th, 2016 — Pop your claws, because the second arc of All-New X-Men starts here! Today, Marvel is pleased to present your first look at ALL-NEW X-MEN #4  – the first chapter of "Flesh Wounds"! Fan-favorite creators Dennis Hopeless and Mark Bagley bring you the next chapter in the lives of tomorrow's X-Men. The Ghosts of Cyclops have been defeated. Reunited at last, the All-New X-Men hit the road in an effort to make their own futures and to be the heroes they were destined to be. But for one X-Man, being a hero means perpetually leaping into harm's way, even in the face of overwhelming odds. She is Laura Kinney, Wolverine. And her journey is about to bring her face-to-face and toe-to-toe with the Blob! What happens when an unstoppable force meets an immovable object? Find out when "Flesh Wounds" kicks off this February in ALL-NEW X-MEN #4!
ALL-NEW X-MEN #4 (NOV150886)
Written by DENNIS HOPELESS
Art & Cover by MARK BAGLEY
Story Thus Far Variant by MARK BAGLEY (SEP158785)
Deadpool Variant by RON LIM (NOV150887)
Classic Variant by JUNE BRIGMAN (SEP158784)
FOC – 1/18/16, On-Sale – 02/10/16