This week in Marvel Comics news has all big announcements.  All of them!  From the death of Jane Foster to the anniversary of Venom there are big things coming up in Marvel Comics!
THE DEATH OF MIGHTY THOR
Your first look at MIGHTY THOR #705!
New York, NY—February 15, 2018—THE DEATH OF THE MIGHTY THOR nears its end as the creative team of Jason Aaron and Russell Dauterman bring you an epic showdown that has been years in the making. And for the first time, Marvel is excited to reveal inks from Dauterman showing off the start of the spectacular conclusion.
The world of Mighty Thor and Odinson has been turned upside down, literally and figuratively — the Mangog's attack on Asgardia has left the realm,and the gods who inhabit it, decimated. And the Mangog isn't done yet! While Odinson's responsibility is to protect his people, Mighty Thor must make a choice: fight Mangog by picking up Mjolnir – which guarantees that Jane Foster will perish – or watch the world fall.
There is no choice…
Prepare yourself as Jane Foster picks up Mjolnir one last time in MIGHTY THOR #705, and witness the death of a hero!
MIGHTY THOR #705
Written by JASON AARON
Art by RUSSELL DAUTERMAN
FOC – 2/26/18, On-Sale – 3/21/18
THE HUNT FOR WOLVERINE Expands Into Four Epic Tales!
Is it really Logan? The mystery surrounding his return continues….
New York, NY—February 13, 2018— Wolverine has been trekking across the Marvel Universe, from the pages of 2017's best-selling comic MARVEL LEGACY #1 to the current glimpses of Logan in the Where's Wolverine pages featured in select Marvel comics…but is that really the Logan we all know and love?
This May, the story that kicked off in April's THE HUNT FOR WOLVERINE #1 continues as intrigue, mystery, romance, and action collide in an epic so big, it will take four different series to tell the tale! Featuring thrills and chills for all X-Men fans as Wolverine's past comes back to haunt all our merry mutants, each unique story harkens back to their old school adventures – changing some characters in ways that will shock readers.
Orchestrated by HUNT FOR WOLVERINE and DEATH OF WOLVERINE writer Charles Soule, a star-studded cast of talent have teamed up to unravel Wolverine's secrets. Avengers No Surrender writer Jim Zub, She-Hulk writer Mariko Tamaki, All-New Wolverine writer Tom Taylor, The Amazing Spider-Man artist Matteo Buffagni, X-Men Blue artist R.B. Silva, Black Panther and the Crew artist Butch Guice, and Spider-Man/Deadpool artist Chris Bachalo will join forces for four series that form one interlocking epic adventure, each one containing its own distinct genre and mystery: Weapon Lost (noir/detective), Adamantium Agenda (action/adventure), Claws Of A Killer (horror) and Mystery in Madripoor (dark romance.)
"I've been holding my tongue, just waiting to announce this project and team of ultra-talented creators," said series editor Mark Paniccia. "While these stories all reveal clues to the larger mystery behind Wolverine's return, the writers all have some pretty huge moments planned that will have X-MEN fans talking and debating for some time to come."
Featuring classic Marvel characters from Daredevil to Kitty Pryde to Spider-Man to Iron Man, major Marvel heroes will become part of Wolverine's mystery as they try to track down Logan and figure out his secrets. But with answers come more questions…and with reveals come even more mysteries. Every clue leads to another twisting road and each story will provide fans with another tantalizing piece of the puzzle that will lead readers closer to finding out the real truth!
And it will all come together to set the stage for the most shocking and daring Wolverine story to date along with a spectacular return!
His return was just the beginning – the opening chapter of a story that will touch all corners and all characters of the Marvel Universe. Dive into all the excitement in the HUNT FOR WOLVERINE one-shot this April, and then be sure to follow all of the action with WEAPON LOST, ADAMANTIUM AGENDA, CLAWS OF A KILLER and MYSTERY IN MADRIPOOR, available in comic shops starting in May!
HUNT FOR WOLVERINE: WEAPON LOST (#1-4)
Written by CHARLES SOULE
Art by MATTEO BUFFAGNI
HUNT FOR WOLVERINE: ADAMANTIUM AGENDA (#1-4)
Written by TOM TAYLOR
Art by R.B. SILVA
HUNT FOR WOLVERINE: CLAWS OF A KILLER (#1-4)
Written by MARIKO TAMAKI
Art by BUTCH GUICE
HUNT FOR WOLVERINE: MYSTERY IN MADRIPOOR (#1-4)
Written by JIM ZUB
 Art by CHRIS BACHALO
Shocks and Surprises in The X-MEN WEDDING SPECIAL! 
All-New Stories from Kelly Thompson and Marc Guggenheim! Plus, the return of Chris Claremont to the X-Men!
New York, NY—February 16, 2018—It's almost time for Kitty Pryde and Colossus to tie the knot…but a Marvel wedding is never a simple affair!
This May, get ready to take part in epic and adventurous stories written by Kelly Thompson (Hawkeye, Rogue & Gambit) and X-Men Gold scribe Marc Guggenheim – plus, a wedding gift all on its own in the form of an all-new Kitty Pryde story from legendary series writer Chris Claremont, who returns to the X-Men just in time for the celebrations! But remember, when super heroes get together, mayhem ensues…and the X-Men are no exception.
"X-Men weddings are always a big deal, if only because they're so rare," teased writer Kelly Thompson. "I think you probably have to go all the way back to X-Men #30 in 1994 – the wedding of Jean Grey and Cyclops – to get a wedding as potentially big as the wedding of Kitty Pryde and Colossus: two X-Men who've been around (and on again/off again) for literal decades."
In this essential companion to the X-Men Gold (issues #26-30) story 'Til Death Do Us Part, get a glimpse at Kitty and Peter's march toward wedded bliss! It's a celebration, Marvel style, with all the action, adventure and surprises that you've come to know and love from Marvel's merry mutants – and it's only in comic shops this May!
X-MEN WEDDING SPECIAL #1
Written by MARC GUGGENHEIM, KELLY THOMPSON & CHRIS CLAREMONT
Art by GREG LAND, MARIKA CRESTA & MORE
Cover by J. SCOTT CAMPBELL
On-Sale 5/16/18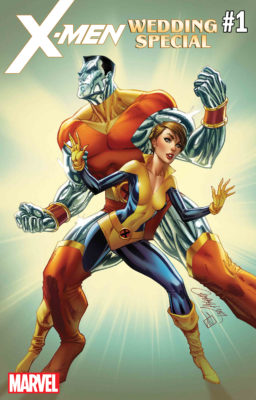 HULK IS BACK – AND HE'S MAD AS HELL!
New York, NY—February 16, 2018—Bruce Banner is back. He's angry. And you've never seen a Hulk this angry before.
The iconic goliath officially returns in all his green glory starting with AVENGERS #684, on sale this March – and it's not your typical Hulk return, either! This Bruce Banner, unprovoked and unchecked, will take you on a frightening adventure as he battles to save the universe.
Learn more about the terrifying return that has everyone talking in this special teaser trailer!  And don't miss AVENGERS #684, the weekly epic that has taken the Marvel Universe by storm!
AMAZING SPIDER-MAN #800: The Red Goblin and Spider-Man's Final Showdown!
The conclusion of the "Go Down Swinging" arc ends here, with 80 pages of an all-new anniversary story!
New York, NY—February 16, 2018— For ten years, Dan Slott has taken Peter Parker on crazy and spectacular adventures throughout the Marvel Universe – and as he races towards his final issue, there's no reprieve for the webslinger. "Go Down Swinging" takes Spider-Man on his most harrowing journey yet, and fans agree: the red hot arc has been an epic hit, with issues #794-796 selling out before they even hit comic shops!
Now, in issue #800, Slott and artist Stuart Immonen will unveil the biggest Peter Parker and Norman Osborn story of all time, joined by artists Humberto Ramos, Giuseppe Camuncoli and Jim Cheung. It's the first Marvel comic EVER to hit 800 issues, and we're celebrating by bringing readers an epic and oversized anniversary issue – featuring 80 pages of a brand-new story from the writer who has written more issues of AMAZING SPIDER-MAN than any other creator!
Before Dan Slott takes his final bow in AMAZING SPIDER-MAN #801, dive into one of the most exciting stories in Spider-Man lore – culminating in the conclusion that has Spider-Man facing his most terrifying villain yet!
"AMAZING SPIDER-MAN #800 is the biggest single-issue story I've ever worked on," shared editor Nick Lowe. "It's 80 pages of story! And Dan and Stuart are being joined by some very important past AMAZING SPIDER-MAN artists to bring it to you in the coolest way possible! Everything you've loved about Dan Slott's run on this book is on full display in this monumental issue that will have you shivering, crying, cheering, laughing and wishing it would never end!"
You've never seen – or read – a story like this. It's a Mighty Marvel tale that sets the stage for Spider-Man's future…and you won't want to miss it!
THE AMAZING SPIDER-MAN #800 hits comic shops this May!
THE AMAZING SPIDER-MAN #800
"GO DOWN SWINGING"
Written by DAN SLOTT
Art by STUART IMMONEN, HUMBERTO RAMOS, GIUSEPPE CAMUNCOLI & JIM CHEUNG
Cover by ALEX ROSS
On-Sale 5/30/18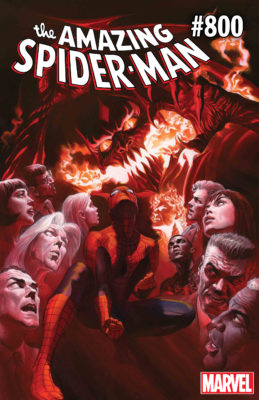 VENOM 30th ANNIVERSARY VARIANTS Arrive This March!
New York, NY—February 13, 2018— In preparation for Venom's 30th anniversary, get ready for 20 key moments showcasing the symbiote's epic history. These anniversary covers will feature art by some of the industry's top creators and rising stars, including Mark Bagley, Mike Perkins, Francesco Francavilla, Ron Lim, Inhyuk Lee and more!
ALL-NEW WOLVERINE #33 by DUSTIN WEAVER
AMAZING SPIDER-MAN #798 by TERRY and RACHEL DODSON
AVENGERS #687 by JAMAL CAMPBELL
BLACK PANTHER #172 by GREG HORN
CAPTAIN AMERICA #700 by KALMAN ANDRASOFSZKY
DAREDEVIL #601 by RAMON PEREZ
DOCTOR STRANGE #388 by CHRIS STEVENS
INFINITY COUNTDOWN #2 by RON LIM
INVINCIBLE IRON MAN #599 by AKCHO
MARVEL 2-IN-ONE #5 by DAVE JOHNSON
MIGHTY THOR #706 by MARK BAGLEY
NEW MUTANTS #2 by BENGAL
OLD MAN LOGAN #38 by GREG SMALLWOOD
PETER PARKER: THE SPECTACULAR SPIDER-MAN #303 by ROB LIEFELD
THANOS #18 by MIKE PERKINS
VENOM #164 by JOHN TYLER CHRISTOPHER
WEAPON H #2 by MIKE MAYHEW
X-MEN: BLUE #25 by FRANCESCO FRANCAVILLA
X-MEN: GOLD #25 by TODD NAUCK
X-MEN: RED #3 by INHYUK LEE
The first wave of VENOM VARIANT COVERS will hit comic shops on March 7th. Don't miss your chance to collect all 20 variants, coming to comic shops this March!