There's quite a bit from Marvel this week following San Diego Comic Con.  The Star Wars announcements are here, including Chewbacca, which we did announce before.  Vader Down is the first Star Wars comic crossover and looks to be a pretty epic one, showing all that Vader is capable of.  Ant-Man and Ms. Marvel have some merch announcements.  What If comes back with a take on a fairly recent event involving Thanos.  Spider-Man takes on Deadpool.  Finally, there's a new Blade that will be debuting: Blade's daughter Fallon.  Both will be in the new series, but it looks to bring in this new monster slayer as the current hero.  Lots of news!
Marvel Becomes Inspired by the Music Industry with
Marvel Comics' Hip-Hop Variants
New York, NY—July 16, 2015—Expression and art form merge between Marvel Comics and the world of hip-hop with a unique line of HIP-HOP Variants covers inspired by some of the most iconic and well received hip-hop and rap albums of all time.
Accompanying each all-new #1 from Marvel Comics coming this fall, fans will get the chance to purchase their own Marvel Comics variant cover featuring their favorite Marvel characters paying homage to some of the most well-known and vocal musical artists over the past couple of years.
"For years, Marvel Comics and Hip-Hop culture have been engaged in an ongoing dialog," says Marvel Editor-in-Chief Axel Alonso. "Beginning this October, we will shine a spotlight on the seamless relationship between those two unique forces in when we unveil the first of more than fifty variant covers, each of which pays tribute to an iconic album cover from the past 30 years that shaped pop-culture over the past three decades."
Look for Marvel's HIP-HOP Variants to grace the covers of these exciting Marvel comics beginning in the month of October:
· Amazing Spider-Man #1- HIP-HOP Variant by Mike Del Mundo
· Angela: Queen of Hel #1 – HIP-HOP Variant by Annie Wu
· The Astonishing Ant-Man #1- HIP-HOP Variant by Mark Brooks
· Contest of Champions #1 – HIP-HOP Variant by Denys Cowan
· Doctor Strange #1- HIP-HOP Variant by Juan Doe
· Extraordinary X-Men #1- HIP-HOP Variant by Sanford Greene
· Guardians of the Galaxy #1- HIP-HOP Variant by Shawn Crystal
· Invincible Iron Man #1- HIP-HOP Variant by Brian Stelfreeze
· The Mighty Thor #1- HIP-HOP Variant by Mike Deodato
· Sam Wilson, Captain America #1- HIP-HOP Variant by Mahmud Asrar
· Spider-Gwen #1 – HIP-HOP Variant by Humberto Ramos
· The Unbeatable Squirrel Girl #1- HIP-HOP Variant by Phil Noto
· Uncanny Inhumans #1- HIP-HOP Variant by Damian Scott
· Uncanny Avengers #1- HIP-HOP Variant by Jason Pearson
Look for these additional HIP-HOP Variants coming later this fall:
· All-New All-Different Avengers #1- HIP-HOP Variant by Jim Cheung
· All-New Wolverine #1- HIP-HOP Variant by Keron Grant
· Carnage #1- HIP-HOP Variant by Ariel Olivetti
· Howard the Duck #1- HIP-HOP Variant Juan Doe
· Ms. Marvel #1- HIP-HOP Variant by Jenny Frisson
· Old Man Logan #1- HIP-HOP Variant by Tim Bradstreet
· Spider-Man #1- HIP-HOP Variant by Adi Granov
· Spider-Man/Deadpool #1- HIP-HOP Variant by Dave Johnson
· Squadron Supreme #1- HIP-HOP Variant by Mike Del Mundo
· Star-Lord #1- HIP-HOP Variant by Tradd Moore
· The Totally Awesome Hulk #1- HIP-HOP Variant by Mahmud Asrar
· Web Warriors #1- HIP-HOP Variant by Damian Scott
No fan can afford to miss out when Marvel Comics stands alongside the hip-hop industry with covers celebrating some of the most iconic albums which have crafted the sound of a generation. Be there when Marvel Comics' HIP-HOP Variants drop this fall in your local comic book shops.
STAR WARS' WOOKIEE WARRIOR TAKES THE SPOPLIGHT IN CHEWBACCA#1
New Star Wars series from Gerry Duggan and Phil Noto gives "Chewie" his due this October
New York, NY—July 15th, 2015— Legendary and relentlessly loyal Wookiee warrior, Chewbacca, has continued to battle the empire in the hopes of restoring freedom to the galaxy. Through unwavering and steadfast devotion to the rebel cause Chewbacca has always stood on the frontline to bring peace to a galaxy far, far away. This October, Chewbacca, along with an unlikely side-kick, proves why he is one of the fiercest warriors among the stars in CHEWBACCA #1 from writer Gerry Duggan and artist Phil Noto.
Known for his big heart, short temper, and booming voice, Duggan plans to get to the core of what makes Chewbacca one of the strongest warriors in the Star Wars universe.  Speaking with Marvel.com, Gerry Duggan says, "He's a hero, plain and simple. He's a giant-sized underdog. He's faithful, fierce, and can be playful. At the beginning of the story he's on a very important mission. One he sets aside to help those in need. By the end of this arc we'll have met the soul of the Wookiee. We'll understand what he fears, and we'll know why he picked up his bowcaster. Yes, this story will be an action-packed thriller, but I think it has a very strong Wookiee heart, too."

Accompanying Chewbacca in this brand new series is a young and feisty co-star, Zarro, whose home comes under attack from the Empire and Duggan and Noto are excited to show how this unlikely pair take on the ruthless grip of the Empire. "Zarro's home is under threat, and when others shrink, she stands tall," says Duggan. "At first glance, she sees Chewie as the extra muscle she needs. The brains attached to those muscles will be a surprise for her….and I think how Chewie and Zarro manage to deal with the threat will be a fun surprise for fans. Both Phil and I are so excited to be collaborating on a Star Wars comic. The term 'dream project' is probably overused, but there is simply no other way to describe the gig. If fans have half as much fun as we do, then everybody's in for a fun ride."
Don't call him a fuzz ball. Don't call him a walking carpet. This is Chewbacca – fierce and loyal warrior of Kashyyyk in a brand new Star Wars series coming from Marvel this October!
Also, be sure to catch up on the blockbuster Marvel series – STAR WARS and DARTH VADER – from the very beginning! Pre-order STAR WARS VOL. 1: SKYWALKER STRIKES and DARTH VADER VOL. 1 on sale later this year!
CHEWBACCA #1
Written by GERRY DUGGAN
Art & Cover by PHIL NOTO
Variant Cover by ARIEL OLIVETTI
On Sale in October!
VADER DOWN #1 Unites STAR WARS & DARTH VADER for Epic Crossover!
New York, NY – July 15th, 2015 – Two of the biggest comics in the world collide as STAR WARS and DARTH VADER cross over for the first time! Today, Marvel is pleased to present VADER DOWN – a blockbuster six-part crossover beginning this November! Chartbusting writers Jason Aaron (Star Wars, Thor) and Kieron Gillen (Darth Vader, Young Avengers) join forces with blockbuster artists Mike Deodato (Original Sin) and Salvador Larroca (Darth Vader) combine both ongoing Star Wars titles for a crossover in the mighty Marvel manner!
"This is a true crossover in the classic Marvel Style," says Editor Jordan D. White. "Kicking off in the Vader Down one-shot, the story then bounces between DARTH VADER and STAR WARS, telling a story that is essential to the plotlines of both books, that takes the casts from each and smashes them together in one epic tale!"
Vader's TIE Fighter has been shot down. Seeing this as their one, best chance to take Vader down once and for all, the Rebellion is ready to throw everything they have at him. Alone, outnumbered, and outgunned, Darth Vader now must face down the entire might of the Rebel Fleet. But the Rebels are about to learn the true unrestrained power of the Dark Side of the Force. With the Rebellion putting it all on the line, could this risky gambit cripple their forces in the fight against the Empire?
"They've got Vader in quite a predicament," says Jason Aaron in an interview with Marvel.com. "He's grossly outnumbered and his ship has crashed on this alien landscape. Whether everybody believes they can do it or not, they know this is their best shot to capture him or kill him or whatever. When you get that shot, you've got to take it and send everyone you've got down after him."
To defeat their greatest enemy, the Rebel Alliance will risk it all. Be there as the Star Wars: Vader Down crossover kicks off in an oversized VADER DOWN #1 one-shot this November  and continues in the pages of STAR WARS and DARTH VADER!
Catch up on these two blockbuster hit series from the very beginning! Pre-order STAR WARS VOL. 1: SKYWALKER STRIKES and DARTH VADER VOL. 1 – on sale later this year!
VADER DOWN #1
Written by JASON AARON & KIERON GILLEN
Art by MIKE DEODATO & SALVADOR LARROCA
Cover by MARK BROOKS
On Sale in November!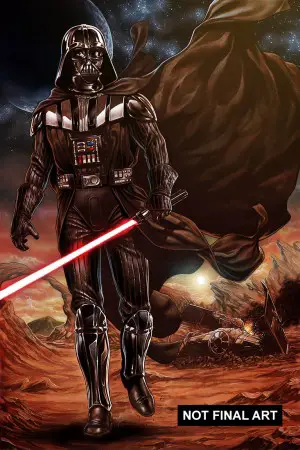 BLADE #1 – There's a New Hunter in Town This October!          
New York, NY—July 13th, 2015— She's lean, she's mean and she has no idea she's the daughter of a monster killing machine! This October, it's the Marvel Universe's resident vampire hunter like you've never seen before in BLADE #1 – a brand new ongoing series from writer Tim Seeley (Death of Wolverine: The Logan Legacy) and artist Logan Faerber (Secret Wars: Battleworld)!
Meet Fallon Grey. A normal sixteen year old girl from rural Oregon. Nominated for Prom Queen, Captain of the Debate Team, most popular girl in her class. But there is another side to Fallon. A feeling like there's something else going on inside. When terror strikes her small town, she'll find out just how right she was. As fearsome supernatural forces invade her town, hunting her down – she'll come face to face with something even more shocking than the monsters on her tail.
Eric Brooks…Blade…her father?!
"[Fallon's] sort of 'anti-Peter Parker'," says Tim Seeley in an interview with Marvel.com. "She's popular, she's well-liked, and it seems like the world is her oyster. But, the expectations that come with being so damn perfect are starting to break her down, and that's before she learns she's the heir to a Daywalking-Monster-Stabbing-Empire."
But there is a new evil brewing deep in the forests of Oregon. A new cult of monster scientists, twisting and mutating demons, vampires, werewolves and more into even powerful new creatures. To stop them it will take more than one Daywalker. And in each other, Eric and Fallon may just discover the purpose they've each been struggling to find. Don't miss the highly anticipated new series when it debuts this October in BLADE #1!
BLADE #1
Written by TIM SEELEY
Art by LOGAN FAERBER
Variant Cover by TIM SEELEY
On Sale October 2015!
Marvel Unveils Heroic Assortment of Products Inspired by Small but Mighty "Marvel's Ant-Man"
Glendale, Calif. (July 16, 2015) –Disney Consumer Products (DCP) and Marvel bring Super Hero adventures to larger than life proportions with the launch of the new product collection inspired by Marvel's Ant-Man, in theaters July 17, 2015. The cross-category product lineup ranges from costumes, construction sets, action figures and more coming from best-in-class licensees Hasbro, LEGO, Funko, Hot Wheels, Her Universe, New Era, Rubie's and Uncle Milton. From the clever Ant-Man ant farm to high-flying thrills with character cars and action figures, the exciting array of product will be sure to extend the fun with Marvel's smallest Super Hero.
Additionally, readers will be able to dive even deeper into Marvel's Ant-Man universe with books that leverage the unique storytelling of the Marvel Universe. From chapter books to leveled readers to enhanced audio eBooks, the film is supported through a robust publishing program from Disney Publishing Worldwide, Marvel Publishing and Little, Brown Books for Young Readers.
"We're thrilled to see yet another incredible character from Marvel's rich comic history be brought to life on the big screen for fans of all ages," said Paul Gitter, senior vice president, Marvel Licensing. "Our partners have creatively used this new opportunity to immerse fans into the Ant-Man adventure with products that are anything but diminutive."
The next evolution of Marvel Cinematic Universe brings a founding member of The Avengers to the big screen for the first time with Marvel's Ant-Man. Armed with the astonishing ability to shrink in scale but increase in strength, master thief Scott Lang must embrace his inner-hero and help his mentor, Dr. Hank Pym, protect the secret behind his spectacular Ant-Man suit from a new generation of towering threats. Against seemingly insurmountable obstacles, Pym and Lang must plan and pull off a heist that will save the world.
Marvel's Ant-Man stars Paul Rudd as Scott Lang aka Ant-Man, Evangeline Lilly as Hope Van Dyne, Corey Stoll as Darren Cross aka Yellowjacket, Bobby Cannavale as Paxton, Michael Peña as Luis, Judy Greer as Maggie, Tip "T.I." Harris as Dave, David Dastmalchian as Kurt, Wood Harris as Gale, Jordi Mollà as Castillo and Michael Douglas as Hank Pym.
Marvel's Ant-Man products are available now at national retailers, specialty stores, and Marvel.com. In addition to the collection of product available at DisneyStore.com and Disney Store locations nationwide, Ant-Man is included in the "Personalization Shop" on DisneyStore.com that allows Marvel fans to personalize a variety of items that feature their favorite characters from the film.
Highlights from the product line include:
Figures, Vehicles & Construction:
· Marvel Infinite Series Ant-Man 3.75 Inch Figure with Flying Ant by Hasbro ($19.99)
· Marvel Titan Hero Series Ant-Man by Hasbro ($19.99)
· LEGO Marvel Super Heroes Ant-Man Final Battle ($21.99)
· Marvel's Ant-Man Ant Farm by Uncle Milton ($16.99)
· Marvel's Ant-Man Action Figure by The Disney Store ($24.95)
· Pop! Vinyl Figure – Marvel's Ant-Man ($9.99)
· Ant-Man Character Car and Track Set by Hot Wheels ($3.49 per car/$14.99 track set)
Costumes & Role-Play:
· Marvel's Ant-Man Costume by The Disney Store ($44.95)
· Marvel's Ant-Man Costume by Rubies ($34.99)
Adult, Teen & Children's Apparel:
· Marvel's Ant-Man Hooded Long Sleeve Tee for Kids by The Disney Store ($22.95)
· Marvel's Ant-Man Women's Tank by Her Universe ($19.99)
· Marvel's Ant-Man Men's T-Shirts ($19.99-$28)
Accessories:
· Marvel's Ant-Man Backpacks ($14.99-$16.99)
· Marvel's Ant-Man Hats by New Era ($29.99-$55.99)
· Marvel's Ant-Man Character Peel and Stick Wall Decals by York ($19.99)
· Marvel's Ant-Man Soft Lunch Kit by Thermos($7.99)
Publishing:
· Marvel's Ant-Man Prelude TPB ($14.99 US)
· Marvel's Ant-Man: The Art Of The Movie Slipcase HC ($49.99 US)
· Ant-Man Vol. 1: Second-Chance Man TPB ($15.99 US)
· Ant-Man: Natural Enemy Prose Novel HC ($24.99 US)
· Ant-Man: Zombie Repellent ($5.99 US/$6.50 CAN)
· Marvel's Ant-Man Junior Novel Audiobook by Blackstone Audio
· Marvel's Ant-Man: The Junior Novel by Little, Brown Books for Young Readers ($6.99)
To download images of the Marvel's Ant-Man product collection, please visit http://dcp.smugmug.com/Press-Releases/Marvels-Ant-Man-Product/50634455_qSnBJQ#!i=4206329865&k=t9vKTVg
(this link is case sensitive).
Mouthy Merc Meets Webbed Wonder This Fall in SPIDER-MAN/DEADPOOL #1!
New York, NY—July 14th, 2015 — Yes you heard right True Believer! Two great heroes that hero great together! Later this year, the two most popular characters in the world are together for their very own ongoing series! That's right – SPIDER-MAN/DEADPOOL #1 is coming your way, chock full of wallcrawling, wisecracking and bad guy punching! Blockbuster creators and the legendary Deadpool creative team of Joe Kelly & Ed McGuinness reunite once more to chronicle the ongoing adventures of Peter Parker and Wade Wilson!
But what to call this terrible twosome? The Merc-y Neighborhood Deadpool? The Spider with a Mouth? They'll figure it out eventually. Deadpool LOVES Spider-Man. Spider-Man hates Deadpool. Sounds like a perfect match! So what on Earth could be enough bring these two together for a titanic team-up in the merry Marvel manner?
"I will say that there is an assassination involved, a case of misplaced trust and their names are on the book so they sort of have to show up," says writer Joe Kelly speaking with Marvel.com on what unites the two.
"Seriously, I'm having a blast writing the banter," Kelly continued, "It's your favorite buddy-cop movie on steroids if it was written by a swill-minded teenager."
This Fall, the Marvel Universe's newest odd couple is taking comic shops by storm. Be there as the webs and bullets fly as Kelly and McGuinness bring you SPIDER-MAN/DEADPOOL #1!
SPIDER-MAN/DEADPOOL #1
Written by JOE KELLY
Art & Cover by ED MCGUINNESS
Coming This Fall!
WHAT IF? INFINITY Re-Writes Marvel History This October!
New York, NY—July 13th, 2015— If you thought the blockbuster INFINITY event turned the Marvel Universe on its head, you won't believe what could have happened! Those questions and more will be answered in WHAT IF? INFINITY – a brand-new 5-issue limited series coming in October! Rising star writer Joshua Williamson (Secret Wars: Battleworld, Illuminati) and an assembly of today's hottest artists – Mike Henderson, Riley Rossmo, Mike Norton, Jason Copland, Goran Suduzka show you just how 2013's chartbusting INFINITY event could have gone down!
Each issue of WHAT IF? INFINITY explores a twisted take on the Marvel Universe where the Builder War had gone differently. What if Thanos had joined the Avengers to battle back the invading Builders? What if the Avengers lost the war, leaving the Earth vulnerable? What if Norman Osborn gained control of the Infinity Gauntlet, ushering in a new Dark Reign?
Was INFINITY truly the Avengers darkest hour? Find out this October as Williamson and company throw out the rulebook in WHAT IF? INFINITY!
For more information, visit Marvel.com for a full interview with WHAT IF? INFINITY writer Joshua Williamson.
WHAT IF? INFINITY – THANOS #1
Written by JOSH WILLIAMSON
Art by MIKE HENDERSON
Cover by TOM WHALEN
Variant Cover by KRIS ANKA
On Sale October 2015!
WHAT IF? INFINITY – INHUMANS #1
Written by JOSH WILLIAMSON
Art by RILEY ROSSMO
Cover by CHRISTIAN WARD
On Sale October 2015!
WHAT IF? INFINITY – AVENGERS #1
Written by JOSH WILLIAMSON
Art by MIKE NORTON
Cover by MATT FERGUSON
On Sale October 2015!
WHAT IF? INFINITY – GUARDIANS OF THE GALAXY #1
Written by JOSH WILLIAMSON
Art by JASON COPLAND
Cover by DAVE RAPOZA
On Sale October 2015!
WHAT IF? INFINITY – DARK REIGN #1
Written by JOSH WILLIAMSON
Art by GORAN SUDZUKA
Cover by JAMES FLAMES
On Sale October 2015!                 
Marvel Comics' own MS. MARVEL Coming to GraphicAudio® Now You're Talkin'!
New York, NY, July 13, 2015 – Marvel Comics' MS. MARVEL is an international sensation!
You've seen and read about the highly acclaimed and inspirational new Marvel hero, Ms. Marvel. Now hear what she sounds like!
Click Here to Listen to a Preview of MS. MARVEL Vol. 1: NO NORMAL in GraphicAudio
For the first time ever, GraphicAudio will adapt a Marvel character directly from the comics themselves. This is your chance to hear Ms. Marvel issues #1-5 as collected in the trade Ms. Marvel Vol. 1: NO NORMAL.  Through cinematic music, a full cast of voices, digital sound effects, you'll be immersed in this mega-hit comic book series like never before!
Kamala Khan is an ordinary girl from Jersey City – until she is suddenly empowered with extraordinary gifts. But who truly is the all-new Ms. Marvel? Teenager? Muslim? Inhuman? As Kamala discovers the dangers of her newfound powers and unlocks a secret behind them as well. Is she ready to wield these immense new gifts? Or will the weight of the legacy before her be too much to handle? Kamala has no idea either. But she's here to stay!
Mixed in 5.1 Surround Sound DTS and in Stereo, MS. MARVEL is available from www.GraphicAudio.net and via the FREE GraphicAudio Access™ Mobile App which allows customers to directly download titles on their Android or iOS smartphones and tablets.
Ms.Marvel Vol.1: NO NORMAL in GraphicAudio releases on August 17th, 2015.  Pre-Order at www.GraphicAudio.net/Marvel today.  CD formats and Marvel TPBs also available at comic shops and Inhuman-loving bookstores near you!
                *****
About GraphicAudio® A Movie in Your Mind®:
An imprint of The Cutting Corporation, since 2004, GraphicAudio® has published approximately 1000 titles and 65 different series in their GraphicAudio® A Movie in Your Mind® audiobook entertainment format.  For more information visit: