Jump to recipe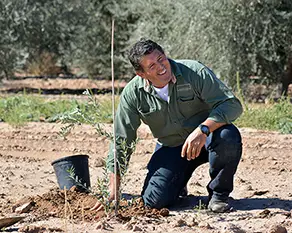 Greetings Foodies! Welcome to Culinary Cameos! In a slight change of pace, today's cameo will not feature a chef, but a different type of member of the culinary community. Today's interview is with Perry Rea, olive oil sommelier and owner of the Queen Creek Olive Mill. As many of you know, I absolutely adore the Queen Creek Olive Mill. After our first trip there this past January, I became a very loyal patron. I knew that I had to do an interview with Perry and here we are. Let's get started!
What started out as a warm getaway from the chilly Detroit weather actually turned out to be one of the most influential trips Perry Rea and his wife Brenda ever decided take. In 1997, they decided to visit the Valley of the Sun, and were surprised to see the abundance of olive trees growing around the Phoenix area.
Intrigued and excited upon about their discovery (and with some red wine inspiration) they had an idea. As a child to first generation Italian immigrants, Perry was exposed to olive oil and its significance in the kitchen at a young
age. He thought "why not take advantage of the fruitful environment of the Valley and produce olive oil ourselves?" With the support of his wife, they left Detroit in 1998, and relocated with their four children (and one on the way) to Phoenix, Arizona.
Going into the project, with the intentions of producing olive oil solely as a hobby, 1,000 olive trees were planted on 100 acres in the city of Queen Creek. With the idea of providing the Arizona community with fresh, local, Extra Virgin Olive Oil, they built a 5,000 square foot shed, which eventually transformed into the Queen Creek Olive Mill you see today. After two successful years of selling oil to the community, they wanted to offer something more. Their product line grew, increasing the number of cold pressed oils, vinegars, tapenades, and stuffed olives. A small café was built inside of the building, to provide guests a taste of the possibilities one can create with Extra Virgin Olive Oil. The Reas strive to create an 'Agriturismo' atmosphere, which allows Queen Creek Olive Mill to become more of a destination and experience, rather than simply a store.
How long have you been operating an olive mill?
The olive mill began its quest to make Arizona extra virgin olive oil in 2005.
What inspired you to start the Queen Creek Olive Mill?
Have you ever seen the film "A Walk In The Clouds"? My wife and I were inspired by this magical movie. On a short vacation to the Phoenix area we noticed that there were many olive trees growing in the valley. At that time in our lives we were looking to begin a new chapter in our lives and moved our 4 children (and one on the way) to Arizona with the intent on making olive oil and creating an agritourism experience that we could share with others. Brenda was very instrumental in the original idea and has always been my most influential partner.
What steps did you have to go through to start the olive mill?
The olive mill started with very humble beginnings and grew very organically. Starting with the construction of our "tin shed" in Queen Creek. Then,I planted 1000 trees on the property and purchased a very small olive press to begin our adventure. Many hours were spent investigating and traveling throughout Italy and California visiting with other olive growers and producers. After many hours of trial and error I was finally happy with my results and decided it was time to sell to the public. We began selling only one product Extra Virgin Olive Oil. We listened to our customers and morphed into what we are today. Many different offerings of Oils, Vinegar, stuffed olives, tapenades to name a few. Two years after our opening the addition of our Italian inspired cafe was a perfect complement to the venue.
How is the mill different now from when you started?
Today we have much more capacity on the farming side as well as the production side. I partnered with other farmers in Arizona and California to ensure the highest quality olive oils are on our shelves. I am very meticulous about the final product so two years ago I purchased a "state of the art" large capacity mill to support our needs and ensure the highest quality.
Why Queen Creek, Arizona?
Queen Creek was a sleepy farm community with historic agricultural significance and seemed the perfect place to set up shop. The Town of Queen Creek is a very good partner and we share a great working relationship.
Did any pre-conceived notions about operating an olive mill change once you started?
Sometimes I would rather be lucky than good! This has turned into something much more than I had hoped or dreamed of. Hard work does pay off!
What is the best thing about operating an olive mill?
It's not a job. I love coming to the mill. It's a very comprehensive business model; farming, production. retail , restaurant, and customer service…. always a challenge.
What is the worst thing about operating an olive mill?
Rainy days. But Rain is good for us farm folks too!
What is your favorite thing to cook or prepare using olives and/or olive oil?
There really isn't one thing that I like to do specifically…but I enjoy thinking of ways to use it in all kinds of dishes that is not main stream. My wife Brenda is fanatical about using olive oil in her Bath and Home line of products she sells at the mill under her all natural OLIVESPA brand.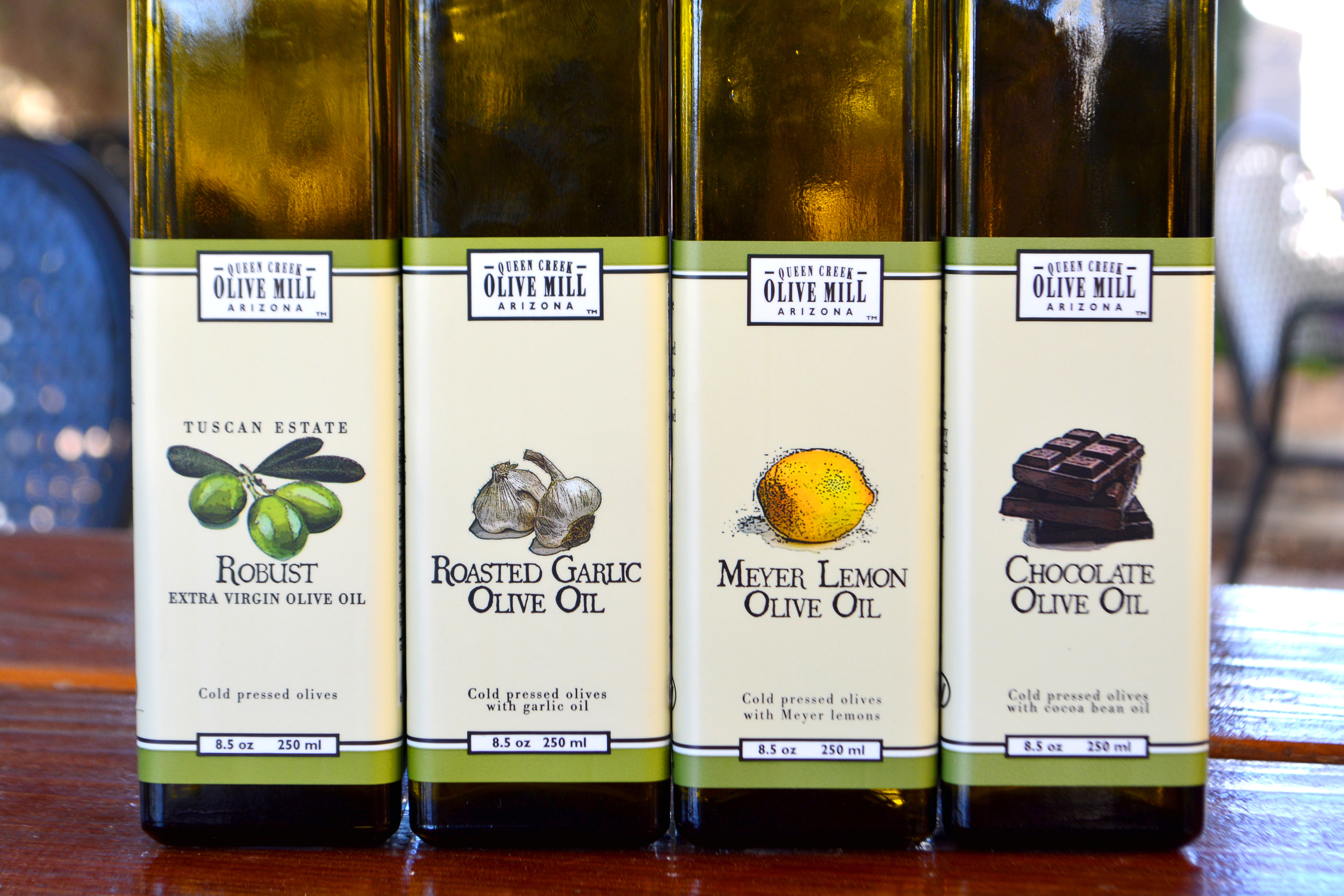 Can you tell us about your experience becoming on olive oil sommelier? How did that come about? How did you train for it?
Both Brenda and I are accredited Professional Olive Oil Sommelier(s). In February 2013 we attended a course in Colorno Italy and completed the theoretical knowledge and practical skills course provided by the International Olive Oil Academy. The comprehensive course included, best growing and production practices as well as very specific methods in the ways olive oil is tasted and classified. The differing sensory attributes present in olive oil was the main focus of the course allowing me to really comprehend how many styles there are of good oils and how the effects of bad growing, harvesting, processing and storage practices can affect the end product.
Who has been most influential in your career?
Brenda is my rock and my sounding board and it is nice to see my eldest daughter Sydney getting involved with the day to day activities too.
Can you share one kitchen tip with our readers?
Figure out ways to use olive oil in all of your meals. It really is easy if you use your imagination!
Can you share one of your favorite recipes with our readers?
Spaghetti all'Aglio, Olio e Peperoncino. (See recipe below)
While courting my wife Brenda, I impressed her with this simple and delicious pasta dish. It was immediately one of her favorite and has remained so until this day. Spaghetti all'Aglio, Olio e Peperoncino is a very typical "poor man's meal" from the region around Rome where my parents grew up.
Do you have any advice for someone who wants to become a part of the olive oil industry?
Bring passion and integrity to your craft. Never make it a job, have fun, listen to your customers and be patient…everyday!
We'd like to thank Perry for taking the time to answer our questions. This interview has been a long time coming and we couldn't be more excited to finally share it! Next week our Culinary Cameo will feature in interview with James Beard award winner Chris Bianco. You will definitely want to check it out! Until next time!
Enjoy What You Eat!
DC
Ingredients
1 pound spaghetti
1/2 cup Queen Creek Olive Mill Tuscan Estate Balanced EVOO
4-6 cloves garlic, chopped
1/2 teaspoon red chili flakes (or more... depending on your spice index)
Fresh grated Parmesan cheese
Salt to taste
Italian parsley, chopped
1 cup of reserved cooking water
Instructions
Cook spaghetti in a large pot of salted boiling water until al dente.
Reserve on cup cooking water, then drain.
A few minutes before the the spaghetti is al dente, add EVOO, garlic, and red chili flakes to a saute pan that is large enough to accommodate the pasta when it has cooked.
Cook over medium high heat until the garlic starts to turn golden (careful not to burn).
Transfer pasta to the saute pan and toss.
Salt to taste.
If the pasta is dry, add some of the reserved cooking water.
Sprinkle with generous amounts of grated Parmesan cheese and chopped parsley.
© 2023 dapsmagic.com
Check out Queen River Olive Mill's website at: queencreekolivemill.com