Jump to recipe
Greetings Foodies! Welcome to Culinary Cameos! This week we are featuring James Beard award winning chef Nobuo Fukuda owner of Nobuo at Teeter House. I met Chef Fukuda at Check, Please! Arizona Festival and was instantly drawn to his charismatic yet humble demeanor. My love of Japanese food also increased my desire to speak with him more. So without further delay let's get started.
Born and raised in Tokyo, Nobuo Fukuda has worked as a chef in Arizona for 30 years, evolving from a wide-eyed 20-year-old at Benihana to a self-assured iconoclast who honors Japanese traditions as he breaks them. Nobuo first gained recognition for his East-meets-West approach at Restaurant Hapa, where he partnered with chef-owner James McDevitt, whose delicious take on Asian fusion inspired Nobuo to conduct similar experiments with sushi.
In 2002, when Nobuo opened Sea Saw – the Japanese tapas bar that would earn him a James Beard Award in 2007 – he was instantly pushed into the spotlight, winning accolades from every local publication as well as a "Chef to Watch" nod from John Mariani of Esquire and a spot on the "Best New Chefs of 2003" list from Food & Wine. At Teeter House, Nobuo comes full circle, elevating (and sometimes re-inventing) Japanese cuisine, while offering the wildly inventive omakase for which he's famous.
How long have you been a chef?
I have been cooking for 35 years.
What inspired you to become a chef?
I always think of myself as a cook. For me, "chef" is a big word to live up to, but it was when I started learning about wine and my experience working with James McDevitt from Restaurant Hapa that marked a shift in what I had been doing and what I'm doing now.
What training did you go through?
I did not go to culinary school. I worked in many Japanese restaurants over the years and learned various aspects of Japanese cooking. With James McDevitt, I gained exposure to French cooking techniques.
What is your favorite thing to cook?
I enjoy cooking with any product that is raised by someone I know personally.
Did any pre-conceived notions about cooking change once you became a chef?
I don't know that I had any preconceived notions about cooking-I kind of just did it.
What is the best thing about being a chef?
Being a cook allows me to meet a lot of interesting and generous people.
What is the worst thing about being a chef?
The long hours of a chef do not afford time for much else, so it is difficult to maintain balance in one's life.
Are there any foods you hate to cook?
I don't hate anything, but I do dislike making sushi because it is so complicated. You have to be very disciplined, and the practice is endless.
Do you find TV chefs inspirational or annoying to the culinary community? Why?
I respect what T.V. chefs do because not only are they masters of cooking, they are skilled at putting on a good show and teaching which takes a lot of thought and energy. I cooked for Jacques Pepin once at Sea Saw-it was an honor and such a memorable time.
Who has been most influential in your culinary career?
There are many Japanese chefs that influence me such as Toshio Tanahashi who had a restaurant in Japan called Geshinkyo, Hiro Urasawa from Urasawa in Los Angeles and Susur Lee.
How did the concept for Nobuo at Teeter House come about?
I was already established from my time at Sea Saw, but I wanted to create something that was welcoming and had a home style feel to compliment my style of cooking. Bringing the spirit of Izakaya (Japanese style tapas) allows for creativity, adventure and the use of quality ingredients. Izakaya also shows people a different dining experience that is very popular in Japan.
After you won a James Beard award how did your career change?
Receiving the James Beard Award definitely raised the level of expectation guests have as well as within myself. It opened up opportunities to connect with people who have been helpful in supporting my career. However, it doesn't make anything come more easily. I still have to hustle every day in order to continue growing and to live up to the recognition.
Your menu is a mix of modern and traditional, what process do you go through when adding something to the menu?
Usually a new dish starts with one ingredient that gets my mind going. I think about addition and subtraction. Will I add components to the dish that will enhance the main ingredient, which is a more Western approach, or will I showcase the more pure aspects of the ingredient by keeping it very simple, which is the Japanese way. Maybe sometimes, I do a little of both.
 Can you share one kitchen tip with our readers?
When trying to infuse a vegetable or protein with intense flavor, it is important to be very patient and cook it long and slow, keeping a steady temperature. I cook daikon radish this way, a very blank vegetable, and make it taste like a piece of meat by cooking it in a rich, fatty beef stock. I raise the temperature initially then let it sit in the stock for 5 hours to achieve the desired flavor. The temperature will vary, of course, depending on what you are cooking.
Can you share one of your favorite recipes with our readers?
See below for Chef Fukuda's Oven Steamed Sea Bass and Wild Mushrooms
We'd like to thank Chef Fukuda for taking the time to do an interview with us. As always we appreciate the time these chefs take out of their already busy day to speak with us. Our next Culinary Cameo will feature Perry Rea, olive oil sommelier (yes this is a thing!) and owner of Queen Creek Olive Mill! You won't want to miss it! Until next time!
Enjoy What You Eat!
DC
Chef Nobuo Fukuda's Oven-Steamed Sea Bass with Wild Mushrooms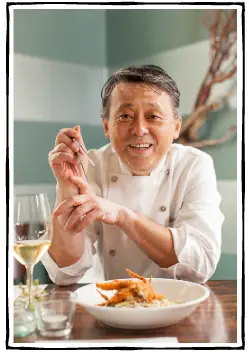 Ingredients
6 tablespoons unsalted butter, softened
2 garlic cloves, minced
1/2 pound shitake mushrooms, stems discarded and caps thinly sliced
1/2 pound oyster mushrooms, thickly sliced
1 package enoki mushrooms
Salt and freshly ground pepper
Four 6-ounce sea bass fillets with skin, pin bones removed
1 tablespoons soy sauce
1 tablespoons sake
© 2023 dapsmagic.com