Wednesday afternoon, Disney Parks Blog shared with readers a new art collection inspired by past magical events at the Disneyland Resort through the last 60 years. The special 'Decades' art collection will highlight some great milestones over the course of the years.
Artist Jeff Granito has designed the image pictured below. Beginning in May, there will be a new decade of artwork revealed. Here we have 1955-1964, as a sneak preview. In addition, this these images will be available for purchase in a limited quantity following a variety of items such as pins and apparel. Be on the lookout as new images are set to debut 60 days apart from each other.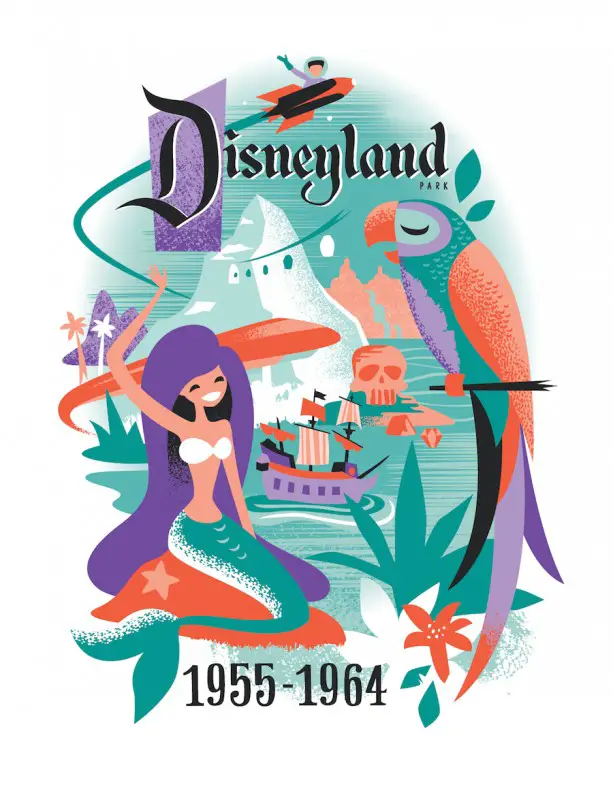 Here is what Jeff had to say on the collection,"What made this collection so special for me was the opportunity to create specific pieces of art that represented key moments over the past sixty years in Disneyland Resort history especially from a stylistic approach. In the initial piece, I wanted to capture the excitement and optimism of Disneyland during its first ten years. For many, it's the first moment of discovery into new worlds and magical lands; where else can you have the atomic age of Tomorrowland, meet the whimsical touches of Fantasyland. For me, it was a dream come true."
Cannot wait to see what other images are set to debut during the Disneyland Resort Diamond Celebration.