Since 1991, you have heard the voice of Bill Rogers as the official voice of Disneyland. Since 2012, you have heard the voice of Camille Dixon as the official voice of Disney California Adventure. Soon, these iconic voices will no longer be heard at the Disneyland Resort. They are moving on to new projects due to a casting change at the Disneyland Resort. Their memories and legacies will continue to live on, however!
It all started for Bill in 1991 when Disneyland was looking for a new voice for the Park as Jack Wagner was about to retire. Bill was invited to a recording session and did a few lines. The one who invited Bill to the studio said "I'm not the one to make the final decision, but by Thursday, you'll be the new voice of Disneyland." Bill Rogers has said many times that he has always admired Jack Wagner for all of the work that he had done as the voice of Disneyland, Walt Disney World, and even Tokyo Disneyland.
For more than three decades, Bill Rogers' voice has been heard throughout Disneyland and Disney California Adventure announcing shows, parades, and many other special events like the annual Candlelight Processional and Ceremony held during the holiday season. Bill says that voicing Candlelight is one of his favorites. "It has been my honor to be the announcer for Candlelight most of my 30 years," he said in an interview. "The entire performance always gives me goosebumps."
Bill's voice has also been heard on several attractions, and even at Disney Parks around the world. For ten years, Bill was the English-speaking voice at Tokyo Disneyland. If you have any of the CDs of Tokyo Disneyland show and parade music that was released in the mid to late 1990s, you can definitely hear his distinct voice making those announcements.
Camille Dixon is the "newest" voice, so to say. She has been the voice of Disney California Adventure since 2012. However, in the mid-2000s, Camille's voice was heard at the Hollywood Backlot Stage during the annual Food and Wine Festival at Disney California Adventure. She was also the voice of The Siren during ElecTRONica, which ran from October 2010 through April 2012.
As Disney California Adventure was getting ready to open and dedicate the new Buena Vista Street and Cars Land, Bill Rogers was getting ready to clear his calendar to be the announcer for all of those festivities. However, Bill got a phone call saying that they wanted Camille for the event instead. Camille was more than happy to be the announcer for the Park and says one of her first memories was introducing Disney CEO Bob Iger at the Cars Land press event.
When Camille was asked about her favorite announcement, she said that it was the opening announcement for Disney California Adventure – "In 1923, Walt Disney arrived in California to follow his dreams."
In 2014, Camille also narrated a new ending to the "IllumiNations: Reflections of Earth" holiday show at EPCOT. This holiday season, Camille will be the announcer for a new show at Disney's Hollywood Studios.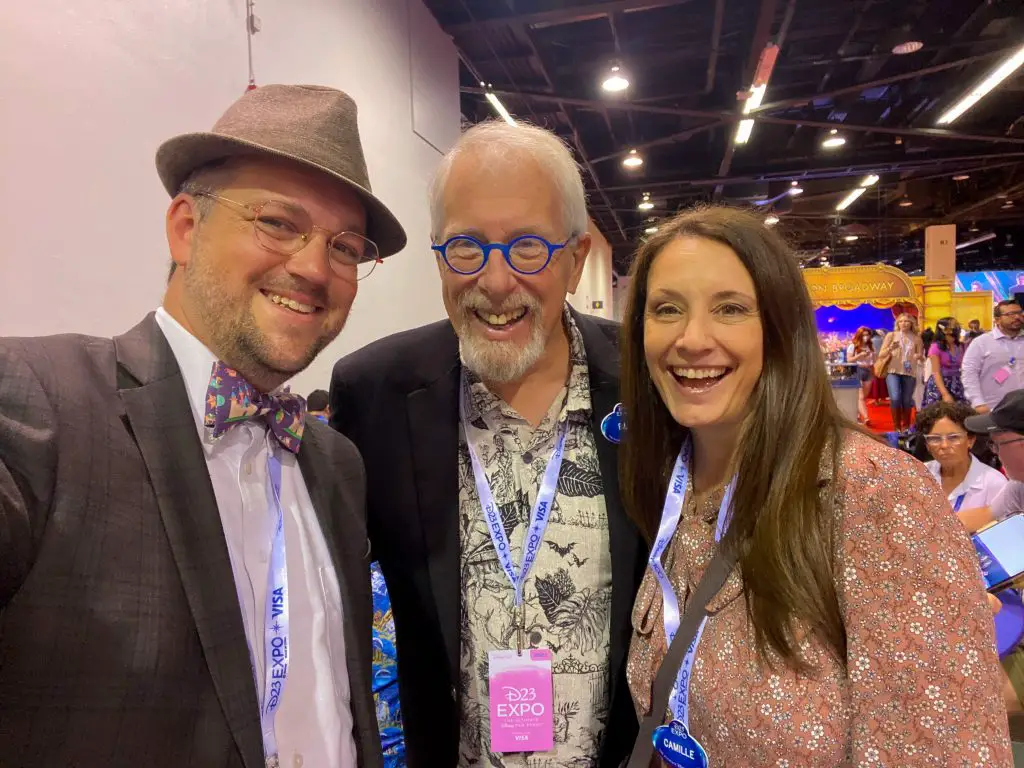 While the Disneyland Resort may be bidding farewell to Bill and Camille, we will continue to hear their voices at various Disney events. Bill is currently announcing the lineup for the "Disney Princess: The Concert" tour, as well as introducing the Disney100 exhibitions in Europe and America. They also will continue to be heard at future D23 events.
You will also continue to hear Bill and Camille on PBS SoCal in the Los Angeles area as they narrate pledge programs and host pledge breaks throughout the year.
So what's next for Bill and Camille? They have shared that they are developing new audio projects through their production company. They are also working with Disney Editions on a book about voiceovers at The Walt Disney Company, which is currently in the research phase.
We thank Bill Rogers and Camille Dixon for their many years of service and dedication to the Disneyland Resort. While their voices may not be heard, we know that we will always cherish the memories made when hearing their voices.