The Muppets Take Manhattan is set to be released on 4K Ultra HD. This classic Muppet film has an incredible collection of songs and marks Muppet performer Frank Oz's directorial debut. This release has been remastered from the original camera negative and then enhanced with an all-new Dolby Atmos immersive audio mix that was approved by Frank Oz himself!
Along with this beautiful new release of The Muppets Take Manhattan, there will also be some bonus features included. The first will be an all-new audio commentary from director Frank Oz. There will also be an interview with Jim Henson. Another extra is called Muppetisms: Miss Piggy™ & Kermit the Frog™, Pepe™ and Fozzie Bear™.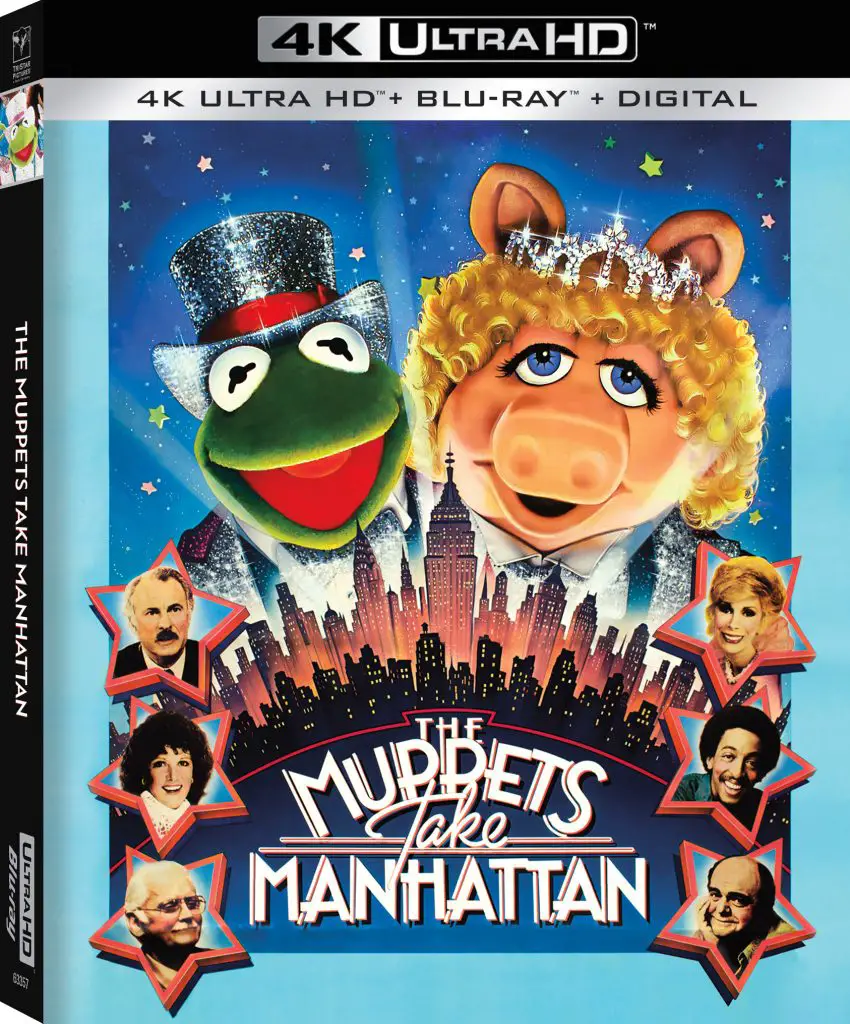 In The Muppets Take Manhattan, Kermit and the gang have completed college and head to New York City to take their musical Manhattan Melodies to Broadway. However, upon arriving, they discover that getting their show on Broadway isn't as easy as they thought it would be. When they can't find a producer, the Muppets head off in their own directions and Kermit is given the job of finding a producer to get Manhattan Melodies on Broadway. This Muppet movie is full of classic songs (like Together Again, Saying Goodbye, and Right Where I Belong to name a few) , iconic moments, and even the introduction of Muppet Babies, which would debut in animated form a couple of months after the release of this film. There are also some fantastic cameos in this film. This includes Brooke Shields, Liza Minelli, Joan Rivers, Gregory Hines, Jim Henson, Frank Oz, and more!
The 4K Ultra HD release of The Muppets Take Manhattan will be available on October 24, 2023. The full details about this release can be found in the press release below.
PRESS RELEASE:
THE NOSTALGIC FAMILY FAVORITE FROM DIRECTOR FRANK OZ AND EXECUTIVE PRODUCER JIM HENSON

FEATURING AN ALL-NEW DIRECTOR'S COMMENTARY,

DEBUTS ON 4K ULTRA HD™ OCTOBER 24TH

SYNOPSIS
Broadway bound, the Muppets take Manhattan by storm in this magical musical about breaking into show business! Fresh out of college, Kermit, Fozzie and the entire cast of Kermit's musical "Manhattan Melodies" head for the Big Apple with plans to turn their small play into a big hit! All they need now is someone to produce their show! But when no one in town will even meet with them, it's up to Kermit to believe hard enough for all of his friends that the show WILL go on! Family entertainment has never been more fun than this comedy marking Frank Oz's solo directorial debut.

DISC DETAILS & BONUS MATERIALS 

4K ULTRA HD DISC

Feature remastered in 4K resolution from the original camera negative with Dolby Vision, plus all-new Dolby Atmos immersive audio
4K picture and Atmos sound mix approved by director Frank Oz
Also includes English 5.1 + mono

Special Feature:

NEW: Feature Commentary with Director Frank Oz

BLU-RAY DISC

Feature presented in High Definition5.1 audio

Special Features:

Interview with Jim Henson
Muppetisms: Miss Piggy™ & Kermit the Frog™, Pepe™ and Fozzie Bear™

CAST AND CREW

Directed By: Frank Oz
Produced By: David Lazer
Executive Producer: Jim Henson
Story By: Tom Patchett & Jay Tarses
Screenplay By: Frank Oz and Tom Patchett & Jay Tarses
Starring the Muppet Performers: Jim Henson, Frank Oz, Dave Goelz, Steve Whitmire, Richard Hunt, Jerry Nelson
Cameo Guest Stars: Art Carney, James Coco, Dabney Coleman, Gregory Hines, Linda Lavin, Joan Rivers

SPECS
Runtime: Approx. 94 minutes
Rating: G 
4K Ultra HD Feature Picture: 4K Ultra HD: 2160p Ultra High Definition, 1.85:1
4K Ultra HD Feature Audio: English Dolby Atmos, English DTS-HD MA 5.1, English Mono

ABOUT SONY PICTURES ENTERTAINMENTSony Pictures Entertainment (SPE) is a subsidiary of Tokyo-based Sony Group Corporation. SPE's global operations encompass motion picture production, acquisition, and distribution; television production, acquisition, and distribution; television networks; digital content creation and distribution; operation of studio facilities; and development of new entertainment products, services and technologies. Sony Pictures Television operates dozens of wholly-owned or joint-venture production companies around the world. SPE's Motion Picture Group production organizations include Columbia Pictures, Screen Gems, TriStar Pictures, 3000 Pictures, Sony Pictures Animation, Stage 6 Films, AFFIRM Films, Sony Pictures International Productions, and Sony Pictures Classics. For additional information, visit http://www.sonypictures.com/corp/divisions.html
What do you think about the 4K Ultra HD release of The Muppets Take Manahattan? Will you be adding it to your collection? Share your thoughts and opinions in the comments below!