The first-ever Tropical Storm Warning has been issued for Southern California, including the area surrounding the Disneyland Resort. This comes as Hurricane Hilary continues to make its way closer to California. A Tropical Storm Warning means that within 36 hours it is expected that the area will have winds from winds of 39 to 73 mph.
Update on Hurricane Hilary
At this point, the storm is moving faster than expected. It weakened from a Category 4 to a Category 3 storm on Saturday as it moved at a swift 16-mile-per-hour pace. Currently, it is located 235 miles west of the southern tip of the Baja California Peninsula. As it moves closer to California, it is expected to continue to weaken. However, it will still have strength.
"We are expecting this to maintain tropical storm intensity as it moves into Southern California," Elizabeth Adams, a meteorologist for the National Weather Service in San Diego shared. This will mean a deluge of rain and wind that could cause flash flooding and damage throughout Southern California. As the storm gets closer to California, the weather projections will get increasingly accurate. Currently, the National Weather Service is predicting rainfall of 3-6 inches with a maximum of 10 inches coming down.
The current storm track has it hitting the Disneyland Resort area and Southern California on Sunday, August 20, 2023. As of 9:00 AM, this is the track for Hurricane Hilary from the National Hurricane Center: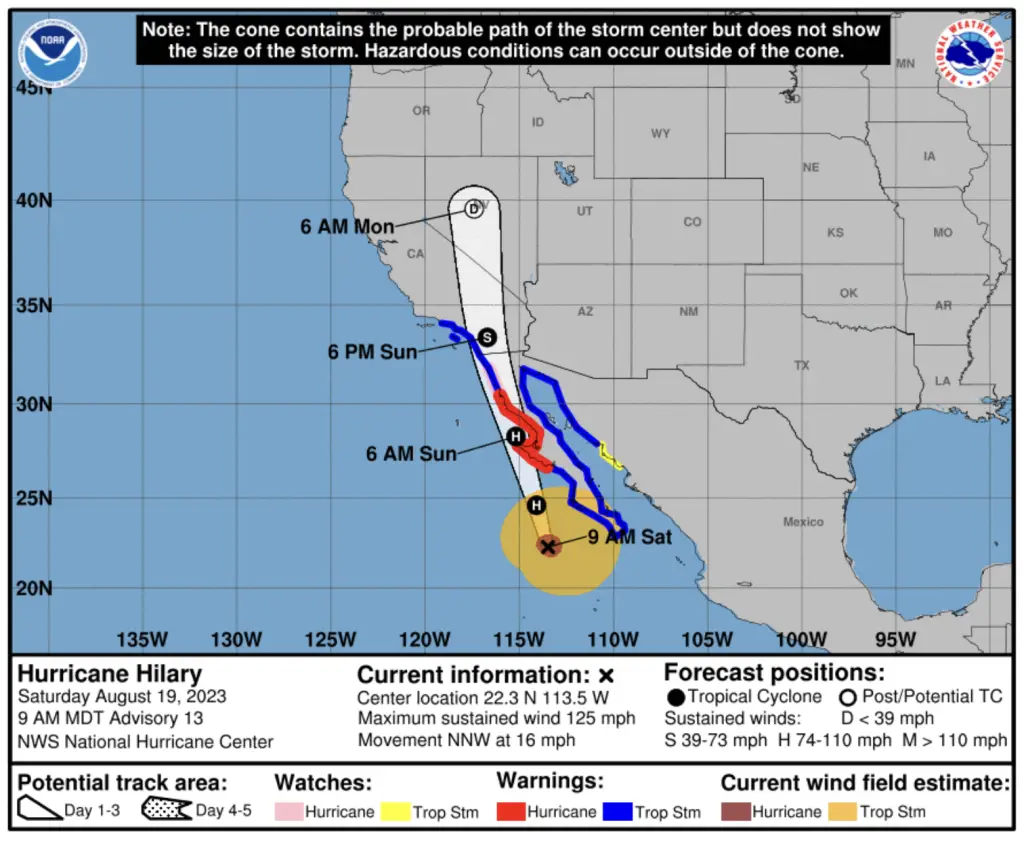 Currently, the weather report is showing that the earliest chance for rain is at 8:00 AM on Sunday morning for the Disneyland Resort area. As the morning progresses, the chance of rain increases. Expect there to be rain in the area by late morning or early afternoon.
Disneyland Resort
For those staying at or around the Disneyland Resort, there currently haven't been any announcements about changes to operations for the parks. This includes the CHOC Walk in the Park on Sunday, which is still projected to happen. However, that could change if the weather changes. Be sure to watch local news (including Daps Magic) for updates on operations for the Disneyland Resort. If conditions seem to be worsening, it is a good idea to purchase some snacks and meals (like sandwiches) that can be kept in the eventuality that it becomes necessary to stay in your room. It also is a good idea to sign up for local alerts. Sign up for Anaheim's local alert system here.
The Disneyland Resort always put safety at a premium. When the storm does arrive, please follow the instructions of the Cast Members. They will be tasked with guest safety while also still trying to continue sharing the magic with those at the Disneyland Resort. Kindness counts in these situations. Please be a part of the solution and not the problem if there are any unexpected happenings in the next couple of days in or around the Disneyland Resort. Help your neighbor, help those in need, stay calm, and bring a positive attitude to any potentially negative situations. This can make all the difference in the world.
Daps Magic will continue to follow the developments of Hurricane Hilary and share them when pertinent. Be sure to subscribe to Daps Magic's mailing list for daily updates and social media for updates as they happen.