Ahead of May the 4th, also known as Star Wars Day, it has been revealed that new Starbucks Star Wars 'Been There' Mugs will be arriving on shopDisney on the 4th of May. These new mugs will be continuing the trend of releasing Star Wars Starbucks Been There mugs on Star Wars Day.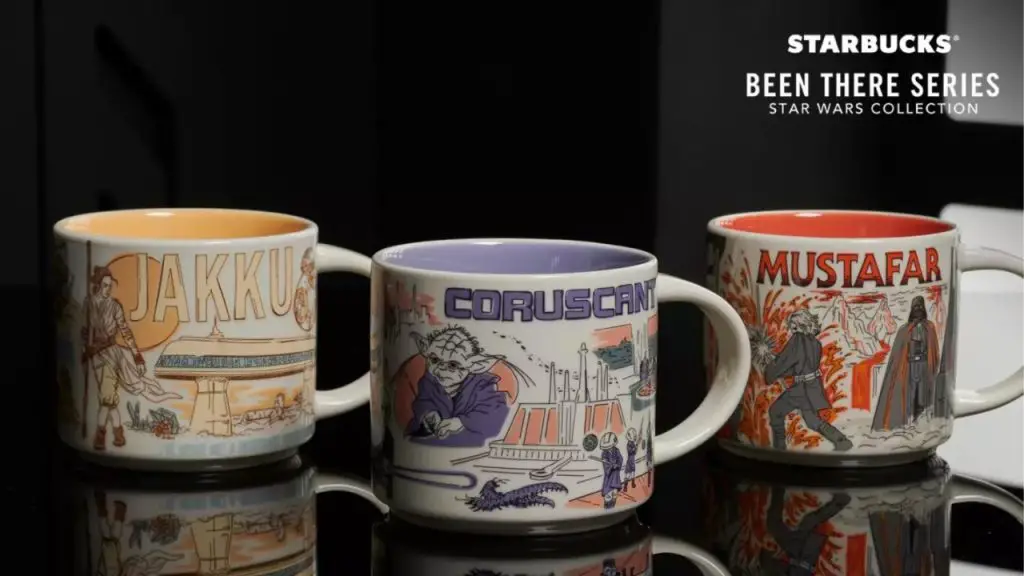 The new mugs will have scenes of three new planets on them. This will include Jakku, Coruscant, and Mustafar. The three mugs will each have their own designs and colors. Jakku is yellow and scenes from the planet can be seen, along with Rey and BB-8. The Coruscant mug is lavender with scenes from the planet along with Yoda, younglings, the Jedi temple, and the Kouhun that were used in an assassination attempt of Senator Amidala. The Mustafar mug is Orange and appears to show Anakin battling with Obi-Wan Kenobi. It also has Darth Vader on it, along with the lava flowering around the planet.
The releases of the Starbucks Star Wars 'Been There' Mugs last year were $22.99 each and were also sold in the Disney Parks. They included Naboo, Ahch-To, and Nevarro. The price for the mugs this year has not yet been revealed. The new mugs will be available on May 4th at 8:00 AM PT on shopDisney.com.
What do you think of the new Starbucks Star Wars 'Been There' Mugs? Which one is your favorite? Share your thoughts and opinions in the comments below!