Jump to recipe
Star Wars Everyday is a lifestyle book by Ashley Eckstein, who will be visiting the Disneyland Resort for a book signing on November 5. Star Wars Everyday: A Year of Activities, Recipes and Crafts from a Galaxy Far, Far Away is a 12-month guide to party planning, crafting, and cooking inspired by a galaxy from far, far away. Eckstein shared about the book saying, "Through this book, I'm thrilled to share some of the many ways that I incorporate Star Wars into my daily routine throughout the year…I've organized the book by month, with a theme each month that relates to a lesson that Star Wars explores, such as hope, love, or friendship."
Ahead of Eckstein's visit to the Disneyland Resort, a recipe for Yoda Punch from the book has been shared. Check it out below, make it, and then share how it turned out in the comments! Then make sure to stop by the Disneyland Resort to see Ashley Eckstein!
Yoda Punch – Star Wars Everyday GEEK EATS Recipe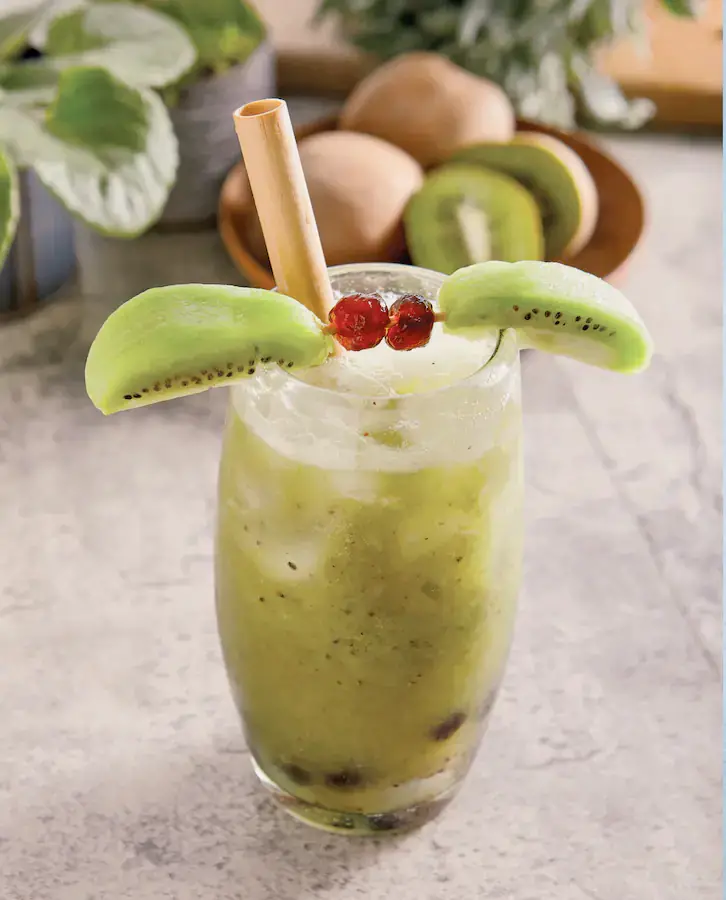 Ingredients
4 tablespoons instant tapioca pearl. black sugar flavor
2 kiwis, plus 1 more for garnish(optional)1 cup pineapple juice
1 teaspoon sweetened matcha powder
8 ounces fizzy water or ginger ale, depending on desired sweetness
Instructions
Prepare the tapioca pearls according to the package directions, and set aside.
Peel, core, and roughly chop the kiwis.
Combine the pineapple juice, kiwi, and matcha powder in a blender, and blend until smooth.
To serve: Fill two large glass tumblers with crushed ice.
Split the fruit mixture between the glasses, and ladle half the tapioca pearls into each glass.
Top with fizzy water or ginger ale.
To garnish, quarter the additional kiwi, cutting a small slit in the center or each quarter. Place two quarters on the rim or each glass for ears, and, using a short skewer, secure two pearls tor eyes.
© 2023 dapsmagic.com
Ashley Eckstein will be at the Disneyland Resort on November 5, 2022 at Disneyana from 10:00 AM to 12:00 PM on Main Street, USA at Disneyland. She will be at Star Wars Trading Post in Downtown Disney District from 1:00 PM to 3:00 PM. Signed copies of Star Wars Everyday will be available for purchase. Information about the event can be found here.