The newest story in the Marvel Cinematic Universe (MCU) has arrived on Disney+. With the arrival She-Hulk: Attorney at Law on Disney's streaming service comes the question of where it fits into the larger MCU storyline. This question has been answered by Marvel Studios. According to Marvel, She-Hulk takes place after the events of Moon Knight and before the events of Ms. Marvel.
Along with the answer as to where exactly She-Hulk fits into the MCU timeline, Marvel has also released an overall look at all of the MCU projects in timeline order.
Captain America: The First Avenger
Captain Marvel
Iron Man
Iron Man 2
The Incredible Hulk
Thor
The Avengers
Thor: The Dark World
Iron Man 3
Captain America: The First Avenger
Guardians of the Galaxy
I Am Groot: Groot's First Steps
Guardians of the Galaxy Vol. 2
I Am Groot: The Little Guy
I Am Groot: Groot's Pursuit
I Am Groot: Groot Takes a Bath
I Am Groot: Magnum Opus
Avengers: Age of Ultron
Ant-Man
Captain America: Civil War
Black Widow
Black Panther
Spider-Man: Homecoming
Doctor Strange
Thor: Ragnarok
Ant-Man and the Wasp
Avengers: Infinity War
Avengers: Endgame
Loki
What If…?
WandaVision
The Falcon and the Winter Soldier
Spider-Man: Far From Home
Shang-Chi and the Legend of the Ten Rings
Eternals
Doctor Strange in the Multiverse of Madness
Hawkeye
Moon Knight
She-Hulk
Ms. Marvel
A graphic was also released showing the MCU timeline: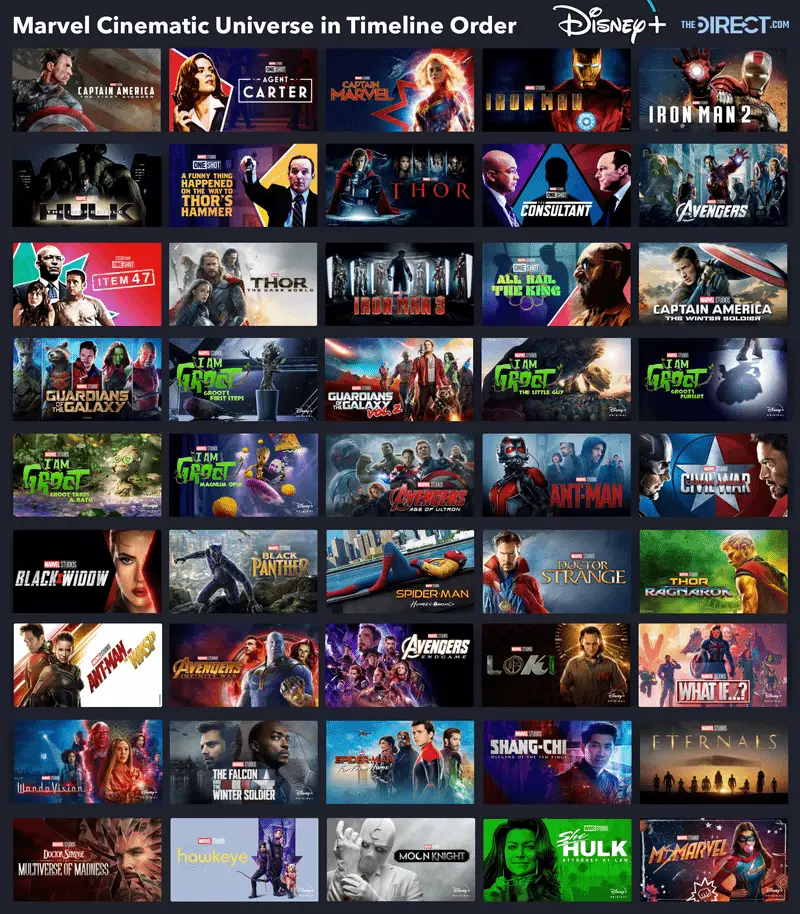 The other question beyond where She-Hulk fits in the greater MCU timeline is how the series connect with the other stories in the MCU. Obviously, there is a connection with Bruce Banner/Hulk. At this point, it isn't known if there will be any other connections with MCU characters, beyond potential references. Seeing as the series takes place in Los Angeles, there is a very good chance that there won't be any other crossovers. Only time will tell, though.
What do you think of where She-Hulk fits in the greater MCU timeline? Do you think there will be more connections She-Hulk and other MCU characters beyond Bruce Banner/Hulk? Share your thoughts, opinions, and predictions in the comments below!