Jump to recipe
One of the most talked-about dishes at this year's Disney California Adventure Food and Wine Festival is the Peanut Butter & Jelly Mac. Found at Nuts About Cheese, this dish is a completely new take on a long-time favorite!
Of course, because the old adage "ask and you shall receive" appears to be true, Disney has shared the recipe so that this dish can be recreated at home! It also opens up the possibilities for those who weren't able to try this dish at Disney California Adventure to experience the magic from the comfort of their own kitchen as well.
Peanut Butter & Jelly Mac at Disney California Adventure Food and Wine Festival- GEEK EATS Disney Recipe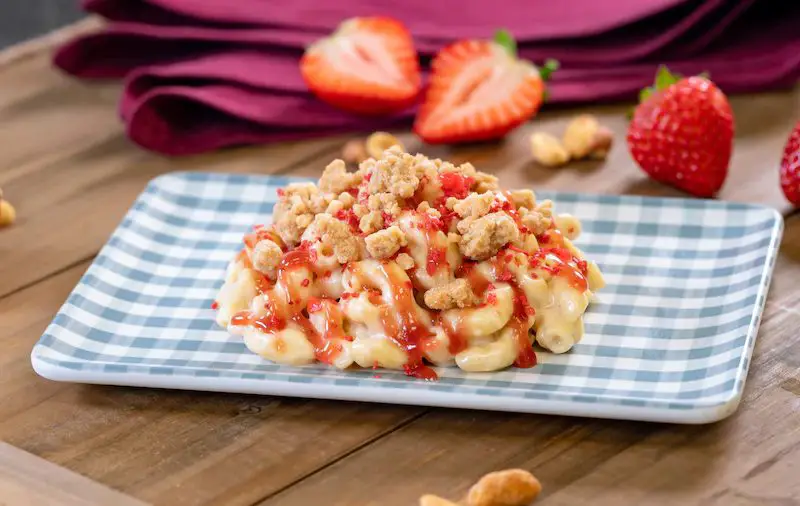 Notes
Always use caution when handling sharp objects and hot contents. Please supervise children who are helping or nearby.
This recipe has been converted from a larger quantity in the restaurant kitchens. The flavor profile may vary from the restaurant's version.
Ingredients
MACARONI
1 pound dried elbow macaroni
1 tablespoon canola oil
STRAWBERRY CRUMBLE
1 cup flour
1/2 cup brown sugar
1/8 teaspoon salt
4 tablespoons butter, melted
3 tablespoons strawberry jelly
STRAWBERRY SAUCE
PEANUT BUTTER SAUCE
2 tablespoons butter
4 tablespoons all-purpose flour
4 cups heavy cream
3/4 cup creamy peanut butter
Coarse salt, to taste
TOPPING
1 packet strawberry-flavored popping candies
FOR MACARONI:
Cook macaroni according to package instructions. Drain and toss with canola oil to prevent sticking.
Set aside.
Instructions
FOR STRAWBERRY CRUMBLE:
Preheat oven to 350°F. Line a baking sheet with parchment paper; set aside.
Combine flour, brown sugar and salt in the bowl of an electric mixer fitted with a paddle attachment on low speed until combined.
Add melted butter and strawberry and mix on medium speed until crumbly.
Place on reserved sheet pan and bake for 6-8 minutes, until crumble begins to brown.
Set aside.
FOR STRAWBERRY SAUCE:
Heat strawberry jelly in a medium saucepan over low heat for 5 minutes, until jelly is easily poured.
Keep warm until ready to serve.
FOR PEANUT BUTTER SAUCE:
Melt butter in a large saucepan over medium heat. Add flour and whisk for 2 minutes. Add heavy cream and stir constantly until heavy cream is 175°F.
Remove from heat and stir in peanut butter. Season with salt, to taste.
Keep warm until ready to serve.
TO SERVE:
Stir reserved macaroni into peanut butter sauce. Evenly divide among 4-6 plates and top with strawberry crumble and strawberry sauce. Sprinkle strawberry-flavored popping candies on top.
© 2023 dapsmagic.com
Did you have the Peanut Butter & Jelly Mac at the Disney California Adventure Food and Wine Festival? What did you think of it? How did this recipe turn out for you? Did you like it? Share your thoughts and opinions in the comments below!