An X-Wing Starfighter is currently being refurbished ahead of its arrival at Smithsonian's National Air and Space Museum in Washington D.C. Currently, the X-Wing is at the Udvar-Hazy Center where it is being conserved there in the Restoration Hangar next to historic airplanes from World War II.
The plan is for the X-Wing to go on display next year outside the Albert Einstein Planetarium at the Smithsonian's National Air and Space Museum on the National Mall in Washington, D.C. The X-Wing is on a long-term loan to the Smithsonian from Lucasfilm.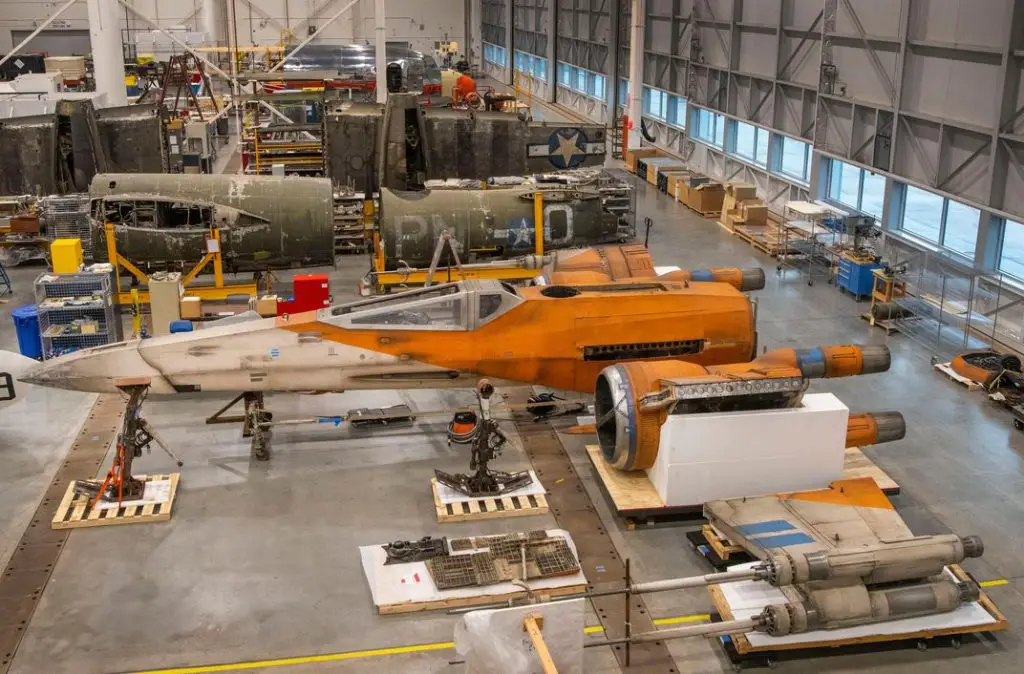 "We are thrilled to have an X-Wing on exhibit," says Margaret Weitekamp, space history chair at the museum. "It is a real screen-used vehicle from the 2019 film Rise of Skywalker. This display speaks to that crossover connection between people who are excited about space flight and have been inspired by the visions Star Wars has been putting out since 1977."
This particular X-Wing is from Star Wars: The Rise of Skywalker. It has a wingspan of 37 feet and is lifesize. "This is a T-70 X-Wing," Weitekamp says. "It's the next generation. The one Luke Skywalker flew in the original trilogy was a T-65B. The big visible difference is the X-foils that split apart. Each had an engine. The T-70 was designed to include one large engine on each wing. When X-attack formation is deployed, the engine splits into two semi-hemispheres." It appears to be the X-Wing that was flown by Poe Dameron in the movie.
It was taken apart after filming Rise of Skywalker and then shipped to Smithsonian where it is currently being worked on and reassembled ahead of it arriving to be displayed at the Air and Space Museum in 2022. The ship is currently being cleaned and refurbished due to any damage that might have happened during transit.
"Star Wars is a lived-in universe," Weitekamps says. "This is a battle-scarred X-Wing fighter. We want to distinguish between any scratches that occurred during shipping versus something that was built into the vehicle.
The X-Wing is scheduled to appear at Smithsonian's National Air and Space Museum at the National Mall in late 2022.
What do you think of this X-Wing being added to the museum? Share your thoughts and opinions below!