Shanghai, April 8, 2021 – As Shanghai Disney Resort launches its 5th Birthday Celebration today, April 8 also marks another significant milestone for the resort. Ten years ago, on April 8, 2011, The Walt Disney Company and Shanghai Shendi Group celebrated the historic groundbreaking of Shanghai Disney Resort. As one of the largest Sino-foreign joint venture projects in the service sector in China's history, and the most ambitious overseas project for The Walt Disney Company, Shanghai Disney Resort's groundbreaking marked the start of construction on the first Disney resort in mainland China.
With over five years of joint efforts from both shareholders and the local government, as well as from the hundreds of thousands of partners, contractors, vendors, construction workers, community participants, Cast Members, and many more, Shanghai Disney Resort celebrated its Grand Opening in June 2016, and has gone on to become one of the world's most visited tourism destinations.
The Walt Disney Company and Shanghai Shendi Group, its joint venture partner, broke ground on Shanghai Disney Resort on April 8, 2011.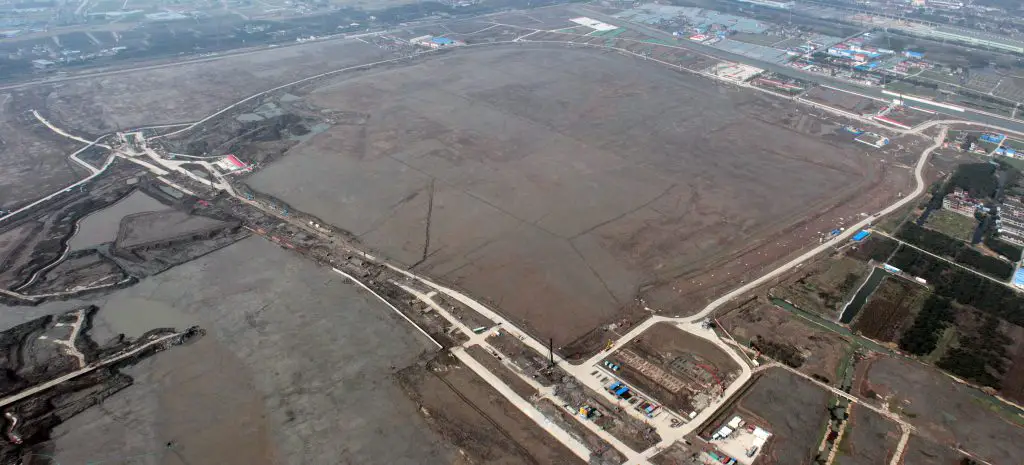 Extensive site formation work was completed on the Shanghai Disney Resort site and the project moved into the construction phase on April 26, 2012.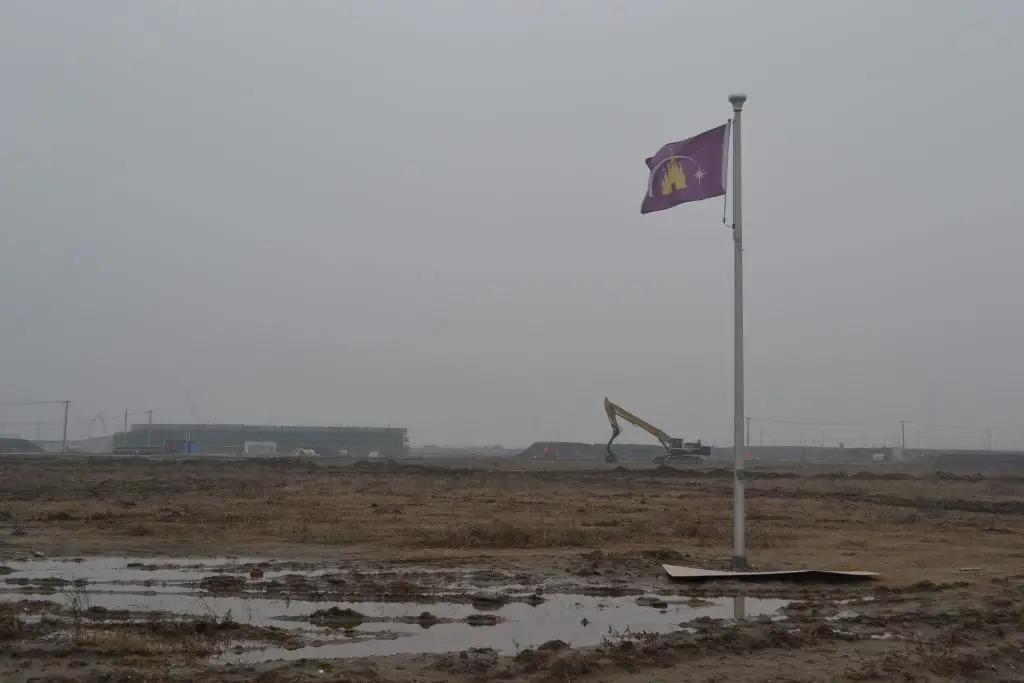 A flag standing on the construction site, indicating where the world's tallest and largest Disney Castle – Enchanted Storybook Castle – would eventually stand.

The castle topped out on May 19, 2015, with the installation of a remarkable golden finial atop the tallest of the castle's eight towers. The finial features a golden peony – the flower of China – atop a cascade of Disney stars shooting out towards the heavens from the central spire, evoking the optimism that, with belief and a little magic, dreams really can come true.

Shanghai Disney Resort revealed creative details and unveiled a scale model of the resort in July 2015, introducing key highlights of its attractions, entertainment, shopping and dining options, hotels and other recreational facilities.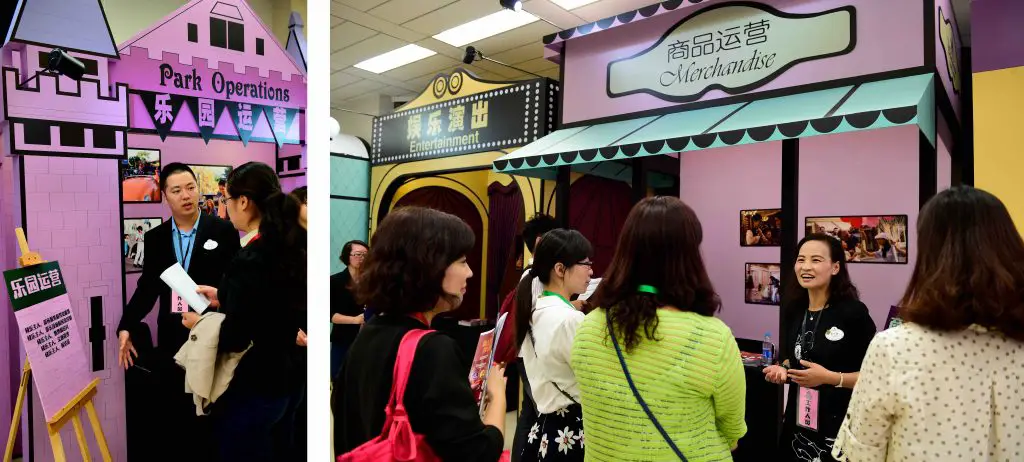 Shanghai Disney Resort hosted the first of a series of job fairs on October 21-24, 2015, as part of an extensive recruitment campaign in preparation for the resort's Grand Opening.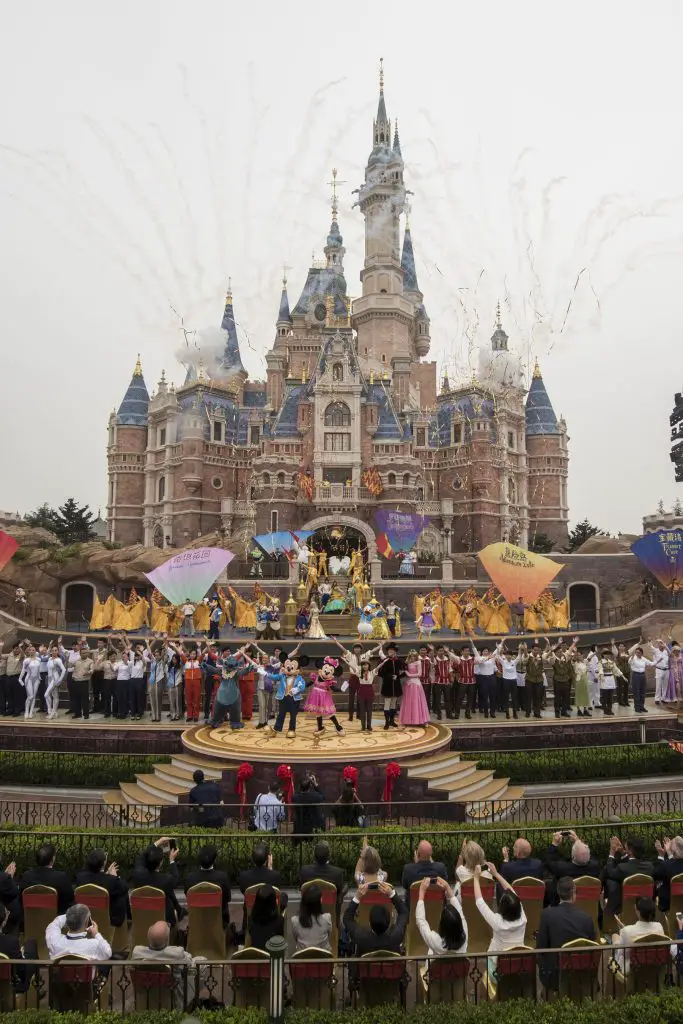 Shanghai Disney Resort celebrated its Grand Opening on June 16, 2016. Bob Iger, then chairman and chief executive officer, The Walt Disney Company, celebrated the opening of the one-of-a-kind vacation destination with thousands of distinguished guests, celebrities and Chinese officials.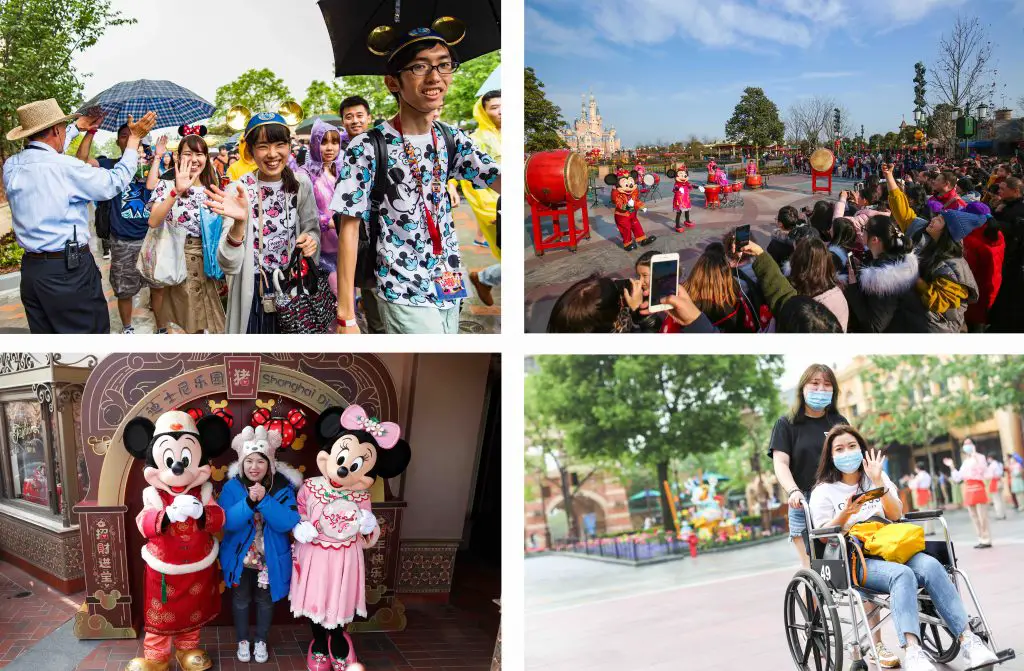 Since the resort's Grand Opening, tens of millions of guests have enjoyed memorable visits to this magical family vacation destination that is filled with Disney storytelling and experiences designed for everyone to create happy memories.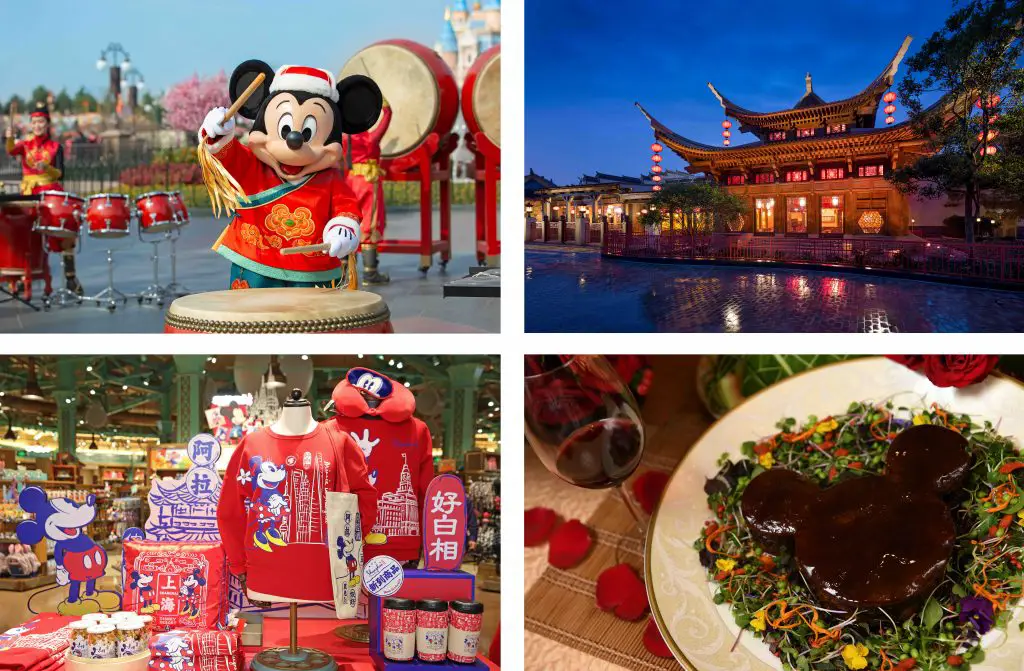 The unique blend of Disney magic and China's cultural spirit, known as "authentically Disney and distinctly Chinese," has been the guiding principle of Shanghai Disney Resort, and can be seen throughout the resort, from rides, attractions, entertainment and architecture, to dining and shopping experiences. It took years of collaboration between Disney and experts from China and around the world to create this thrilling, international Disney experience.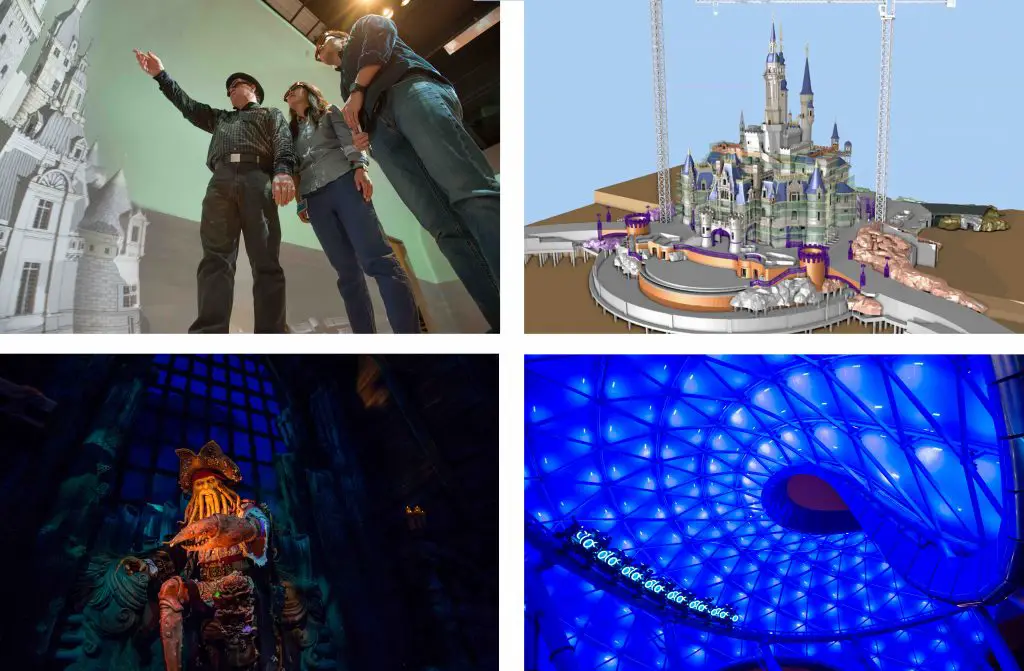 At Shanghai Disney Resort, technology supports the engaging storytelling and overall guest experience, while keeping the technological mastery itself invisible to guests. From the Building Information Modeling (BIM) and Digital Immersive Showroom (DISH) technologies used to develop attractions, to the multi-functional Shanghai Disney Resort app, numerous examples illustrate how technology is a big part of the experience at Shanghai Disney Resort.
Since opening, the resort has celebrated many traditional Chinese festivals, along with internationally recognized holidays – launching a wide range of holiday-themed celebrations with exciting new entertainment, decorations, merchandise and dining options that allow guests to explore new experiences every time they return to the resort.

Guests' experiences at Shanghai Disney Resort are further enhanced through the friendly interactions with Cast Members who deliver Disney's legendary guest service. Shanghai Disney Resort currently employs over 12,000 Cast Members, and each direct job at the resort is estimated to create a further 5-6 indirect job opportunities. The resort has been recognized for its efforts to build a team of talented, passionate, and committed Cast Members by leading human resources organizations.

Shanghai Disney Resort proved to be enormously popular with guests from both home and abroad, welcoming more than 11 million guests in its first year of operations. The resort commemorated its first anniversary on June 16, 2017 with a grand celebration ceremony at the Enchanted Storybook Castle.


Shanghai Disney Resort continued to expand after its Grand Opening, with the first major expansion, Disney·Pixar Toy Story Land, opening on April 26, 2018 – making Shanghai Disneyland the fastest Disneyland in the world to expand after opening.

Shanghai Disney Resort has been a respectful community partner and an active corporate citizen since the project started, making lasting positive changes in communities and bringing happiness and Disney magic to people in need.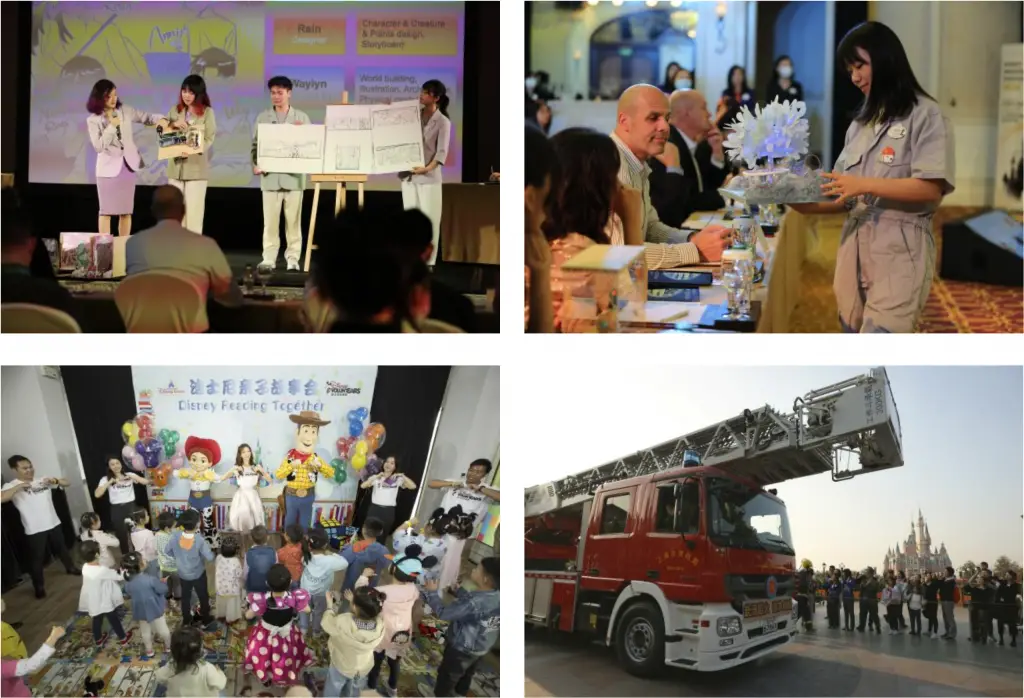 The resort harnesses the power of creativity and imagination to improve the lives of children and families and the communities they live in through extensive citizenship programs.

Shanghai Disney Resort regularly celebrates our planet with guests and Cast Members to promote greater awareness of nature and the importance of the environment in our community.

Accessibility is an important feature of all Disney parks and resorts worldwide. At Shanghai Disney Resort, the comprehensive program of accessible facilities and services – known as "MagicALL" – ensures that guests with disabilities can enjoy the full range of attractions and experiences at the resort while also creating an inclusive working environment for Cast Members.
Since 2014, Shanghai Disney Resort has participated in China's leading annual tourism event – the Shanghai Tourism Festival, with specially designed floats that help share happiness and excitement with visitors from China and across the globe.

The resort announced its second major expansion – a new Zootopia-themed land on January 23, 2019. Upon opening, the new expansion will become Shanghai Disneyland's eighth themed land and the first-ever Zootopia-themed land at any Disney park.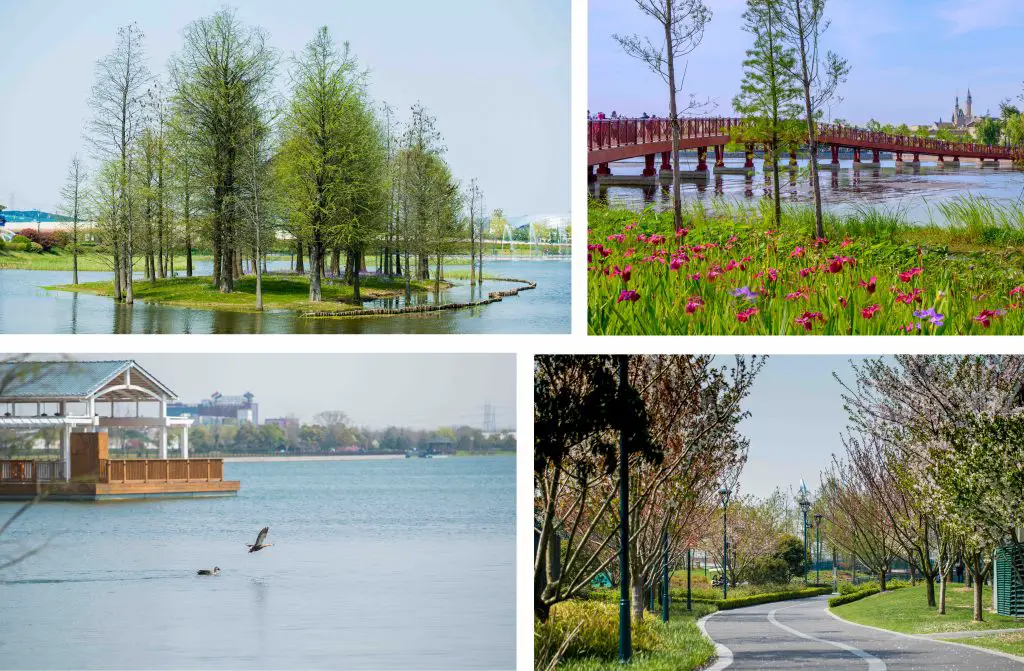 Wishing Star Park is a living ecosystem, providing a natural environment for plants, animals, fish and birds. A series of fun and engaging activities, including Wishing Star Park Adventure have been introduced in this beautiful wetland park, allowing families to connect with nature while enjoying quality time together.

Disneytown, as one of the most popular shopping, dining and entertainment destinations in Shanghai, is not only a "must-visit" for guests from all over the world, but also a magical recreational destination for family-time during weekends and holidays.

Guests' vacations are made truly magical at the resort's two themed hotels, which both create family fun that only Disney can offer. From Disney Character Dining and enchanting staycations, to a wide array of fun activities and seasonal offerings, the two hotels offer legendary Disney magic and signature memorable stays for all.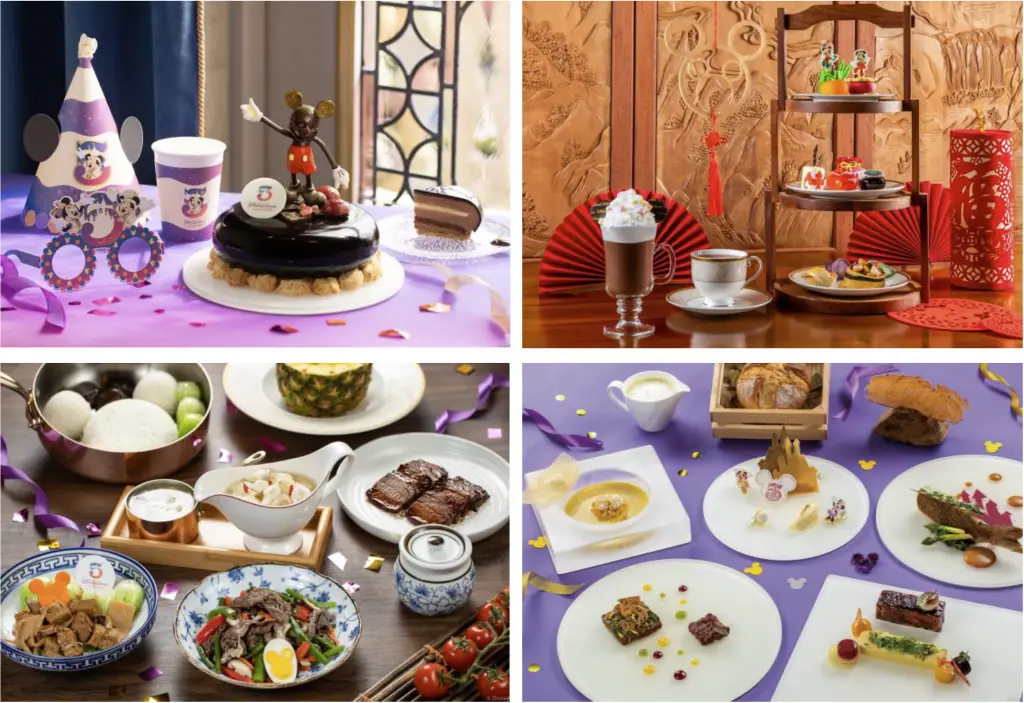 Home to traditional regional Chinese cuisine, Shanghai Disney Resort also offers guests a range of exciting dishes from other Asian cultures, as well as Western concepts, bakeries and coffee shops, all serving food that is themed to beloved Disney stories and characters.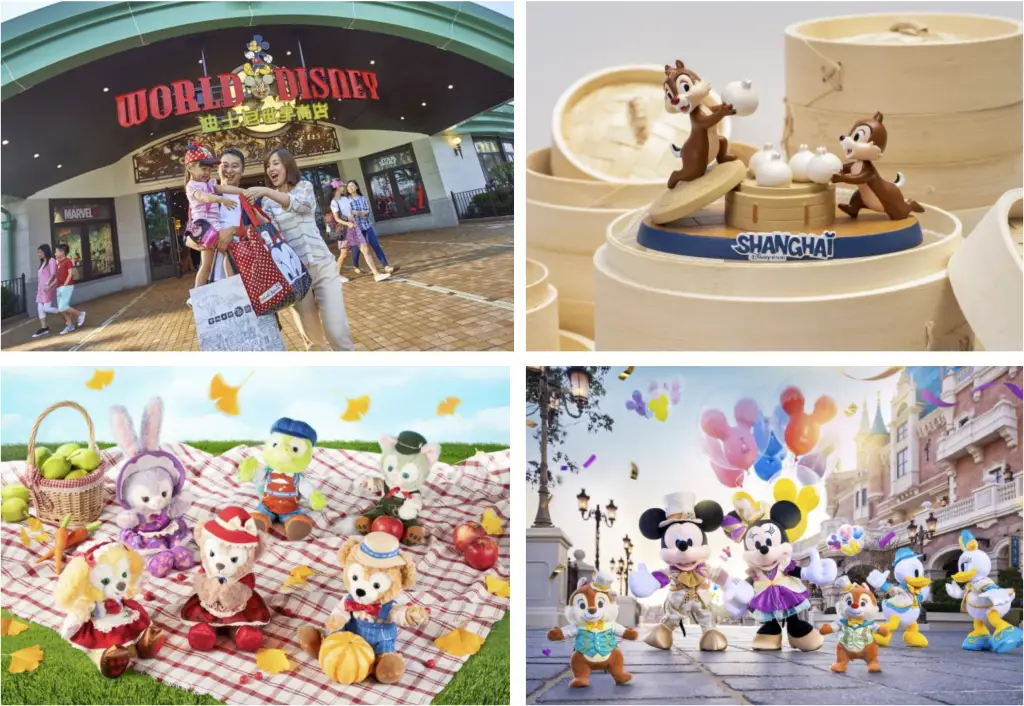 After a journey to Shanghai Disney Resort, don't forget to bring home magical memories and share the happiness with family and friends with the resort's exclusive merchandise. Inspired by the unique attractions and experiences in the resort, and combined with authentically Chinese elements, guests can choose from over 7000 options with an extensive array of Disney apparel, toys, stationery, collectibles and gifts, including exclusive items found only at Shanghai Disney Resort.

After a closure of more than 100 days due to COVID-19, Shanghai Disneyland reopened its gates on May 11, 2020, becoming the first Disneyland to reopen during the pandemic – setting new benchmarks on safety and health protocol, and acting as a beacon of hope and optimism for the rest of the world.