Today the Disneyland Resort launched a new expansion initiative called Disneyland Forward. The initiative focuses on four main points of expansion for the resort: parking, hotels, entertainment (like Downtown Disney District), and theme parks.  The expansion would revolutionize the Disneyland Resort experience for guests visiting.
One of the four main focal points for the expansion initiative focuses on the expansion of the theme parks. While this doesn't mean that a third gate will be coming to the Disneyland Resort, the possible plans do indicate that there is a chance that both Disneyland and Disney California Adventure could expand across Disneyland Drive. With the expansion comes the possibility of new attractions and presumably lands. At this point, there is no specific plan being announced but instead the conversation with the city is starting with lots of ideas of what could come to the Disneyland Resort.
The Footprint
The proposed plan would have both Disneyland and Disney California Adventure seemingly cross Disneyland Drive and basically absorb areas that currently are parking lots it appears from a map found on disneylandforward.com. Disneyland's expansion appears to cover the land that was formerly the Downtown Disney District main parking lot near the Disneyland Hotel. Disney California Adventure's expansion would cover the Lilo & Stitch parking lot that wraps behind Paradise Pier Hotel, the Grand Californian's current parking on that side of the street, and potentially even where the current vacated AMC Theater building.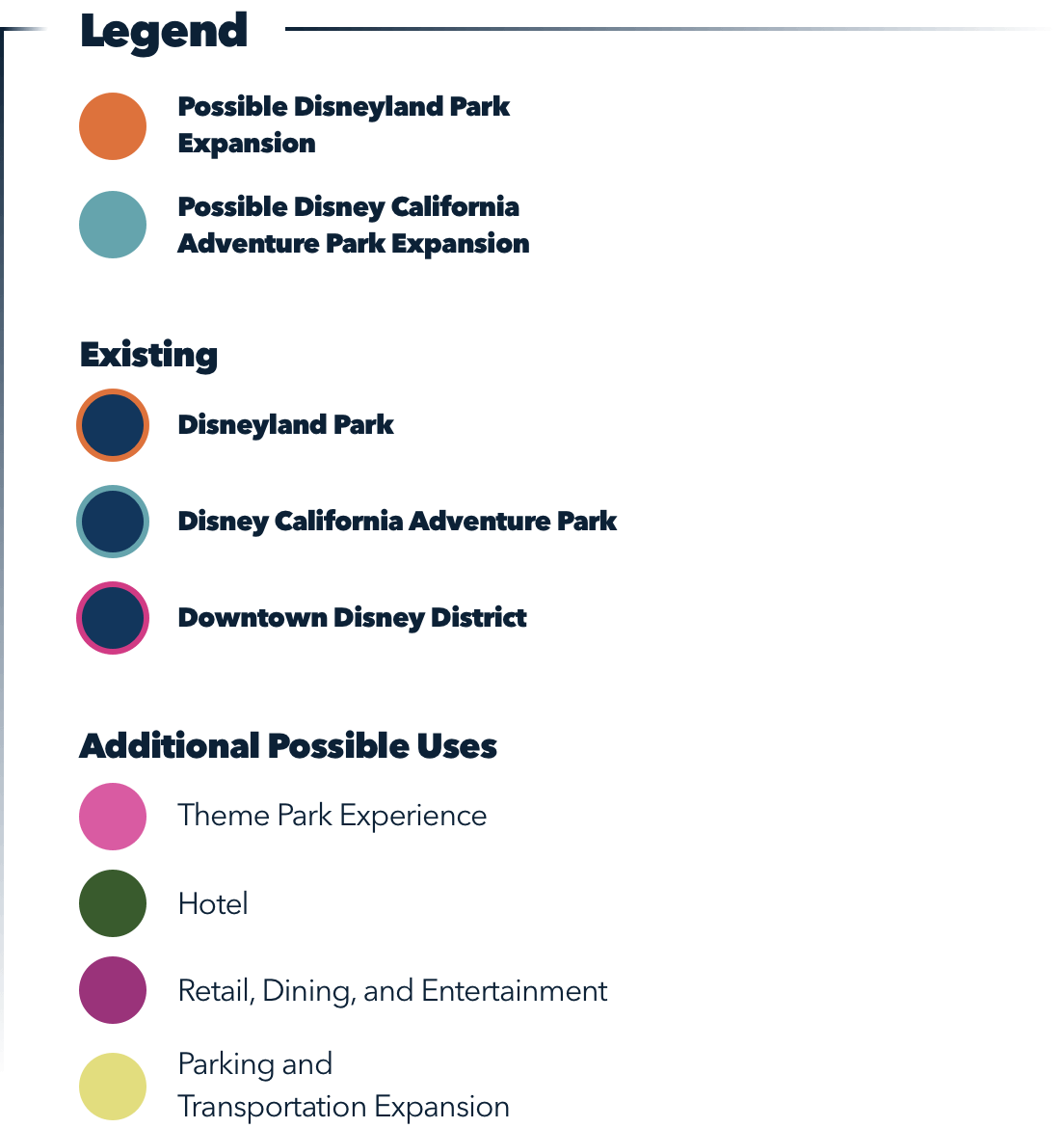 The Lands and Attractions
There are quite a few different ideas for what lands and attractions could be utilized in these expansions. Most of them come from expansions happening at other Disney Parks around the globe. While it doesn't explicitly say that these lands and/or attractions would be used at the Disneyland Resort, it does say they could be used as inspiration. So think of the possibilities that could come from what is being done elsewhere around the globe.
Here is a look at some of those that were suggested today:
Disneyland Park Expansion Possibilities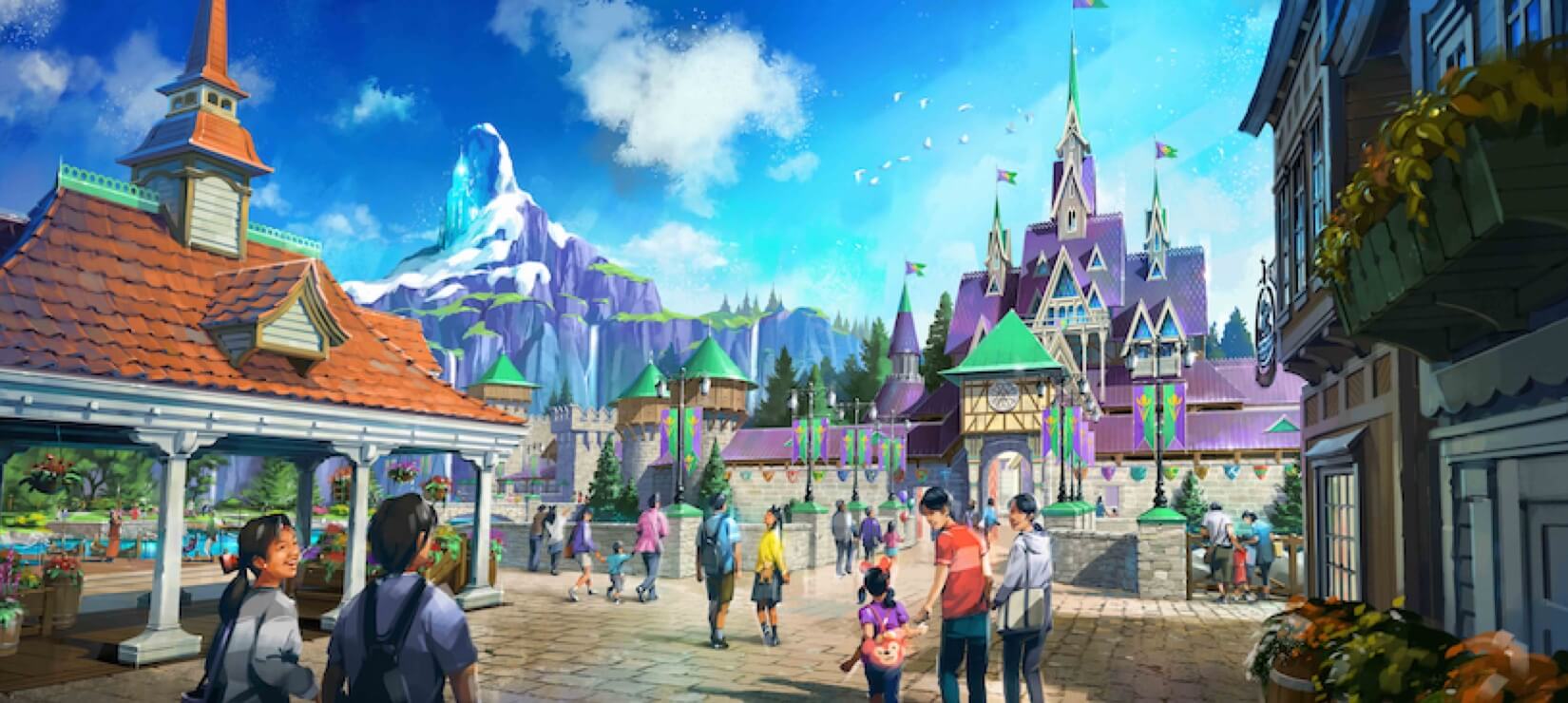 Frozen
This new land is coming to Tokyo DisneySea. Its inspiration could lead to a new part of the Disneyland Resort parks. At Tokyo DisneySea guests will soon get to visit the land of Arendelle. While there they can go on a "thrilling boat adventure" or eat in a restaurant that is set inside a castle. This Frozen land is just one of many ideas for what could come to a Disneyland expansion.
Tangled
Another new land coming to Tokyo DisneySea, this land could include Rapunzel's tower overlooking a forest where there is a gondola attraction for guests to go on a cruise to the lantern festival and experience Rapunzel's "best day ever" with Finn. This would also feature The Snuggly Duckling where Rapunzel met and then befriended a band of ruffians and thieves in the film. This is another possibility that was shared on DisneylandForward's website.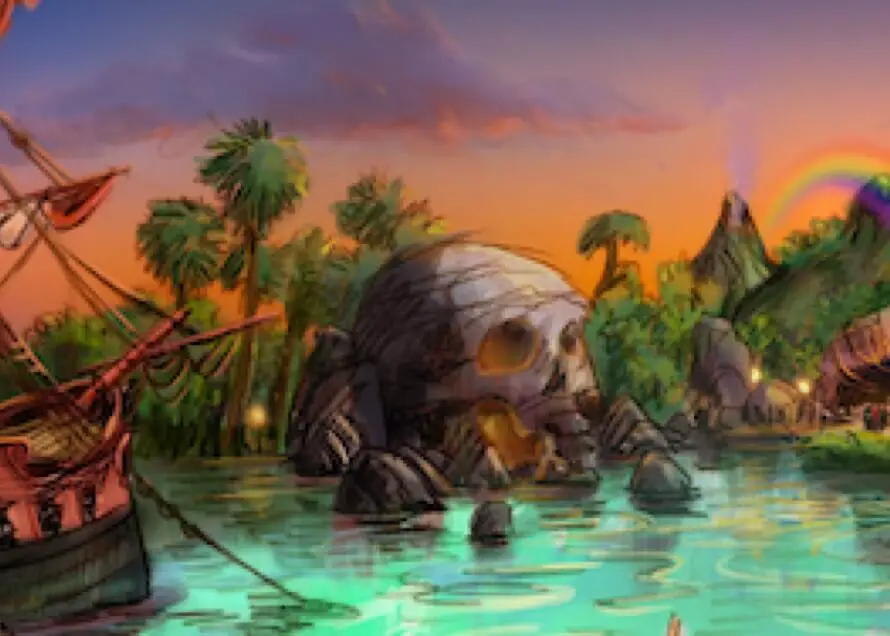 Peter Pan
A land based on Peter Pan is another idea that also comes from Tokyo DisneySea. This Neverland area includes two attractions. One is a boat ride that follows the Lost Boys down a river with the help of Tinker Bell. The other attraction takes guests on a journey to Pixie Hollow to see where Tinker Bell and her fairy friends live. This area also includes a restaurant that is inspired by the Lost Boys' hangout along with some spectacular views.
Disney California Adventure Expansion Possibilities

Zootopia
There is currently a new land based on the world of Zootopia that is being built at Shanghai Disneyland. In this new area, guests will get to experience the mammalian metropolis "where anyone can be anything." This is to include a new major attraction that will combine start-of-the-art technology with the magic of Disney storytelling to bring the movie and its characters to life for guests. This could potentially be something that would end up at Disney California Adventure's expansion.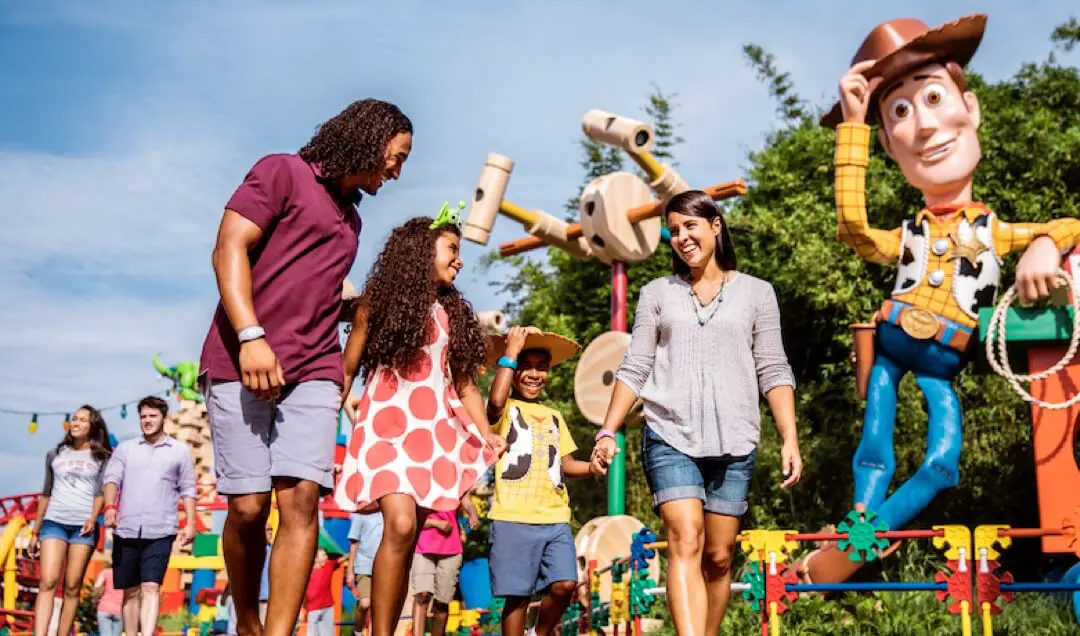 Toy Story Land
Toy Story Land is now open at Disney's Hollywood Studios at Walt Disney World Resort. Guests visiting this area shrink down to the size of Andy's toys and get to experience the world from their viewpoint. Guests visiting Toy Story Land can ride aboard the Slinky Dog Dash and spin around with the little green aliens on Alien Swirling Saucers. There are also carnival games and a restaurant, Woody's Lunch Box, that could be used for inspiration for a Disney California Adventure expansion. This would be a natural expansion of the current Pixar Pier at Disney California Adventure if it were to become a reality.
TRON
Currently open at Shanghai Disneyland and being built at Magic Kingdom, the TRON: Lightcycle Run roller coaster lets people step into the world of TRON and race through the grid aboard a high-speed race for survival!
The Big Picture
Walt Disney once said, "Disneyland will never be completed. It will continue to grow as long as there is imagination left in the world." This proposal seems to embody that statement with plenty of possibilities for what could be coming to the Disneyland Resort. As it states on the DisneylandForward website, this is only possible if certain planning restrictions are changed by Anaheim. The Disneyland Resort also does note that without these changes, it may force Disney to "remove and replace treasured rides and attractions." This DisneylandForward proposal changes through the resort through additions and not substitutions at the Disneyland Resort. With flexibility from Anaheim, Disney teases the possibility for new experiences in the parks much like those that are being created both at Tokyo DisneySea and also Shanghai Disneyland. 
At this point, there are lots of ideas that will be swirling around. There will also be lots of rumors. Things are in the very early stages and could change, as Walt Disney said, "time and time again" when talking about the plans for what would become Walt Disney World. This proposal is purposely flexible and specifics will be flushed out as Disney goes through the approval process with Anaheim along with figuring out what works at the Disneyland Resort from many different viewpoints. This includes not just great ideas, but also where they fit, how much they cost, capacity, how many people can fit in the area around them, and many other variables that are taken into account when making massive decisions about the future of Disneyland Resort.
This is just the beginning of this story and not the end, rest assured that DAPS MAGIC will continue to follow it and provide updates as they become available from Disney and are confirmed. It is going to be a grand time to be a Disneyland fan and to dream and speculate about the future if this proposal does move forward. What do you think about it? What most excites you? Share your thoughts, ideas, and opinions in the comments below!
More DisneylandForward Coverage: