Today the Disneyland Resort revealed its plans for the future with an initiative called DisneylandForward. The proposal includes ideas for expansions of the parks with new lands and attractions. It also includes a new Disney entertainment district with hotels, restaurants, and entertainment. Finally, it includes ideas for the future of parking and transportation at the Disneyland Resort. This has been a known issue for the Disneyland Resort for years that has been addressed in multiple different ways. This includes the recent Pixar Pals Parking Structure next to the Mickey and Friends Parking Structure. However, if the DisneylandForward proposals were to be adopted, there could be more parking coming to the area around the Disneyland Resort. This would be a welcome relief to guests visiting the Disneyland Resort.
A map was shared on the DisneylandForward website that shows where new parking could be coming to the areas around the Disneyland Resort. They can be seen below in the yellow areas.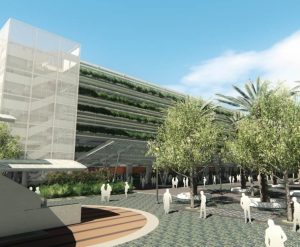 As can be seen on the map, the main proposal for additional parking comes with the return of a proposal for more parking across from the Disneyland Resort Harbor Blvd entrance that would be connected via a pedestrian bridge. This would include upgraded entrance accessibility for hotels and businesses located on Harbor Blvd. With this proposal, Disney also promises to work with both businesses and the city to invest in and also encourage the use of public transit and ride-sharing for both guests and cast.
The proposal also has Disney saying it plans to significantly invest in "transportation, parking, transit and pedestrian safety measures to improve mobility throughout The Anaheim Resort." What specifically those are beyond the new parking structure and pedestrian bridge across Harbor Blvd currently aren't known.
As with other parts of the DisneylandForward proposal, a lot of this could change over the coming days, weeks, months, and years as different variables are weighed against each other by both Disney and the city of Anaheim. DAPS MAGIC will continue to cover this story and provide updates as they become available. What do you think about a potential new parking structure across Harbor Blvd from the Disneyland Resort? Share your thoughts, ideas, and opinions in the comments below!
More DisneylandForward Coverage: