Alan Tudyk has confirmed that he will not be appearing at K-2SO in the first season of Andor on Disney+. While initially it had been reported that the humorous android would be appearing in the prequel Rogue One: A Star Wars Story, things have changed. The big change is that K-2SO simply isn't included in the story yet.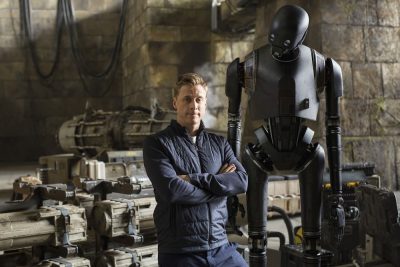 "They're shooting it right now, I'm not in it," the Firefly actor said. "But, if it stays on the air, stories keep getting told, I'll end up in there … I'm going to be in the show. It's just that the story that [showrunner Tony Gilroy] is telling doesn't involve K-2SO until later on… I can't be too specific, but I can definitely say that I'm not going to be in the first season."
Tudyk was both the voice and motion-capture performer for K-2SO in the 2016 Rogue One: A Star Wars Story and became an instant favorite among Star Wars fans. In his interview with Collider, Tudyk did note that he hopes his role is utilized sooner rather than later, " …. because I'm not going to be on stilts in, like, five years. I'm not doing it!"
Andor is slated to debut on Disney+ in 2022. Diego Luna will reprise his role as Cassian Andor in the prequel to the film. He will be joined by Stellan Skarsgård, Adria Arjona, Fiona Shaw, Denise Gough, Kyle Soller, and Genevieve O'Reilly. The first season will include 12 episodes.
What do you think of the news that K-2SO/Alan Tudyk will not be appearing in the first season of Andor? Share your thoughts in the comments below!