A GRAMMY® AWARDS
For Your Consideration Event by
SWINGIN' WITH THE MOUSE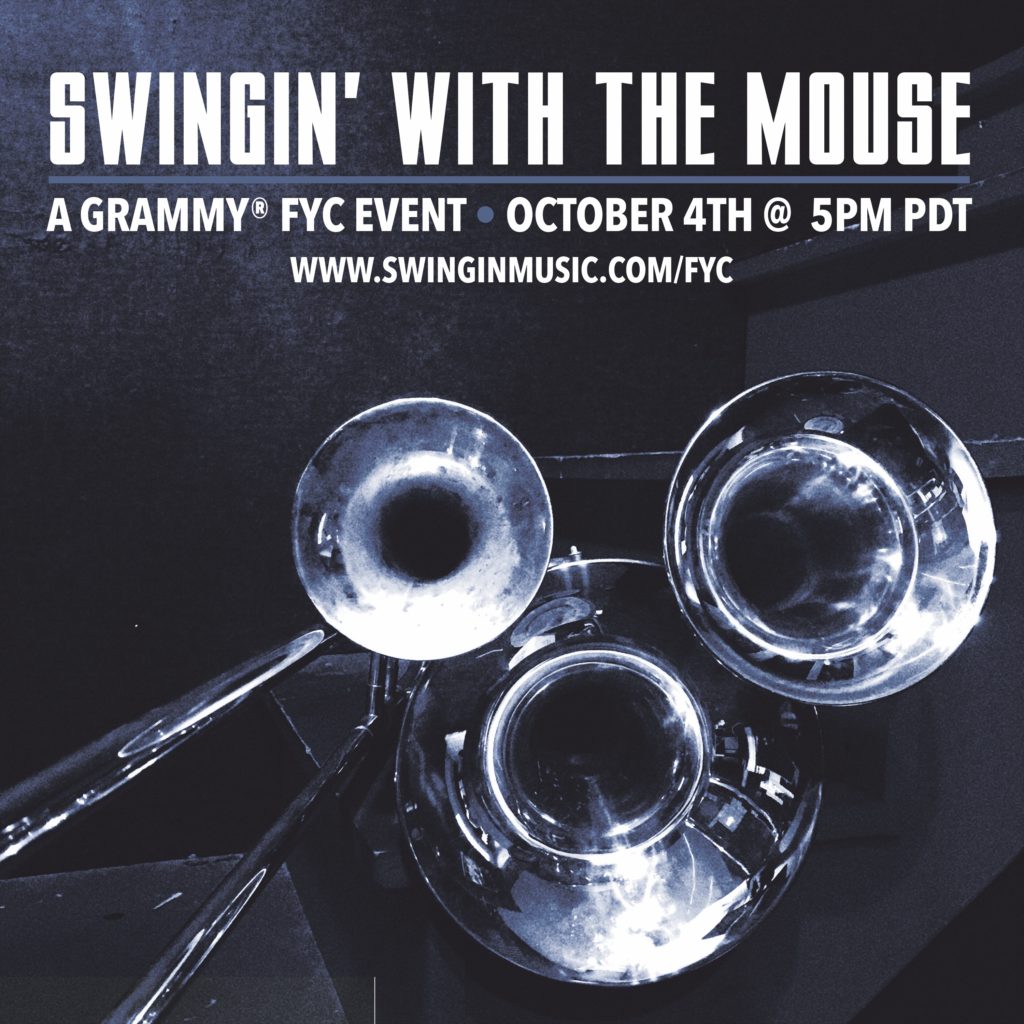 Featuring Appearances by
DEEDEE MAGNO HALL, COURTNEY REED, GARRETT CLAYTON, KEITH DAVID, AND MORE
October 4th, 202o
Livestream from Rockwell Table and Stage
5pm PDT
On October 4, 2020, join vocalists, band, and creative team members during SWINGIN' WITH THE MOUSE's premiere Grammy® FYC Event. At 5pm (PDT) on swinginmusic.com/fyc, celebrate beloved classic songs from magical animated films and from theme park attractions beloved by audiences of many ages. The performances will stream live from the stages of Rockwell Table and Stage in Los Angeles.
SWINGIN' WITH THE MOUSE has been nominated for the following GRAMMY Awards®:  Best Traditional Pop Vocal Album; Best Arrangement, Instrumental or A Cappella; and Best Arrangement, Instruments and Vocals.
This FYC event features direction and musical arrangements by SWINGIN' WITH THE MOUSE founder, PABLO ROSSIL, and is produced by ROSSIL in association with VIJAY NAZARETH, and GRAHAM WETTERHAHN.
Throughout the evening, the GRAMMY® FYC Event will feature appearances by KEITH DAVID (Dr. Facilier in Princess and the Frog), DEEDEE MAGNO HALL (The All-New Mickey Mouse Club, Cartoon Network's Steven Universe), EMMA HUNTON (Freeform's Good Trouble), GARRET CLAYTON (NBC's Hairspray Live!, Teen Beach Movie), COURTNEY REED (Princess Jasmine in Broadway's Aladdin), FRANKIE RODRIGUEZ (Disney+'s High School Musical: The Musical The Series), PABLO ROSSIL, JENNIFER STONE (Disney Channel's Wizards of Waverly Place), JANAYA MAHEALANI JONES, MICHAEL-LEON WOOLEY (Louis the Alligator in Princess and the Frog), and more to be announced.
The SWINGIN' WITH THE MOUSE Band includes Nathan King (Woodwinds), Ryan DeWeese (Trumpet), Ramsey Hampton (Trombone), Michael Sobie (Piano), Blake Estrada (Bass), and Jay Tibbitts (Drums).
Says ROSSIL, "Releasing a recorded version of SWINGIN' WITH THE MOUSE is the result of a long journey presenting live performances. We cannot get together to celebrate the album in our traditional fashion, so I thought it was best to take advantage of the great technology at hand to bring the group and some special guests together for a special GRAMMY® FYC event. And where better than where it all started? The beautiful Rockwell Table and Stage!"
Stream the nominated album now on Spotify, Apple Music, and iTunes. Visit swinginmusic.com to learn more about SWINGIN' WITH THE MOUSE.
Since 2016, the SWINGIN' WITH THE MUSIC collective – including the project SWINGIN' WITH THE MOUSE (Volume 1) – has been reimagining beloved and lesser-known songs with new jazz renditions. Turn on the television, walk down the street, or simply scroll through your favorite app; anywhere you turn, music is there waiting for you. It enhances all aspects of the human experience, and it is SWINGIN' WITH THE MUSIC's mission to celebrate what makes music special told through the ever-expressive sounds of jazz. From singers to musicians and audience members, one thing has always been abundantly clear at SWTM shows: what brings people together is the joys of enjoying a familiar tune in a new way. SWINGIN' WITH THE MOUSE has played in concert at Feinstein's/54 Below in New York and at the Rockwell Table and Stage in Los Angeles.