Are you going to stay in for Halloween night and looking for a fun treat to make? Or, do you want to make a dessert for your Halloween festivities? I was inspired by the Rice Krispy treats that you can buy in the parks, as they're always so fun and festive! I made two Disney and Halloween inspired treats and wanted to share the recipe with you!
Here are the ingredients for both treats:
6 Cups Rice Krispy Cereal
10 oz Marshmallows
3 Tablespoons of Butter
Mickey Pumpkin Additional Ingredients:
Orange Candy Melts
Orange Sugar Sprinkles
Chocolate Candy Melts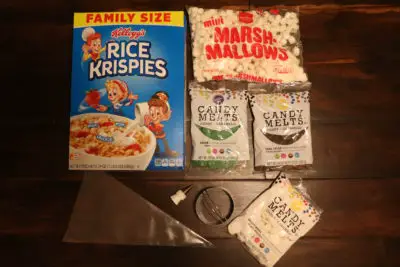 Madame Leota Additional Ingredients:
Dark Green Candy Melts
White Chocolate Candy Melts
Chocolate Candy Melts
Tools:
13 x 9" Inch Pan
Large Sauce Pan
Mickey and Round Cookie Cutters
Piping Bags and Tips or Ziploc Bags
Parchment Paper
How To:
  Over low heat, melt the butter in a large sauce pan.'
Add the marshmallows and start until all is melted.
 Mix in Rice Krispies cereal until well-coated in marshmallow.
 Use parchment paper to press down mixture into 13 x 9" pan.
 Use shaped cutters and cut a few treats out to decorate. (I was able to get three circle treats and to Mickey treats from one pan.)
For using the candy melts, followed the instructions listed on the bag.
Cover the treats in the melted coating, and decorate as you'd like.
Note: for smaller details, that's when I used piping bags. The coating will be very hot after melting, so use caution.
Have Fun and Happy Halloween!
Caitlyn