Disneyland Resort Announces Collaboration with CHOC Children's to Reinvent Patient Experience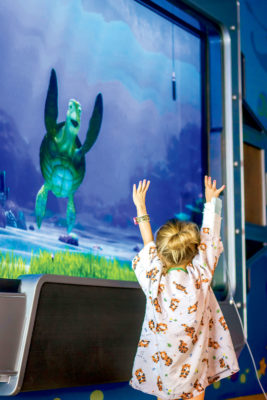 In March, Disney Chairman and CEO Bob Iger announced an innovative plan to dedicate more than $100 million in company resources, including cash, products and services, to reinvent the patient and family experience in children's hospitals across the globe, as part of the Disney Team of Heroes initiative. Disney is already working with patient care experts to help create more personalized and comforting experiences for patients and families. The first hospital to work with Disney in this comprehensive new approach was Texas Children's Hospital in Houston. Last week, Disneyland Resort President Josh D'Amaro announced that CHOC Children's in Orange County, California has been selected to participate in this program.
"We are proud to provide our resources and creativity to CHOC Children's to support the amazing work they do," D'Amaro said. "We hope to deliver some joy to CHOC's young patients by infusing their hospital stays with some Disney magic."
Disney will work with patient care experts at CHOC to create a combination of customized experiences with favorite Disney characters and legendary creativity. The atmosphere will help provide moments of joy and inspiration to young patients and their families, helping to ease the stress of a hospital stay. The patient and family experience will be brought to life in ways only Disney can do, using interactive technology, storytelling and fun.
"We are thrilled to partner with Disney to leverage the power of imagination, creativity and make believe in creating memorable experiences for our patients.  We believe nothing – especially illness or injury – should put childhood on pause," says Kimberly Chavalas Cripe, president and CEO, CHOC Children's.
The program also will include customer-experience training for doctors, nurses and staff. The Disney Institute will create a customized program for healthcare professionals designed to enhance the patient and family experience.
Disney has a rich history of providing comfort and inspiration to families with children facing serious illness dating back to Walt Disney, who was on the community committee that helped open CHOC. From Walt Disney's early fundraising efforts for the hospital and the annual CHOC Walk in the Park to the $5 million gift from the Disneyland Resort toward the construction of CHOC's newest tower, including the interactive "Turtle Talk" show in the lobby, this new initiative will expand on Disney's legacy of providing moments of joy for CHOC patients.
###
ABOUT THE DISNEYLAND RESORT
Located on approximately 500 acres in Anaheim, California, the Disneyland Resort features two spectacular theme parks – Disneyland (the original Disney theme park) and Disney California Adventure park – plus the Downtown Disney District comprised of unique dining, entertainment and shopping experiences. The Resort's three hotels are the 948-room Disney's Grand Californian Hotel & Spa, which also features 50 two-bedroom equivalent Disney Vacation Club units; the 973-room Disneyland Hotel and the 481-room Disney's Paradise Pier Hotel. With 30,000 cast members, the Disneyland Resort is Orange County's largest employer and generates $5.7 billion annually for the Southern California economy. For detailed information about the Disneyland Resort, please visit www.disneyland.com.