The Nightmare Before Christmas is celebrating its 25th anniversary! With the celebration comes a new release that includes a sing-a-long version. Jack Skellington is the "Pumpkin King" of Halloween Town. However, he is bored with it. All of this changes when he discovers Christmas Town.
Jack decides what his life needs is some Christmas spirit. He attempts to bring Christmas to Halloween Town and even attempts to impersonate Santa Claus in the real world. As things seem to get worse and worse, will Christmas be destroyed by the Pumpkin King? Will Jack Skellington find what he is looking for? The Nightmare Before Christmas is a now legendary tale that is beloved around the world every Halloween (and Christmas)!
Quality
This release of The Nightmare Before Christmas is a very enjoyable version to watch. Several years ago I reviewed this on DVD and felt that the visuals weren't as clean as I would have liked. Thankfully, this version looks great on Blu-Ray. The visuals are crisp and clean, as are the colors. The sound is also quite nice. All in all, this makes for a very enjoyable viewing experience.
Extras
The extras included with The Nightmare Before Christmas 25th Anniversary Edition really are built around a sing-a-long option. There are also multiple other extras included as well,  these have been released before though. However, this isn't a bad thing. They are definitely worth watching and are a nice compliment to the movie. Nightmare Before Christmas fans will enjoy working their way through them!
BLU-RAY & DIGITAL:
Song Selection – Shriek along with these ghoulish tunes from the movie, or just lend an ear if you find singing to be particularly ghastly.
"This Is Halloween"
"Jack's Lament"
"What's This?"
"Town Meeting Song"
"Jack's Obsession"
"Kidnap the Sandy Claws"
"Making Christmas"
"Oogie Boogie's Song"
"Sally's Song:
"Poor Jack"
"Finale/Reprise"

CLASSIC BONUS FEATURES
The Making of
The Beginning – Tim Burton and the filmmakers detail the early stages of the beloved film.
Music – Discover how composer and lyricist Danny Elfman expressed Tim Burton's unique vision through the timeless songs heard in the film.
Storyboards – In the storyboard phase, visual representations are first drawn for each scene and then put together in sequential order.
Art Direction – From camera angles to miniature sets, just about every detail of the film was meticulously plotted by the filmmakers.
Puppets – All of the characters' puppet models are constructed in a process that takes them from their metal base to the final painted mold.
Animation – An incredible mix of artistry and patience is required to produce the stop-motion magic of "The Nightmare Before Christmas."

Deleted Storyboards

Behomoth Singing – In this unused storyboard sequence, we learn there may have been more to Behemoth than the overalls let on.
Oogie Boogie with Dancing Bugs – Unused because of its difficulty to animate—take a look at this storyboard sequence where Oogie Boogie cuts a rug with some bugs.
Alternate Identity of Oogie Boogie – Although never used in the final film, Oogie Boogie was almost a mere alter ego for someone very close to Jack and Sally.

Deleted Animated Sequences

Vampire Hockey Players – Tim Burton almost had quite the grotesque cameo, but he was replaced by a pumpkin in the final film.
Lock, Shock and Barrel – Lock, Shock and Barrel settle in for a front-row seat while Oogie Boogie terrorizes Santa and Sally.
Oogie Boogie Shadow Dance – The Boogie Man was never one to shy away from the spotlight, as is evident in this deleted dance sequence.

Tim Burton's Early Film: "Frankenweenie" (Uncut Version) – Before Tim Burton gave us all nightmares, he created this electrifying short film that replaces Frankenstein's monster with a dog.
"What's This?" Jack's Haunted Mansion Tour – Take a ride through Jack's Haunted Mansion Holiday and see how Disney Imagineers transformed an iconic Disneyland attraction.
Tim Burton's Original Poem Narrated by Christopher Lee – Hear Hollywood legend Christopher Lee narrate the poem that inspired the movie. Set over illustrations based on Tim Burton's art.
Storyboard-to-Film Comparison – See the final version of Jack's Christmas pitch to the people of Halloween Town next to the original storyboards.
Theatrical Trailer – In this theatrical trailer, enter a place where every day is Halloween—till Jack Skellington shares his unique view of Christmas!
Teaser Trailer – This trailer highlights Disney's long history with technology in filmmaking and heralds a new collaboration with Tim Burton.
BLU-RAY EXCLUSIVES:
Tim Burton's Early Film: "Vincent" – Vincent Price himself narrates this stop-motion tale of little Vincent Malloy and his fascination with the macabre.
Posters – Take a look at some promotional posters from the movie's release.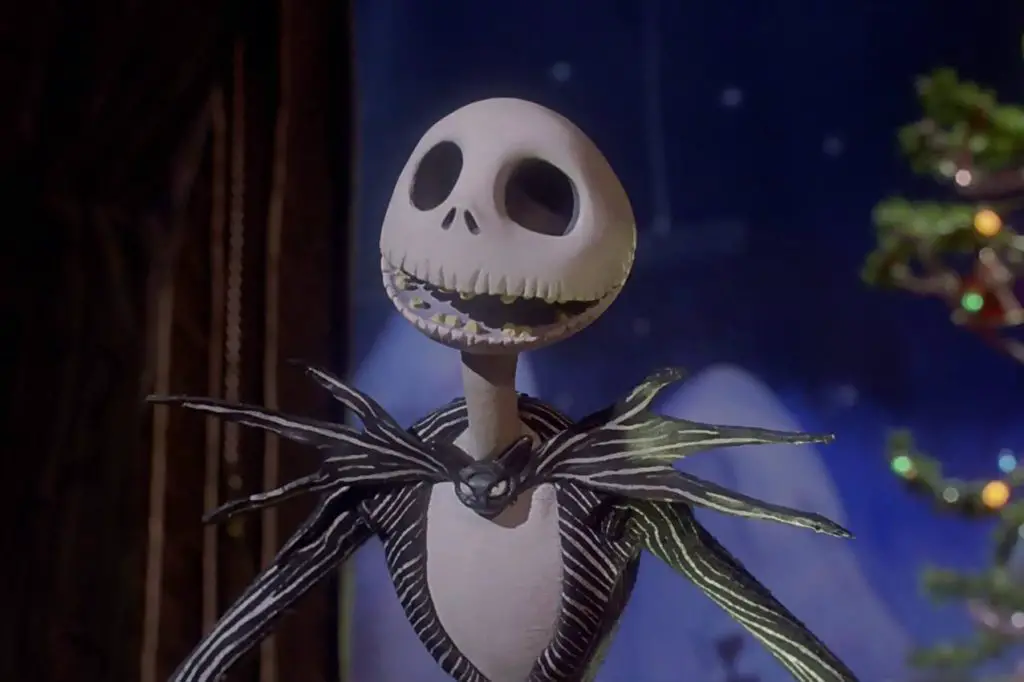 Final Thoughts
The Nightmare Before Christmas is a beautiful movie. It has many memorable moments that range from poignant to humorous. The soundtrack is wonderful. The Nightmare Before Christmas 25th Anniversary Edition is a wonderful addition to any Disney or The Nightmare Before Christmas fan's movie library. This is an edition that is simply a joy to watch. While this is a fun movie to watch year round, it is even more fun to watch during the next couple of months. This release definitely gets a hat tip. Go out and get it. It is a beautiful release that will be enjoyed time and time again!
<i>Daps Magic received a sample product or experience for this review in exchange for an honest review. The views of the reviewer are wholly their own. Read full disclosure policy at dapsmagic.com/disclosurepolicy.</i>