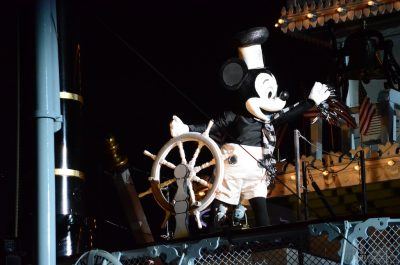 Disneyland has Fantasmic! dining packages available for before the reopening of the nighttime spectacular.
The Restaurant Packages
There are two types of dining packages to choose from.  Blue Bayou Restaurant and River Belle Terrace have dinners that include priority viewing.  The meals are prix fix 3-course dinners.  The meals are $65 for adults and $25 for children at Blue Bayou, and $45 for adults, $25 for children at River Belle.  Both restaurants have times starting at 4 pm.  At River Belle, for $15 more per person, guests can sit at the outdoor patio for watching the show instead of receiving a ticket for the viewing location.  And these dinners start at 8 pm.
On-the-Go
Hungry Bear Restaurant has "on-the-go" packages for reservation at $29.99 for adults and $19.99 for children.  There are 4 types of entrees available.  And each includes a pass for a specific viewing location.
How to Reserve
For information on reserving, you can go here for the On-the-Go packages, or here for the restaurant reservations.
The Opening Night Dilemma
Even though the packages started taking reservations today, they are all sold out for July 17, the opening night.  In fact, the online reservation system crashed because of the number of people using it.  And, phones could not connect throughout the day because so many were calling in.  That night will have a lot going to the eateries and the shows.  However, earlier in the day the 18th had openings for reservations.
The way to go for opening night is to get a pass with regular park tickets and passes.  Also, as packed as it may sound for the park overall, there are only a certain number of packages available at the restaurants.  Regular seating at those food places is available.  It doesn't mean those eateries are packed out.
Have you done a dining package for the show before?  What was it like?  Let us know in the comments below!