Deadpool Kills The Marvel Universe Again – and No One Is Safe!
Your first look at the new series by Cullen Bunn and Dalibor Talajic
New York, NY—June 6, 2017—If you're Deadpool and you kill the entire Marvel Universe, why not eat some chimichangas…and then kill all over again? Proving there's nothing like revenge, the superstar team of Cullen Bunn (X-Men Blue, Venomverse) and Dalibor Talajic (Deadpool Kills The Marvel Universe, Redwolf) reunite to bring you Deadpool Kills The Marvel Universe Again, and the Merc with the Mouth has never been more ready to return to that katana.
"This is not a sequel to the original story," warns series writer Cullen Bunn. "This is an all new murderous rampage. The Marvel Universe has changed a great deal since the first series. So, of course, Deadpool had to up his game and change his tactics."
How so? "Deadpool is pulling out all the stops on this killing spree," continues Bunn. "In the second issue of the original series, he killed Spider-Man. In the second issue of this series, he goes after the entire Spider-Man family. And that's not all. Good ol' Wade is approaching these kills in all new ways, and he's going after huge targets. How does Deadpool kill an entire pantheon of mythic beings? You'll find out in the first issue. And that's just the beginning of the carnage."
Of course, if you're Wade Wilson, it doesn't mean things are going to be easy – especially when you're on a mission to kill the X-Men, the Avengers, Gwenpool, Spider-Man, and more! You're not going to want to miss this all-new five-issue series, Deadpool Kills The Marvel Universe Again, hitting comic shops this July!
Deadpool Kills The Marvel Universe AGAIN #1 (of 5) (MAY17089)
Written by CULLEN BUNN
Art by DALIBOR TALAJIC
Cover by DAVE JOHNSON
Variant Cover by JAY FOSGITT (MAY170822)
Variant Cover by PEPE LARRAZ (MAY170821)
Variant Cover by MICHAEL WALSH (MAY170820)
FOC – 06/12/17, On-Sale – 07/18/17
An Astonishing New Look at Marvel's X-Men Trading Card Variant Covers!
Celebrate the launch of Astonishing X-Men #1 with a fresh collection of variant covers by the legendary Jim Lee
New York, NY—June 8, 2017—This July, mutants will once again assemble in ASTONISHING X-MEN #1, and Marvel is celebrating the occasion with a series of nearly thirty X-MEN TRADING CARD VARIANTS by legendary artist Jim Lee! After debuting a selection of covers earlier this year, Marvel is proud to release the remaining variant covers of the full collection.
Remastered and recolored from the original trading cards, relive this iconic era of the Children of the Atom with a series of eye-popping covers celebrating your favorite characters. Originally penciled by legendary X-Men artist Jim Lee with inker Scott Williams, colorists such as Jesus Aburtov, Israel Silva & Chris Sotomayor apply modern coloring techniques to these classic masterpieces!
Look for all of these can't-miss X-MEN TRADING CARD VARIANTS on your favorite Marvel titles, coming exclusively to comic shops throughout the month of July:
ALL-NEW WOLVERINE #22 (Archangel)
AMAZING SPIDER-MAN #30 (Bishop)
AVENGERS #9 (Mystique)
BLACK PANTHER #16 (Storm)
CABLE #3 (Cable)
CAPTAIN AMERICA: STEVE ROGERS #19 (Gambit)
CHAMPIONS #10 (Cyclops)
DAREDEVIL #23 (Domino)
DEADPOOL #33 (Deadpool)
DEFENDERS #3 (Shadow King)
DOCTOR STRANGE #23 (Mr. Sinister)
GENERATION X #4 (Jubilee)
GWENPOOL, THE UNBELIEVABLE #18 (White Queen)
INVINCIBLE IRON MAN #9 (Colossus)
IRON FIST #5 (Sabretooth)
JEAN GREY #4 (Dark Phoenix)
MIGHTY THOR #21 (Sentinel)
MS. MARVEL #20 (Lady Deathstrike)
OLD MAN LOGAN #26 (Professor X)
PETER PARKER: THE SPECTACULAR SPIDER-MAN #2 (Psylocke)
THE PUNISHER #14 (Forge)
ROYALS #5 (Magneto)
SPIDER-MAN #18 (Shadowcat)
THANOS #9 (Strong Guy)
UNCANNY AVENGERS #25 (Rogue)
VENOM #152 (Polaris)
WEAPON X #5 (Warpath)
X-MEN BLUE #7 (Jean Grey)
X-MEN GOLD #7 (Mojo)
What Is The Vanishing Point?
Coming in Secret Empire 10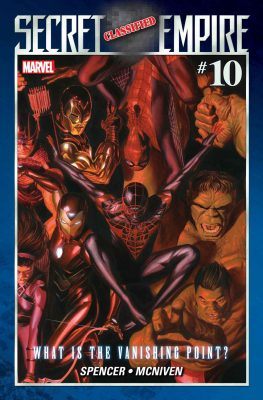 MARVEL UNLIMITED EXPANDS THIS JUNE!
Digital Subscription Library Continues to Grow with Latest Updates
New York, NY—June 5th, 2017—Marvel Unlimited, Marvel's digital comics subscription service, offers members unlimited access to over 20,000 issues of Marvel's classic and newer titles, delivered digitally through your desktop web browser and the Marvel Unlimited mobile app. With classic and newer issues added every week, here are some of the amazing Marvel titles coming to Marvel Unlimited this June:
Week of 6/5
BLACK WIDOW #8
DEADPOOL: BACK IN BLACK #4
EXTRAORDINARY X-MEN #16
GHOST RIDER #1
ROBBIE REYES IS BACK! It's hell on wheels as the Spirit of Vengeance makes his roaring return! A mysterious object from space crash-lands in southern California, drawing some of the brightest minds in the Marvel Universe to Ghost Rider's backyard – including Amadeus Cho, the Totally Awesome Hulk! What mayhem will be unleashed as the High-octane Hothead comes face-to-face with the Jade Genius? And with Robbie still possessed by the ghost of his evil uncle Eli…who's really in the driver's seat? Then, meet the newest speed trap in Ghost Rider's life as his original creators Felipe Smith and Tradd Moore reunite for a special backup story and the debut of an all-new villain. Strap in and start your engines, True Believer, this one's gonna be a scorcher!
GREAT LAKES AVENGERS #2
GUARDIANS OF THE GALAXY #14
IVX #0
This issue sets the stage for the upcoming Inhumans vs. X-Men mega-event! Learn who the major players will be, plus the seeds of the incredible plan that will unfold in IVX #1. Beast and Iso travel the world to learn a desperate truth, the X-Men assemble their ranks and the Inhumans prepare for the war to come. It all begins with one choice — see it here.
MARVEL #13
NEW AVENGERS #18   FINAL ISSUE!
OLD MAN LOGAN #14
STAR WARS ANNUAL #2
THE TOTALLY AWESOME HULK #12
THUNDERBOLTS #7
UNCANNY INHUMANS #16
Week of 6/12
ALL-NEW WOLVERINE #15
AVENGERS #2
CHAMPIONS #3
DEADPOOL #23
MOON KNIGHT #9
NOVA #1
Rich Rider makes his roaring return to the Marvel Universe! How will Sam Alexander cope with this unfathomable homecoming? It's the return you've all been waiting for. Or is something…else? Strap in True Believer, you've never seen a NOVA book like this before!
SCARLET WITCH #13
SPIDER-MAN 2099 #18
STAR WARS: DOCTOR APHRA #1
Because you demanded it! Following the blockbuster finale of the critically acclaimed Darth Vader series, the fan-favorite character begins an all-new journey! Following her time in the clutches of the Dark Lord of the Sith, Doctor Aphra has barely escaped with her life. If Vader ever learns of her survival, he'll hunt her to the ends of the galaxy. But for now, it's time to return to what she does best. With the droids 0-0-0 and BT-1 in tow, she's off in search of rare artifacts from the galactic center to the Outer Rim and everywhere in between.
THE CLONE CONSPIRACY #3
THE UNWORTHY THOR #2
Week of 6/19
ALL-NEW X-MEN #16
AMAZING SPIDER-MAN: RENEW YOUR VOWS #2
DAREDEVIL #14
DEADPOOL: BACK IN BLACK #5   FINAL ISSUE!
DOCTOR STRANGE/PUNISHER: MAGIC BULLETS INFINITE COMIC #3
FOOLKILLER #2
GHOST RIDER X-MAS SPECIAL INFINITE COMIC #1
THE CHRISTMAS SPIRIT OF VENGEANCE! Robbie Reyes' little brother Gabe is getting teased in school for having too much Christmas spirit! The kids of East L.A. are less than excited about Santa Claus' impending visit, making them the perfect victims for the evil KRAMPUS! Written by METHOD MAN (Wu-Tang Clan, The Wire)!
GUARDIANS OF THE GALAXY #15
GWENPOOL HOLIDAY SPECIAL: MERRY MIX-UP #1
It's the holidays yet again, and that means it's time to join EVERYONE'S FAVORITE GWEN (take that, Stacy!) and celebrate good times, come on! Only problem is…somehow this year's festive traditions seem to be a little…off…and Gwen's the only one who notices. FEATURING: Gwenpool (duh), Spider-Man, Red Skull, Punisher and even Deadpool! This is one present you know you gotta buy yourself!
HAWKEYE #1
Remember Hawkeye? No not that Hawkeye, our favorite Hawkeye, the chick who puts the hawk in Hawkeye, the butt-kicking hero who had to save the other Hawkeye's butt all the time. Yup, you know her, it's the dazzling Kate Bishop making her solo comics debut! Kate is heading west and returning to Los Angeles, with her bow and arrow and P.I. badge in tow. There are crimes to solve and she's the best archer to handle 'em! The City of Angels has a new guardian angel. The talented duo of Kelly Thompson (A-Force, Jem) and Leonardo Romero (Squadron Supreme, Doctor Strange) bring you a Kate Bishop like you've never seen her before, in a brand-new ongoing series that really hits the mark!
IVX #1
MARVEL UNIVERSE AVENGERS: ULTRON REVOLUTION #6
MOSAIC #3
OLD MAN LOGAN #15
POWER MAN AND IRON FIST #11
SILK #15
SPIDER-MAN #10
STAR WARS: POE DAMERON #9
THE TOTALLY AWESOME HULK #13
THE UNBEATABLE SQUIRREL GIRL #15
UNCANNY AVENGERS #17
Week of 6/26
AMAZING SPIDER-MAN #22
AVENGERS #2.1
BLACK PANTHER: WORLD OF WAKANDA #2
CAGE! #3
CAPTAIN AMERICA: SAM WILSON #16
DEADPOOL & THE MERCS FOR MONEY #6
DOCTOR STRANGE #15
GAMORA #1
Before the Guardians…there was Gamora! From screenwriter Nicole Perlman—co-writer of the Guardians of the Galaxy screenplay—and Marvel superstar artist Marco Checchetto comes a killer new ongoing series! Once upon a time she was Thanos' heartless pet assassin and favorite daughter. Today, she is the backbone of the Guardians of the Galaxy, putting her life on the line to defend the innocent. What was it that transformed her from being used as a tool of her oppressor, to a champion of the powerless? Embark on a journey of revenge and redemption, and witness how Gamora earned her reputation as the Deadliest Woman in the Galaxy.
GWENPOOL, THE UNBELIEVABLE #9
INVINCIBLE IRON MAN #2
MARVEL UNIVERSE GUARDIANS OF THE GALAXY #15
OCCUPY AVENGERS #2
PATSY WALKER, A.K.A. HELLCAT! #13
POWER MAN AND IRON FIST: SWEET CHRISTMAS ANNUAL #1
YOU BETTER NOT POUT, YOU BETTER NOT CRY! 'Cause you're getting an extra helping of POWER MAN AND IRON FIST! This Christmas will be sweet, indeed! But not for Luke Cage, who is feeling neither holly nor jolly. Surely Danny can change that! Or maybe these demonic toys will! Wait, demonic toys?! OH, NO!
SILVER SURFER #8
SLAPSTICK INFINITE COMIC #3
SOLO #3
SPIDER-GWEN #15
SQUADRON SUPREME #14
STAR-LORD #1
GROUNDED! Peter Quill might have been born on Earth, but he's been away a LONG time. How does a man go from soaring through the stars as the legendary Star-Lord to living with his feet planted firmly on the ground? What kind of job options are available for a guy whose CV mostly consists of "guarding the galaxy"? One thing is certain, Earth has a new guardian. Also, a new bartender.
STAR WARS: DOCTOR APHRA #2
THANOS #2
THE MIGHTY CAPTAIN MARVEL #0
Behold the mightiest, fightiest super hero there is! Captain Marvel returns to her helm as Alpha Flight commander with the world cheering her on. She's the biggest hero in the world – but has Captain Marvel become someone Carol Danvers no longer recognizes? New York Times bestselling author Margaret Stohl (Beautiful Creatures, Black Widow: Forever Red) makes her comics series debut in a blockbuster Marvel story decades in the making.
THE PUNISHER #7
ULTIMATES 2 #2
UNCANNY X-MEN #16
VENOM #2
Not a Marvel Unlimited member? Join today!
Marvel Unlimited members have access to some of the greatest Marvel Comics featuring The Avengers, Spider-Man, Guardians of the Galaxy, Doctor Strange, and more! With June's update, Marvel Unlimited will also be expanding its back catalog with the following series: Daredevil (1964),Marvelman (1954), Alpha Flight (1983), Cosmic Powers (1994), and more!
This amazing service is accessible through Marvel Unlimited on the web and through the Marvel Unlimited app on iPhone®, iPad® and Android™ devices.
New to the Marvel Universe, and don't know where to start? Don't worry! Marvel Unlimited subscribers have access to the DISCOVER section of Marvel Unlimited. Subscribers are now able to discover new pathways into the Marvel Universe by being able to search by their favorite storylines or creators.
With classic and newer issues being added to Marvel Unlimited on a weekly basis as early as six months after they're in stores, you'll definitely want to join Marvel Unlimited and enjoy the experience of the Marvel Universe!
Follow Marvel on Facebook at www.facebook.com/marvel, join in the conversation on Twitter with #Marvel, and for all things Marvel, please visitmarvel.com.