Let me start this review by saying from the first moment I heard that Pirates of the Caribbean: Dead Men Tell No Tales was being made I was beside myself with excitement. I have always been a fan of the series and was in the minority with my love of Pirates of the Caribbean: On Stranger Tides. In fact, I liked it better than Dead Man's Chest and At Worlds End. In my anticipation, I even created a mocktail over at Geeks Who Eat. While I enjoyed the movie overall, I didn't enjoy it nearly as much as I thought I would.
In Pirates of the Caribbean: Dead Men Tell No Tales we find "down-on-his-luck Captain Jack feeling the winds of ill-fortune blowing strongly his way when deadly ghost sailors, led by the terrifying Captain Salazar (Javier Bardem), escape from the Devil's Triangle bent on killing every pirate at sea—notably Jack. Jack's only hope of survival lies in the legendary Trident of Poseidon, but to find it he must forge an uneasy alliance with Carina Smyth (Kaya Scodelario), a brilliant and beautiful astronomer, and Henry (Brenton Thwaites), a headstrong young sailor in the Royal Navy. At the helm of the Dying Gull, his pitifully small and shabby ship, Captain Jack seeks not only to reverse his recent spate of ill fortune but to save his very life from the most formidable and malicious foe he has ever faced. "
3D or Not 3D
I was fortunate to have been able to see an advanced screening of the movie in IMAX 3D. I am typically not a huge fan of seeing movies in 3D. I don't find it to be worth the extra money or as immersive as I would want. However, the IMAX 3D version of Pirates of the Caribbean: Dead Men Tell No Tales is absolutely stunning. There are literally moments in the movie that you feel like you are on the ship or in the water.
The Movie
As I mentioned earlier, I didn't enjoy this movie as much as the 1st or 4th one. The main reason for this is the fact that they returned to the Turner family story line. Honestly, I really thought they should have ended it after Curse of the Black Pearl. Going back to this after leaving it during On Stranger Tides felt a bit like they were phoning it in on the nostalgia factor. The story line between Captain Jack Sparrow and Captain Salazar was far more interesting and I would have liked to have seen more of that. I agree with Mr. DAP's review that there were far too many story lines going on and not enough focus to each one.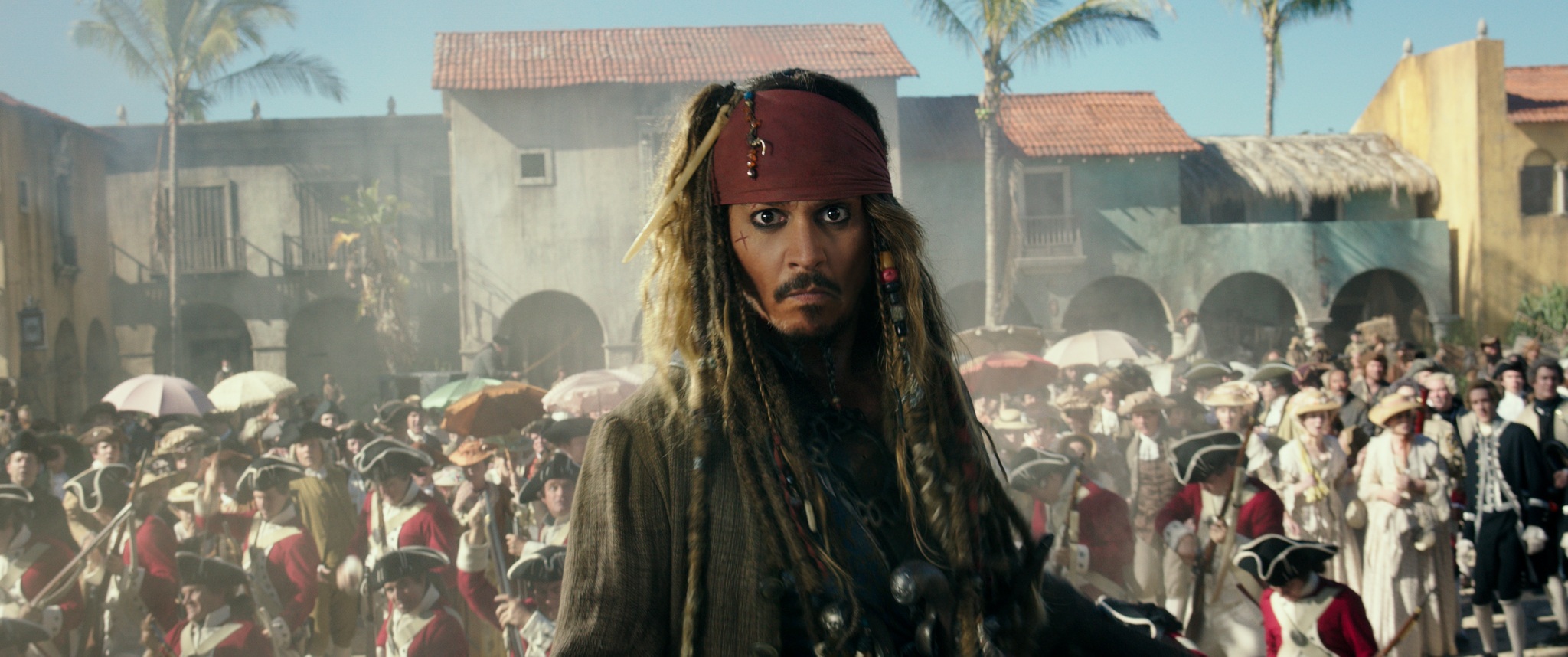 The Cast
Most of the primary Pirates of the Caribbean cast returned for the latest installment. It was great seeing where their characters had gone since the last film. One of my favorite aspects of this movie is that they all had traits and personalities similar to the past movies, yet they also had changed a bit. The character development of Barbossa was a great example of this. I enjoyed his character in this movie more than in the others which is surprising as he is a favorite across every installment. Geoffrey Rush did a fantastic job in this film. The other show stealer in the movie was Javier Bardem. Captain Salazar was a amazing villain. I wish we had seen far more of him and far less of the Turners.

Overall, Pirates of the Caribbean: Dead Men Tell No Tales is definitely worth seeing. It wasn't my favorite of the series, but it also wasn't the worst. Personally I will even buy the movie to add to my collection. If you are a Pirates of the Caribbean fan, you will enjoy the film. Also, don't forget to stay for the after credits scene!
Save
Save