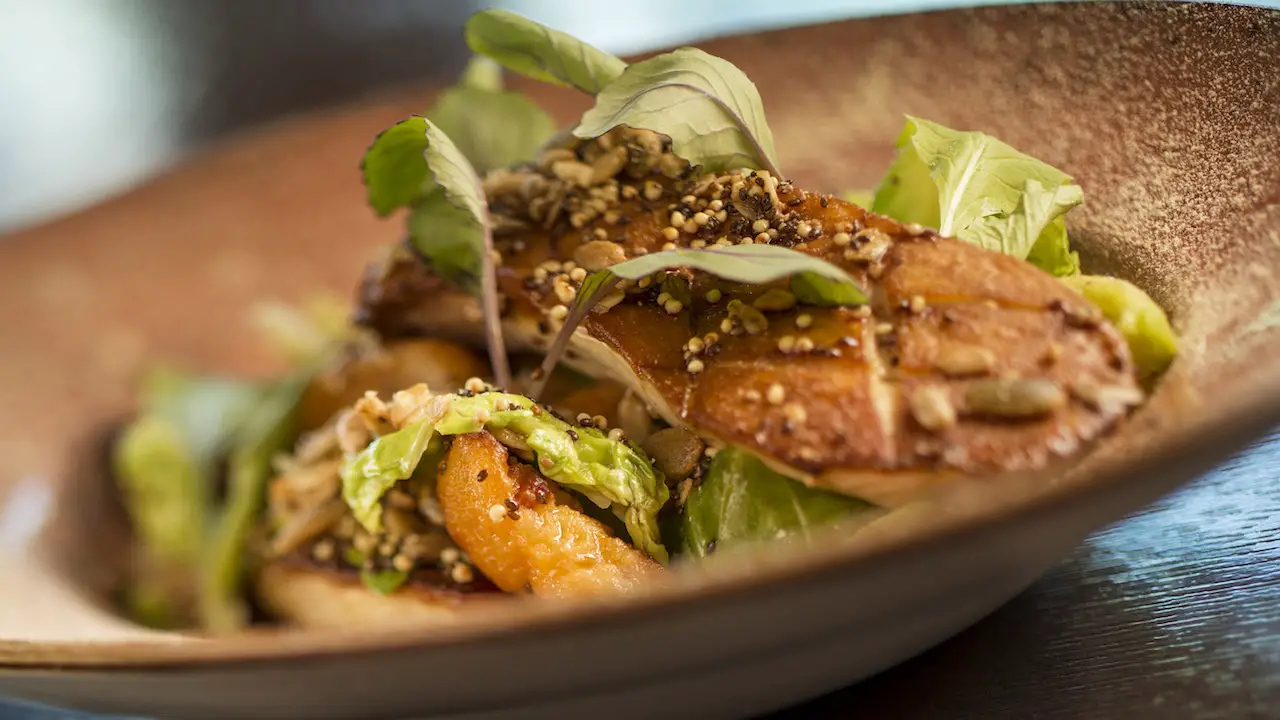 As fall comes full force it is often easy to look around for some hearty fall-ish meals and find some hearty meat dishes. For vegetarians though, it isn't always as easy. At Artist Point at Disney's Fort Wilderness Lodge, healthy eaters can try out the Sweet Potato Gnocchi with Brown Butter. Or if instead you find yourself sitting at your computer reading this post while wishing you are at Walt Disney World today, you can use this recipe from the Disney Parks Blog to make it yourself!
According to the Disney Parks Blog, the gnocchi does take some time to make so make sure and multitask. Roast the Brussels sprouts and mushrooms while the dough is resting. Then when everything is done, you'll be ready to go!
Geek Eats Disney Recipes: Sweet Potato Gnocchi with Brown Butter – Artist Point at Disney's Wilderness Lodge
Ingredients
SWEET POTATO GNOCCHI
2 (12-ounce) sweet potatoes
1 egg yolk
2 to 3 cups all-purpose flour
3/4 teaspoon coarse salt
8 fresh sage leaves, thinly sliced, for serving
Aged semi-firm cheese, shaved thin, for serving
BROWN BUTTER
8 tablespoons (1 stick) unsalted butter
Coarse salt
ROASTED BRUSSELS SPROUTS AND WILD MUSHROOMS
3/4 pound Brussels sprouts, halved
3/4 pound mixed wild mushrooms
2 tablespoons extra virgin olive oil
Instructions
FOR GNOCCHI:
Peel sweet potatoes and cut into 2-inch cubes. Place in a steamer basket set in a pan with 2 inches water over medium-high heat. Cover pan tightly; steam until tender, about 7 to 10 minutes. Set aside to cool to room temperature.
Press cooled sweet potatoes through a potato ricer into a large bowl. Make a well in the center and add egg yolk, 2 cups flour, and salt. Stir until mixture holds together as a soft dough, adding more flour if needed, a tablespoon at a time. Mixture should be soft but not sticky.
Divide dough into 6 pieces and roll each piece into a 1-inch-wide rope. Cut each rope into 1-inch pieces. Roll each piece over the tines of a fork, if desired.
Place gnocchi on a lightly floured sheet pan and refrigerate 1 hour.
FOR BROWN BUTTER:
Place butter in a medium heavy-bottom saucepan over medium-high heat.
Cook until butter is golden brown and smells nutty.
Keep warm over very low heat.
FOR ROASTED BRUSSELS SPROUTS AND WILD MUSHROOMS:
Preheat oven to 425°F. Toss Brussels sprouts and mushrooms with oil in a large bowl.
Spread mixture on a large sheet pan. Roast until edges are golden brown, 10 to 12 minutes. Remove from oven and keep warm until ready to use.
TO SERVE:
Bring a large pot of salted water to a boil. Working in 3 batches, cook gnocchi 5 to 6 minutes, until cooked through but still tender.
Combine cooked gnocchi, roasted Brussels sprouts and mushrooms, and enough brown butter sauce to coat in a large skillet over medium heat. Cook, tossing gently, until heated through.
Garnish with sage and a shaved semi- firm aged cheese.
© 2020 dapsmagic.com
Try out this wonderful fall recipe and let us know how it turned out!