This week the teased MU was unveiled to be a revival series of Monsters Unleashed.  There's a buy one get one free sale for Marvel.com.  And a look at "Going Rogue" and Civil War II #5.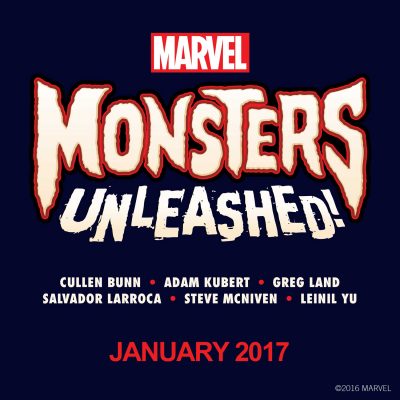 Monsters Unleashed!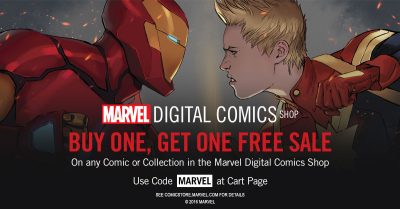 MARVEL COMICS' BUY ONE, GET ONE FREE SALE STARTS TODAY!
*Offer expires 9/5/16 at 11:59 PM EDT.  Promotion code can be used to buy any Marvel digital comic and/or digital collection and get another Marvel digital comic or digital collection of equal or lesser value for free.  No limit to the number of purchases for which the free offer applies.  Offer not valid on bundles or preorders.  Marvel user account and internet connection required to access digital comics.
"Going Rogue" Starts NOW! Your First
Look at UNCANNY AVENGERS #15!
New York, NY—September 1st, 2016 — The Uncanny Avengers have been betrayed! Today, Marvel is pleased to present your first look inside UNCANNY AVENGERS #15 – the first chapter in the new story arc "Going Rogue". The Uncanny Avengers crash headlong into Marvel NOW! with a new jumping on point that will have you on the edge of your seat! The Uncanny Avengers – now fractured and disavowed in the wake of Civil War II, travel to Japan on a desperate mission. Captain America may have disbanded the Unity Squad but they refuse to give up the fight! The Hand has acquired the recently deceased body of Bruce Banner. Can what's left of the Avengers Unity Squad take back the remains of their fallen comrade before the Hand resurrect the Hulk for their own sinister ends? Find out as the team goes rogue in UNCANNY AVENGERS #15 – on-sale October 12th!
UNCANNY AVENGERS #15 (AUG160858)
Written by GERRY DUGGAN
Art by PEPE LARRAZ
Cover by MEGHAN HETRICK
Champions Variant Cover by PASQUAL FERRY (AUG160860)
Teaser Variant by MIKE DEODATO (AUG160859)
Classic Variant by WHILCE PORTACIO (AUG160861)
FOC – 09/19/16, On-Sale – 10/12/16
CIVIL WAR II #5 Pits Iron Man vs. Captain Marvel in All Out Grudge Match!
New York, NY—August 29th, 2016 — The battle lines have been drawn and war erupts! As the devastating fallout from the death of Bruce Banner sends shockwaves across every corner of the world, Iron Man and Captain Marvel duke it out with the future of the Marvel Universe on the line! Today, Marvel is pleased to present your first look inside the explosive CIVIL WAR II #5 – coming at you this September from the A-List creative team of Brian Michael Bendis, David Marquez and Justin Ponsor. As punches are thrown and the war hits a fever pitch, truth behind Ulysses' predictive powers stands revealed – and it's a game changer! Plus – an ending so shocking it'll have the world talking! Don't miss the thrilling next chapter when CIVIL WAR II #5 comes to comic shops and digital devices on September 21st!
CIVIL WAR II #5 (JUN160760)
Written by BRIAN MICHAEL BENDIS
Art by DAVID MARQUEZ & JUSTIN PONSOR
Cover by MARKO DJURDJEVIC
Variant Covers by KIM JUNG JI (JUN160761), MICHAEL CHO (JUN160762)
and PHIL NOTO (JUN160763)
FOC – 08/29/16, On-Sale – 09/21/16