Today marked the first day of Star Wars Celebration Europe in London. The day included several notable moments and newsworthy events.
Mark Hamill
Things began with Mark Hamill taking the stage to share about his Star Wars experiences both past and present. He shared a treasure trove of stories that included the infamous Luke and Leia swinging scene from Star Wars: A New Hope. It turns out that after that scene was shot the crew gave him a chance to fly around as the crew also helped with Peter Pan. George Lucas wasn't too pleased when he discovered this and had him come down with the worry about what it would do to insurance.
Hamill also shared that he was incredibly surprised to discover the size of his role in Star Wars: The Force Awakens when he read the script for the first time. Leading up to the movie he had worked incredibly hard to lose weight and get in shape for the movie only to discover that he didn't have any lines and was only in the final scene of the movie. He made it clear that he wasn't upset, just surprised.
Looking forward, he shared a few things about the next movie. One of these things is that the script has lots of "catchphrase" lines that will rival or perhaps even exceed saying "I was looping Episode VIII the other day, and there's dialogue there that made me think 'I can already see this on a t-shirt.' Forget about 'May the Force be with you,' there are catchphrases in there you won't believe."
Rogue One: A Star Wars Story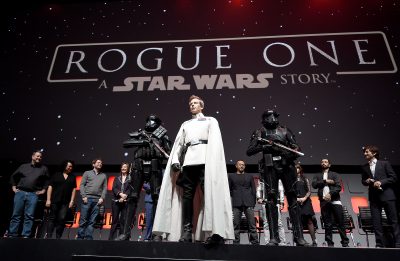 Another panel today focused on this year's Star Wars movie Rogue One: A Star Wars Story. Captain Phasma herself, Gwendoline Christie hosted the panel on this film and was joined by director Gareth Edwards and producer Kathleen Kennedy. They were joined by cast members Felicity Jones, Diego Luna, Riz Ahmed, Donnie Yen, Jiang Wen, Alan Tudyk, Mads Mikkelsen, Forest Whitaker and Ben Mendehlson. Here is what was learned about Rogue One: A Star Wars Story:
Aliens are coming but not so much Jedi. Several different aliens were shown during the panel and they look pretty awesome.
This is still a wary movie. While there have been lots of discussions and rumors surrounding this film and how dark and gritty it will be, it appears that this will still very much be a war movie that takes place within the Star Wars galaxy leading up to the events of Star Wars: A New Hope.
No repeat of the Rey action figure snafu of Star Wars The Force Awakens. Felicity Jones was introduced to an action figure version of her character, Jyn Erso.
Look forward to a fun new droid. K2SO will be joining the team and played by Alan Tudyk who used motion capture technology to create this new droid.
Darth Vader is back. In a trailer shown during the panel, it was revealed from behind that Vader will be returning. Don't expect his role to be a large one but nonetheless, he will be in this movie.
Ben Mendehlson's Imperial director Orson Krennic will be awesome. He could become a new classic villain. He made an appearance completely dressed in his Imperial regalia and accompanied by a platoon of Death Troopers… and it is awesome.
Ahsoka's Untold Tales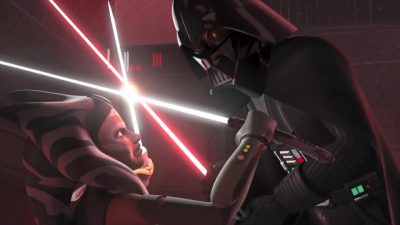 Another fun panel to take place at Star Wars Celebration Europe revolved around Star Wars Rebels character Ahsoka Tano could be returning to the show after what was a very dismal looking outcome for her at the end of season 2. Executive producer Dave Filoni surprised fans at the panel, and also voice of Ahsoka Ashley Eckstein, by saying that there could be a future for Ahsoka Tano. While he didn't say anything specific, he did hint at her return. "It just might be possible." Filoni said. However, he also made it clear that he isn't saying that she is still alive saying, "It doesn't necessarily mean what some of us would hope it means. But it might be possible to see her again. She might have something to do."
There is a lot going on at Star Wars Celebration Europe this weekend. Continue to stop by DAPs Magic to check out the updates as they happen.