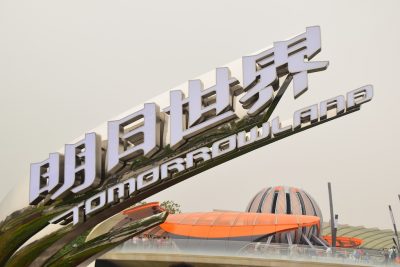 We've now come to my favorite land of Shanghai Disneyland: Tomorrowland.  I'm a sucker for the thrills of the future, and Epcot is one of my favorite theme parks.  Also, this Tomorrowland features an attraction I've waited a very long time for.  Let's view the futuristic land of tomorrow!
Shiny Objects
Tomorrowland's aesthetic is one of shiny metal, glowing plastic, and much white and silver.  It's reminiscent of Tomorrowland's of the past, yet definitely its own thing.  At first glance it may appear to have little color other than white and silver, but the more you look around the more stylized color palette is revealed.  I like the subtlety of the color and that it fit the theme of the attractions it was around.  Orange was at the Jet Packs.  Blues were over at Tron.  Purples and greens fit in with Stitch and Buzz Lightyear.  The hues never distracted, but weren't so muted as to be just an accent.  It seems strange to concentrate on the colors, but I thought they did a marvelous job at bringing a very different idea to the usual idea of having a lot of metal grey and polished white.
Just like the rest of the park, Tomorrowland had a layout that invited meandering.  But, it had its own take on this idea as well.  This land is two stories!  Both had entrances to their respective attractions, but it also made a beautiful plaza to view.  Though there were ramps and stairs, they weren't set on being straightforward.  They really relied on you awareness of where you were going to navigate up and down.
Night Entertainment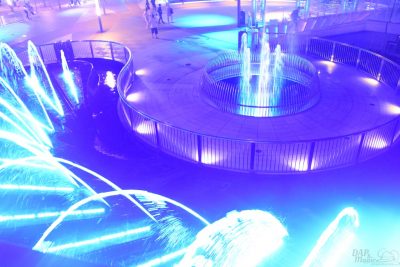 Tomorrowland was alive during the day, but really thrived at night.  Lights beckoned visitors in.  Neon seemed to dance to music that played from the stage.  The Tron Lightcycles glowed brightly against the dark sky.  It was an attraction just to watch the vibrant land.
Classics Reborn
There weren't very many original attractions here, but some great twists on the classics.  Take the Jet Packs – a classic spinner ride, but with more fun added to it.  As your feet dangle, the ride picks up a lot of speed as you get an aerial view of the park.  The way the up and down works is different from other spinners as well.  A joystick button has you move up as long as you keep it pressed.  Letting go brings you down.  It really was like controlling a jetpack.
On the first floor of the land were three attractions made new again.  The first is Stitch Encounter, which is an interactive experience with the mischievous character.  It's all in Chinese, so some jokes were lost on me, but it was still an entertaining experience.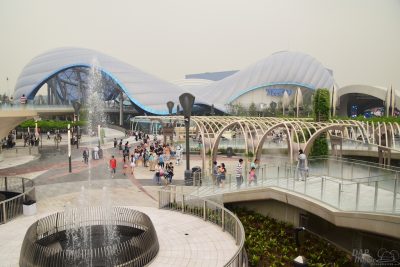 Next door is Buzz Lightyear Planet Rescue.  Like the other Buzz Lightyear rides, this features laser guns that fire at Zurg's robot minions.  Points are rewarded for target hits.  There are a lot of noticeable differences, though.  The targets are almost like video screens that change color when hit.  There are no differences in shape of targets, just try to hit them all.  Because there's not much difference in point value for targets, the lasers can go rapid fire at each target.  It makes for more point rackups as you can focus on one target for a great deal of time, rapid firing at it.  The entire attraction is darker than most others, though they are all dark rides.  The theme is more befitting to the opening scenes in Toy Story 2.  Instead of multiple characters, the targets are all robots amidst a crystal and rock planet.  The tone is more ominous, yet retains a cartoon feel to it.  I liked the change in setting and story from other Buzz's, and the rapid firing was refreshing.  I'm a high scorer, so having this difference in challenge made it a superior ride than the others.
Past these two attractions sits the Star Wars Launch Bay.  Already in Disneyland and Disney's Hollywood Studios, this very new concept attraction has a great fit in Tomorrowland in Shanghai.  With each Launch Bay iteration it keeps getting better and better.  The entrance had great visuals from the films.  The openness of the building provided great glimpses into the different characters photo ops.  A couple of the unique photo stops is the bridge of the Millennium Falcon and a rotating spot with red armed C3-PO and R2D2, and a rebel fighter pilot.  These new encounters make me hope that we will see them in the other parks as well.  There area great deal of props to be found here, some just found in Shanghai.  A screening room shows Path of the Jedi, also featured at the other Disney parks.
At Long Last
Of course the quintessential attraction in Tomorrowland is Tron Lightcycle Power Run.  This has been the most anticipated ride for the new park since its announcement, but for me it's been a couple of decades coming.  Being a Tron fan from its video debut, I've wanted a Lightcycle attraction for a long time.  Sure, it was "on" the PeopleMover back in the day at Disneyland, but there was nothing that really captured the amazing scenes from both films…until now.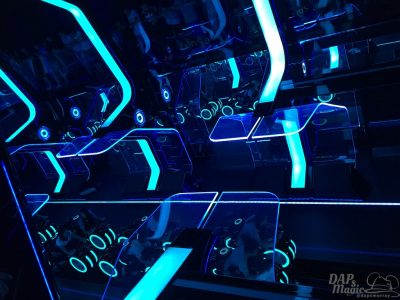 Tron could have been its own land just from the queue.  There are so many visuals to behold.  The structure creates an almost digital mountain scape to travel under by foot or by Lightcycle.  It was stunning to see how the track weaved through it and had it all flow.  Inside the queue the journey begins with a digitizer that sits at the entrance.  From there, dark walls glow with light accents to give that Tron realm feeling.  At one point (at least via FastPass which is all I used queue wise) there is a room that introduces the realm to guests.  A display emits digital lines and music and announcer denote what Lightcycle run is about.  Suddenly the wall disappears and reveals the ride launch from below, and in great sync with the cycles taking off.  It was an an effect that knocked the wind out of me!
Throughout the queue, a muse explains that we are about to go on the Blue Team for a game on the grid.  Going against the Yellow, Red, and Orange Teams, we must not only win but survive.
The loading is not usual as other roller coasters go.  There are the usual gates, but there are two doors for the same number.  The reason is that the right bike side must cross from the back to get on the seat.  The seats are like motorcycle seating, leaning forward.  So that warning to be free from back problems is a must in this case.  Pulling down on the handlebars drops the back onto the rider.  It's surprisingly all gentle and cushioned, without feeling confined at all.
The ride launches the sets of cycles forward and traveling through the outside track takes the cars into the grid.  Lights and music set the whole scene of adrenaline.  Images of the other team trying to thwart our winning is at every turn.  We are on the game grid and it's win or lose!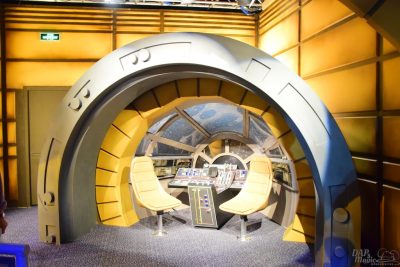 Tron Lightcycle Power Run had me back two more times after that initial ride.  If I had the chance I would have gone on thirty more times…maybe more!  This was my favorite attraction in the park, maybe because of being a big Tron fan.  But, the whole show was executed so well.  It was like stepping onto the game grid.  Now it makes me wish for a whole land of Tron, not just a corner of Tomorrowland being dedicated to it.
Bright Future
Tomorrowland is where I spent a lot of time.  It featured some great attractions and had a beautiful landscape.  It was nice to view the whole land from standing on the second story, and the view did not disappoint.  Having a day show with Baymax, and a dance party at night rounded out the area to be a dynamic one.  It was the place to be for that fun, future vibe.  Between the music, the vegetation, and even colors, it reminded me of the setting of the Tomorrowland movie.  And that may have been what it was designed after.  As much as that movie didn't do well, it was fun to look at and it brought a desire to visit there.  This is probably the closest to that dimensional city.  In all, it made for a bright and beautiful tomorrow!