There's a few announcements worth noting this week from Marvel.  The first is the Timely Comics imprint that will bring more affordable first issues of the new Marvel.  Next is previews of Hyperion – a strange hero indeed, and the long awaited C3PO Special.  Finally, there's a couple awards given to a couple of Marvel folks.  Also more of the popular adult comic books.  Take a look below!
3 for $3! Introducing TIMELY COMICS!
New York, NY—February 26th, 2016— They're the comics everyone is talking about, and now is your chance to hop on board before you get left in the dust! Marvel is proud to announce TIMELY COMICS, a new publishing initiative debuting this June! Timely Comics is a new imprint of titles specifically designed to get you caught up with hot new Marvel titles.
Reprinting the first three issues of select titles at a suggested retail price of $3.00, TIMELY COMICS will take you on a path through the restored Marvel Universe! Whether it's the formation of the Avengers, Daredevil's fight for Chinatown, the birth of the Totally Awesome Hulk – TIMELY COMICS has it all and so much more!
Look for these TIMELY COMICS coming to comic shops throughout the month of June:
TIMELY COMICS: INVINCIBLE IRON MAN
TIMELY COMICS: ALL-NEW, ALL-DIFFERENT AVENGERS
TIMELY COMICS: ALL-NEW INHUMANS
TIMELY COMICS: CARNAGE
TIMELY COMICS: DAREDEVIL
TIMELY COMICS: DRAX
TIMELY COMICS: DOCTOR STRANGE
TIMELY COMICS: MOON GIRL AND DEVIL DINOSAUR
TIMELY COMICS: NEW AVENGERS
TIMELY COMICS: SCARLET WITCH
TIMELY COMICS: SQUADRON SUPREME
TIMELY COMICS: TOTALLY AWESOME HULK
TIMELY COMICS: ULTIMATES
TIMELY COMICS: UNCANNY INHUMANS
TIMELY COMICS: VENOM: SPACE KNIGHT
TIMELY COMICS: WEB WARRIORS
The titles that sold out everywhere and burned up the charts are back, so don't miss out on them now! Your favorite new series awaits, so get 72 giant pages of action, adventure and excitement with TIMELY COMICS – three issues for just $3.00!
How Did C-3PO Get His Red Arm?! Your First Look at
STAR WARS SPECIAL: C-3PO #1!
New York, NY—February 25th, 2016— How did C-3PO get his red arm?! Find out this March as the burning question is answered in STAR WARS SPECIAL: C-3PO #1! Today, Marvel is pleased to present your first look inside this highly anticipated special. Reuniting acclaimed & award-winning creators James Robinson and Tony Harris for the first time in nearly two decades, follow everyone's favorite protocol droid on a solo adventure leading up to his appearance in Star Wars: The Force Awakens! STAR WARS SPECIAL: C-3PO #1 is the only place to learn the shocking truth behind how C-3PO lost his original arm – and the exciting origin of how he gained a new one. Get the full story and discover the origins of his new appendage when STAR WARS SPECIAL: C-3PO #1 comes to comic shops in March!
STAR WARS SPECIAL: C-3PO #1 (OCT150933)
Written by JAMES ROBINSON                                   
Art & Cover by TONY HARRIS
Action Figure Variant by JOHN TYLER CHRISTOPHER (OCT150934)
Red Arm Spotlight Variant by TONY HARRIS (JAN168297)
Variant Covers by REILLY BROWN (OCT150935) and TODD NAUCK (OCT150936)
Movie Photo Variant (OCT150938) and Blank Variant Also Available (OCT150937)
FOC – 03/07/16, On-Sale – 03/30/16
MARVEL UNLEASHES NEXT WAVE OF ADULT COLORING BOOKS ARRIVING THIS FALL!
Marvel's fall 2016 Adult Coloring Books featuring Women of Power, Doctor Strange & Star Wars
New York, NY—February 26th, 2016— You've read the comics. You've experienced these iconic and groundbreaking stories. Now it's time to experience the Marvel Universe like you never have before – as a coloring book! Marvel is pleased to announce its next wave of Adult Coloring Books featuring some of Marvel's most iconic characters, stories and artwork to delight fans the world over! The Marvel Universe has action, power, excitement and adventure. Now all it needs is YOU!
"The Adult Coloring Book market has become a pop-culture phenomenon," says David Gabriel, SVP Sales and Marketing, Marvel. "With Marvel's first wave of Adult Coloring books, fans added their own personal style to classic Marvel stories. And now, with our latest editions coming this year, fans will be able to bring their personal artistic style to some of Marvel's most recent and epic events."
First, the women of Marvel have won the world over with some of the most influential and mightiest heroes to hit the comic book industry in years. Now is your chance to accentuate the strength and power of these women with COLOR YOUR OWN WOMEN OF POWER. Showcasing images of the might and majesty of Marvel's leading heroines, these images feature artwork from Marvel's female led titles, variant covers and more!
Then, Marvel's magical maestro, Doctor Strange, casts a spell and comes to life in COLOR YOUR OWN DOCTOR STRANGE featuring a tome of classic and contemporary depictions of the master of the mystic arts as he traverses the visually awe-inspiring world of the enchanted. This is one you won't want to miss!
Finally, it's time to take your coloring talents to a galaxy far, far away with COLOR YOUR OWN STAR WARS!  Travel to the stars and bring your own choice of hues and shades to the further adventures of Luke, Leia, Han, Chewie, Darth Vader, and a whole new cast of characters presented from Marvel Comics. Will you choice the light or dark side?
So dig out those crayons, markers and colored pencils and prepare to return the color to the Marvel Universe, True Believer. But don't forget your imagination – you're going to need it! Channel your creative energies, unwind after a hard day's work, or just relive your childhood memories! Look for the COLOR YOUR OWN WOMEN OF POWER book in September with COLOR YOUR OWN DOCTOR STRANGE and COLOR YOUR OWN STAR WARS to follow later in 2016!
COLOR YOUR OWN WOMEN OF POWER
120 Pages….$9.99
On Sale September 2016
COLOR YOUR OWN DOCTOR STRANGE
On Sale October 2016
COLOR YOUR OWN STAR WARS
On Sale October 2016
Meet Humanity's New Protector – Your First Look at HYPERION #1!
New York, NY—February 24th, 2016 —He is not from here. He is Earth's new protector. He has adopted humanity as his children. But the truth is – he doesn't understand them. He is Hyperion, and he's exploding out of the pages of Squadron Supreme and into HYPERION #1 this March! Written by New York Times Bestselling Author Chuck Wendig (Star Wars: Aftermath) with art by Nik Virella (1872), be there as the man without a world takes on the worst the humanity has to offer, but also discovers what makes them great.
"Hyperion is a man who lost his universe. He doesn't belong anywhere. And as a result he lost himself and hasn't yet found who he really is," says Chuck Wendig in an interview with Marvel.com. "So he adopts America and its people as his children. But he doesn't understand them, and this is about Hyperion going out into the country to find out who these people are. And, by proxy, who he really is, too."
But corruption lives in the heartland of America. And Hyperion will root out the worst of it. Through the long nest of roads and highways and small strange towns – Hyperion travels America, posing as one of us. Helping people. Exploring. All in pursuit of the answer to that one question – what does it mean to be human?
Can he save these people from themselves? He has adopted humanity – but will humanity adopt him back? Find out this March as he soars solo into comic shops with HYPERION #1!
HYPERION #1 (JAN160734)
Written by CHUCK WENDIG
Art by NIK VIRELLA
Cover by EMANUELA LUPACCHINO
Action Figure Variant by JOHN TYLER CHRISTOPHER (JAN160737)
Variant Cover by EMANUELA LUPACCHINO (JAN160735)
Black Panther 50th Anniversary Variant by KERON GRANT (JAN160738)
Hip-Hop Variant by SHAWNA MILLS (JAN160736)
FOC – 02/29/16, On-Sale – 03/23/16
Marvel Comics' Ms. Marvel Wins
Dwayne McDuffie Award for Diversity in Comics
New York, NY— Feb 26, 2016 — This past weekend Marvel Comics' Ms. Marvel, by G. Willow Wilson and Adrian Alphona, won the second annual Dwayne McDuffie Award for Diversity in Comics, presented at Long Beach Comic Expo in Long Beach, California.
Praising the fans of Ms. Marvel, Wilson gave an impassioned acceptance speech graciously thanking all the fans who make the book the success that it is. "This award is very special to me, not just because of its connection to Dwayne, but because of what it represents…it is something being kept alive by one thing only and that is the readers and the fans whose passion, whose cosplay, whose wonderful repartee on Tumblr and Twitter make this book such a joy to work on."
Wilson continued, "You are the beating heart to this series. I would like to dedicate this award to them – to the readers – to the fans. They are the ones changing the face of this industry." 
Ms. Marvel is the groundbreaking heroine that has become an international sensation! Kamala Khan is an ordinary girl from Jersey City – until she is suddenly empowered with extraordinary gifts. But who truly is the all-new Ms. Marvel? Teenager? Muslim? Inhuman? Find out as she takes the Marvel Universe by storm!
The Dwayne McDuffie Award for Diversity in Comics is named for McDuffie, a writer and producer of several comic books and animation series whose work includes Marvel's Damage Control and Deathlok. He wrote stories for dozens of other comics, including, Marvel's Spider-Man, Captain Marvel, and Avengers Spotlight.
Marvel Comics was also nominated for Moon Girl and Devil Dinosaur, by Amy Reeder, Brandon Montclare and Natacha Bustos. Congratulations to all of those who were nominated for this prestigious award.
If you haven't checked out these award winning series, head out to your local comic book retailer and pick up this great collection!
MS. MARVEL VOL. 1: NO NORMAL
Written by G. WILLOW WILSON
Art by ADRIAN ALPHONA
ISBN: 978-0785190219
MOON GIRL & DEVIL DINOSAUR
Written by AMY REEDER & BRANDON MONTCLARE
Art by NATACHA BUSTOS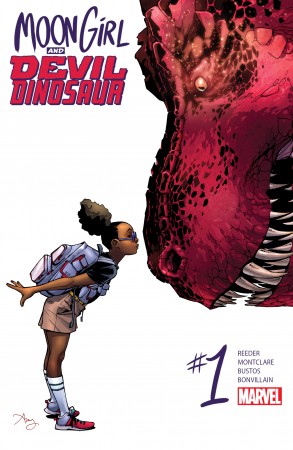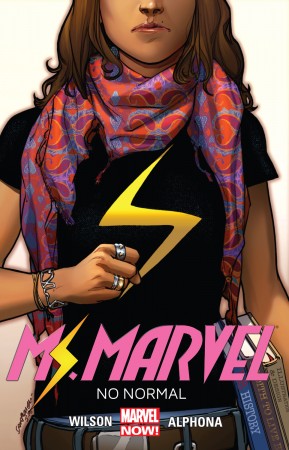 MARVEL COMICS' DAVID GABRIEL, SVP SALES & MARKETING, RECOGNIZED WITH
2016 ComicsPRO INDUSTRY APPRECIATION AWARD
New York, NY—February 22nd, 2016— The comic book Direct Market remains the single most popular channel of sales for comic books.  In this past year of historic growth it is rewarding to have an organization like ComicsPRO help bridge the gap between publishers and retailers. Since 2010, ComicsPRO has honored those individuals who have made strides to facilitate direct communication between retailers and publishers. This past weekend Marvel Comics' David Gabriel, SVP of Sales & Marketing, was honored with the 2016 ComicsPRO Industry Award.
"I am honored to be placed alongside previous recipients as Stan Lee, Bob Wayne, and Paul Levitz by the ComicsPRO selection committee. I was saddened that after all these years of being nominated, I wasn't able to attend this year's session and speak with all the retailers personally especially in a year of such outstanding growth for us and the industry," says Gabriel. "Suffice it to say ComicsPRO offers us the ability to meet with retailers, hear what they have to say and figure out the best ways to work with them so that we all reach the same measures of success. We're always open to dialogue with retailers, both direct or through our connections with ComicsPRO.
"Many thanks to the members of ComicsPRO and the retailer community for this award. I look forward to many more years of partnership in the future, and look toward the continued success of the Direct Market for many years to come!"
ComicsPRO is the only trade organization for Direct Market comic book retailers. ComicsPRO's goals are to promote advocacy, education, and opportunity for their members to build strong growth within the Direct Market by advocating open communication between comic book publishers and retailers.