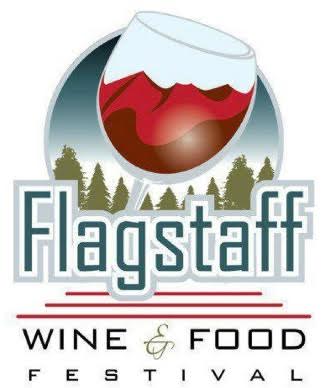 The 6th Annual Flagstaff Wine & Food Festival, presented by Findlay Toyota and produced by R Entertainment North, returns to Pepsi Amphitheater (@PepsiAmpFlag, www.Facebook.com/flagstaffamp) Sat., June 7, 1-5pm. The signature fundraiser for Friends of Coconino County Parks, the event delivers guests the singular experience of sampling imported and domestic wine, craft beer and savoring culinary creations from popular Northern Arizona restaurants against the backdrop of the world's largest contiguous Ponderosa Pine forest.
Flagstaff Wine & Food Festival presented by Findlay Toyota, this year also welcomes the return of Southern Wine & Spirits featuring its exceptional wine and spirits collections for guests to enjoy.  In addition, Twin Arrows Casino Resort and SubZero/Wolf return as sponsors, and the newest to join in event support is Russ Lyon Sotheby's International Realty of Flagstaff.
In addition to Southern Wine & Spirits, Golden Eagle Distributors provides the special craft beer tasting experience at Flagstaff Wine & Food Festival.  And guests, of course, can anticipate another year of a cooking demonstrations on the SubZero/Wolf Demonstration Stage.
RESTAURANTS TO DATE. Participating restaurants include Zenith Steakhouse at Twin Arrows Casino Resort, Horsemen Lodge, Sakura Sushi & Teppanyaki, The McMillan Bar and Kitchen, Sally's BBQ, Pita Jungle, Field House and Buster's.
TICKETS.  Tickets are $37 and include eight well-crafted wine/beer samples, unlimited food tasting and a complimentary wine glass. The option for additional wine tastings for purchase are available at the event. Tickets at www.PepsiAmp.com or by phone at 1-866-977-6849.  The event benefits Friends of Coconino Country Parks.
LOCATION. Pepsi Amphitheater at Fort Tuthill County Park is located within the Fort Tuthill Coconino County Park complex, 2446 Fort Tuthill Loop, Flagstaff, AZ 86001. Take I-17, Airport Exit 337 and continue west.  Watch for "County Fairground" signs which guide patrons into Fort Tuthill Park.  Follow the loop road until reaching the 'Amphitheater' sign. 
About Friends of Coconino County Parks, Inc. Friends of Coconino Country Parks is a private, nonprofit organization with the mission to support Coconino County Parks and Recreation Department initiatives in land conservation, park development, volunteerism and recreational activities. www.friendsofcocoparks.org and Facebook.com/FlagstaffWineFest
About Findlay Toyota. Findlay Toyota is an automobile dealership that offers high and ideal quality car services. In 2013, Findlay Toyota won the Toyota President's Award for delivering operational excellence and exceptional customer care. Findlay Toyota values its role as an active contributor to the greater Flagstaff community. For more information, visit www.findlaytoyotaflagstaff.net.
About Pepsi Amphitheater at Fort Tuthill Park. Pepsi Amphitheater at Fort Tuthill Park is an outdoor venue in Northern Arizona's Coconino County, near Flagstaff, nestled amidst the largest contiguous Ponderosa Pine Forest in the world. The newly renovated amphitheater now boasts a new 9,500 square foot rooftop that enhances acoustic quality and adds 20 percent more covered seating. The venue celebrates a summer season of diverse entertainment including rock, jazz, blues, comedy, major festivals, movie nights and more. R Entertainment North LLC programs and manages the captivating amphitheater ideally situated at a cool elevation of 6,900 feet, delivering live, world-class entertainment to fans throughout Arizona as well as the greater Flagstaff and Northern Arizona region.  Pepsi Amphitheater draws visitors from metro Phoenix and Tucson, and throughout the region including Southern California, Southern Colorado, Las Vegas and Albuquerque. Follow Pepsi Amphitheater on Twitter @PepsiAmpFlag and Facebook.com/flagstaffamp. For tickets and information, visit www.PepsiAmp.com or call 1.866.977.6849.