Approaching the one-year anniversary of its ad-supported tier, Disney+ has doubled down on delivering deeper ways for advertisers to reach audiences at scale with the most flexible solutions in the industry. Advanced audience targeting; additional programmatic marketplaces; expanded ad formats and enriched measurement across verification, identity, effectiveness and attribution are now all available on the service.    
"Consistent with Disney's strategic approach, we spent the last 10 months testing, learning and listening to our consumers and clients. That's how we continue to create viewer-first experiences while simultaneously introducing new capabilities, functionality and formats," said Rita Ferro, president, Global Advertising, Disney. "We're seeing increased engagement and time spent, and now providing greater accountability for marketers through robust measurement, proving that premium content matters."   
Fifty percent of new subscribers choose the ad tier, and from March to September 2023 the service has seen 35% increased engagement. As the ad-supported Disney+ audience grows, so does the ability to deliver impact for advertisers. This was done while keeping a complementary ad load aligned with viewing behavior to deliver a best-in-class consumer experience. Solutions for measuring the impact of campaigns to meet and maximize advertisers' performance objectives has continued to solidify Disney as the leader in the marketplace.
Here are some advertising capabilities now available on Disney+: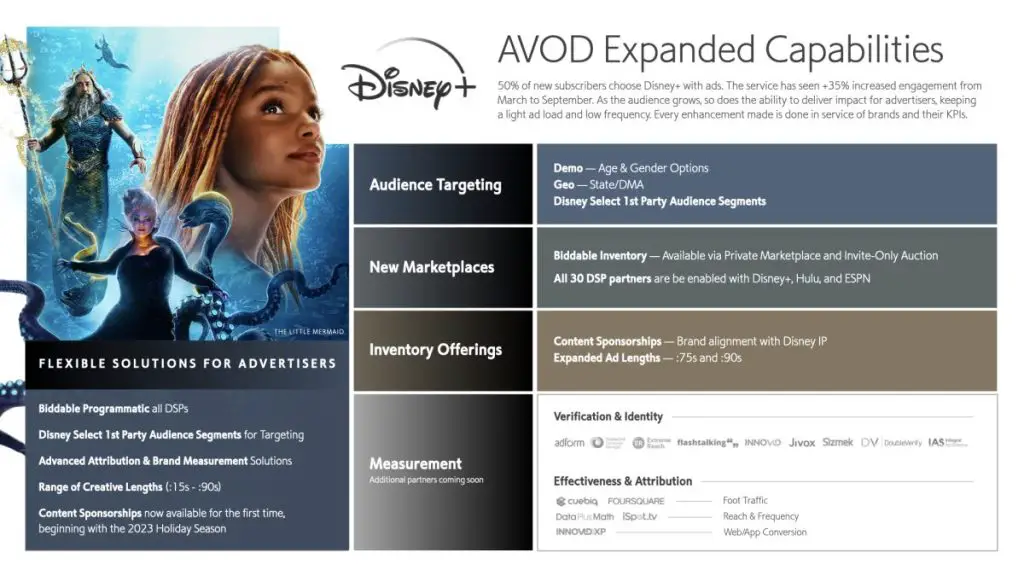 Advanced Audience Targeting
For the first time, targeting is now available for marketers to reach audiences with precision, across demo (age and gender); geography (State/Designated Market Area) and Audience Segments stemming from Disney's award-winning, proprietary first-party Audience Graph.
Programmatic Expansion
Disney is expanding programmatic opportunities to include biddable transactions, available through private marketplaces or invite-only auctions. Available across 30 DSPs (demand side platforms), representing large scale, midmarket and local platforms allows advertisers to unlock Disney's premium content at scale, with more choice and control than ever before.
Diversified Ad Formats
Building on its legacy of market-defining, consumer-first formats, Disney+ is now accepting an expanded range of creative lengths (midrolls, and :15s to :90s), in addition to select content sponsorships, which are now available for the 2023 holiday season. 
Enhanced Measurement & Attribution
Disney+ has continued to build new capabilities for marketers to deliver more impact while ensuring effectiveness through measurement and attribution. The service is working with Ad Verification and Delivery vendors including DoubleVerify, Moat, IAS, AdForm, DCM, Extreme Reach, Flashtalking, Innovid, Jivox and Sizmek for offer verification, creative delivery and aggregated reporting.  
Disney will provide more campaign measurement solutions to advertisers than ever before – all demonstrating the value of advertising on Disney+. For example, Cuebiq and Foursquare measure foot traffic; Data Plus Math and iSpotTV provide reach and frequency insights; Kantar helps measure brand lift; and InnovidXP demonstrates web and app conversion.   
As Disney+ with ads continues to scale, a growing audience translates into more opportunities for advertisers to deepen their engagement with the service. Disney Advertising remains committed to introducing enhancements and solutions to support brand partners and drive their desired outcomes.