EPCOT is always a wonderful place to try a wide variety of delicious foods. Soon, there will be even more delicious foods to try out throughout EPCOT when they are introduced on September 22, 2023. Disney has shared what new offerings will be available starting on the 22nd. There are new items throughout the park including at Space 220, Sunshine Seasons, Connections Cafe, Connections Eatery, and some Festival Marketplaces. Check them all out below!
Connections Café (Currently available) 
Croissant Doughnut with cinnamon sugar 
Connections Eatery (Currently available) 
Sunshine Seasons (Currently available)  
Key Lime Parfait 
Peanut Butter Whoopie Pie 
Fruit Tart 
Crème Brûlée 
Cookies 'n Cream Shake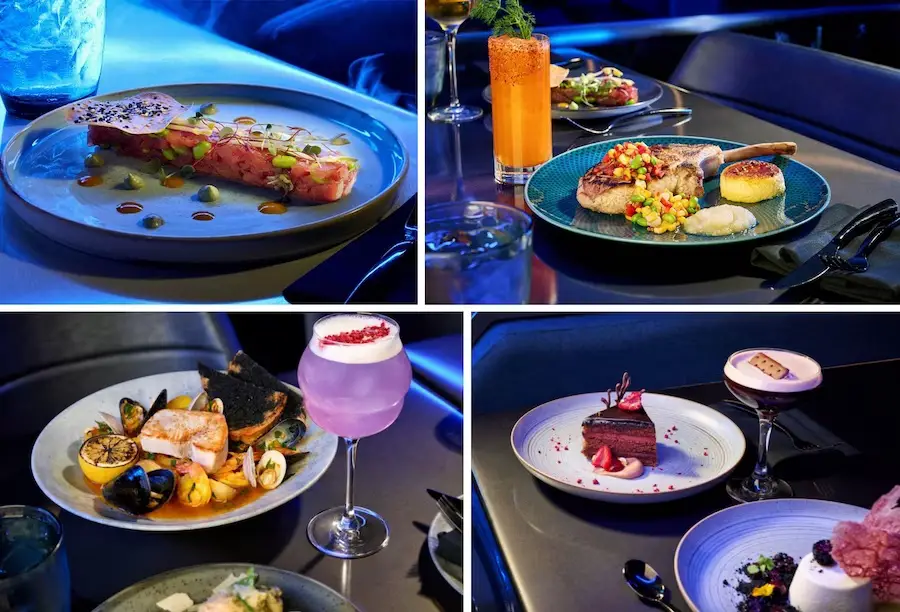 Space 220 Restaurant 
Food Items: 
Neptuna Tartare: Sushi grade yellowfin tuna, avocado crema, mango coulis, edamame, wonton crisp, and yuzu dressing 
Roasted Asparagus Soup: Jumbo lump crabmeat, roasted poblano and red peppers, citrus chili oil, and crouton 
Bone-in Pork Chop: Slow-roasted 16 oz. pork chop, corn flan, succotash, and spiced applesauce 
Pan Roasted Swordfish "Cioppino": Shrimp, littleneck clams, Prince Edward Island mussels, tomato and fennel seafood broth, and toasted garlic bread 
Vanilla Bean Greek Yogurt Parfait: Black sesame crumble, yuzu curd, macerated blackberries, and basil blackberry sauce 
Cosmic Cupcake: Chocolate plant-based devil's food cake topped with vanilla frosting and galactic sprinkles (Available on kid's menu)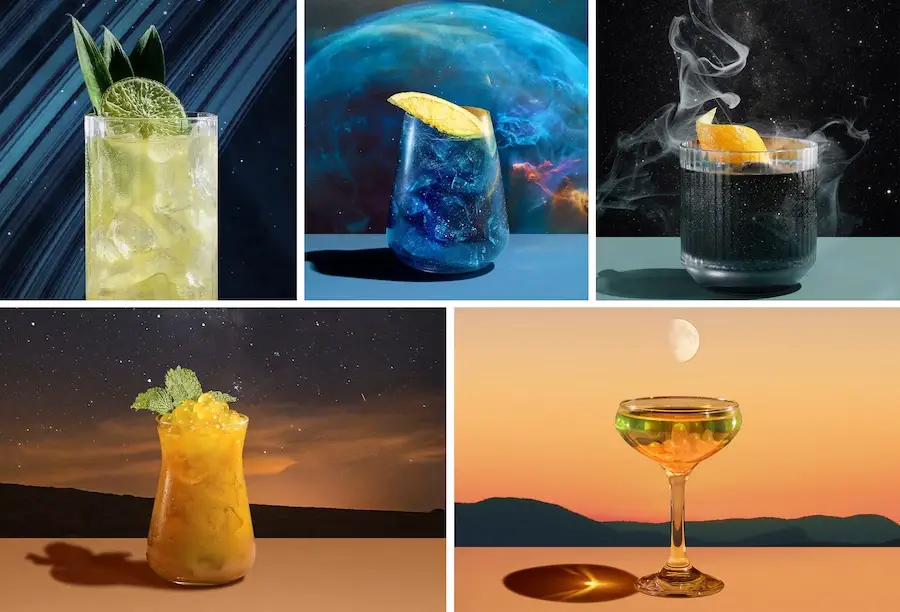 Beverages: 
Starship Lemonade: Butterfly pea flower, lemonade, and Sprite served with a glow cube (Non-alcoholic)
Moon Rocks: Lemon juice, blue cotton candy syrup, Sprite, pineapple juice, and pop rocks (Non-alcoholic) 
Solar Flare Sour: Lyre's Agave Blanco Non-alcoholic Tequila, mango, lime juice, grapefruit bitters, and fever tree tonic water (Zero-proof) 
Galaxy Spritz: Lagoon Bay Aperitif, lychee liqueur, fresh lemon juice, and prosecco 
Black Hole Fashioned: Knob Creek Bourbon Whiskey, demerara syrup, and whiskey barrel-aged bitters 
M4RG4R1TA: Espolon Blanco Tequila, watermelon lime sour, and salted lime foam 
Illumination: Bacardi Rum, Malibu Caribbean Rum, passion fruit, blood orange, pineapple, lime sour, and passion fruit boba 
Saturn 2.0: Bacardi Reserva Ocho Rum, Velvet Falernum Liqueur, orgeat, passion fruit, and lemon juice 
Space Age Mule: Tito's Homemade Vodka, fresh carrot juice, mango, lime juice, ginger beer, and chili lime seasoning rim 
Command Center: Hendrick's Gin, St-Germain Elderflower Liqueur, lemon juice, citrus and elderflower foam 
Shuttle Crew: Ketel One Botanical Peach & Orange Blossom Vodka, vanilla, tangerine, Red Bull, and tang foam 
Gamma Burst: Grey Goose Essences Strawberry & Lemongrass, Midori Melon Liqueur, and strawberry popping pearls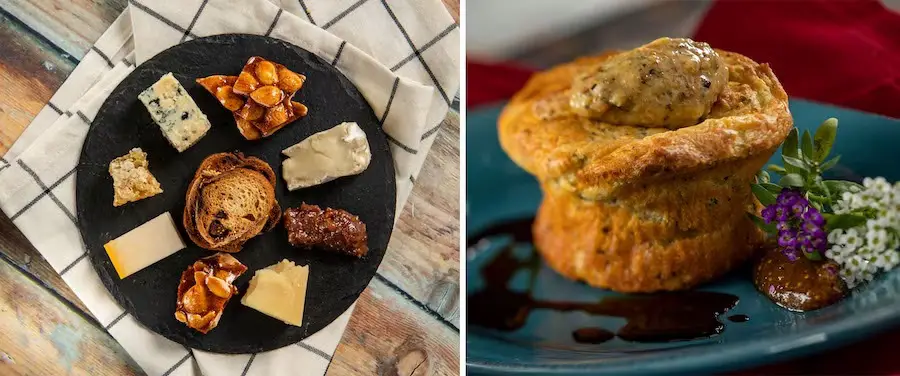 NEW! Wine & Wedge (Available Sept. 22 through Dec. 30) 
Food Items:
Assorted Artisanal Cheeses and Accompaniments (Emile's Fromage Montage)
Boursin Fig & Balsamic Soufflé with fig tapenade (Emile's Fromage Montage)
Southern Pimento Cheese with bread-and-butter pickled vegetables and grilled bread (Emile's Fromage Montage)
Artist Palette of Wine and Cheese: Assorted Artisanal Cheeses paired with Selbach-Oster Zeltinger Sonnenuhr Riesling Spätlese, Hartley Apple Brandy, and Florida Orange Groves Winery Black and Blue Port 
Beverages: 
Selbach-Oster Zeltinger Sonnenuhr Riesling Spätlese 
Hartley Apple Brandy 
Florida Orange Groves Winery Black and Blue Port 
Flight also available
NEW! Char & Chop (Available Sept. 22 through Dec. 30)
Food Items:
Roasted Porchetta with lemon-parsley salsa verde and shaved fennel salad 
Grilled IMPOSSIBLE Spicy Sausage with herbed polenta, puttanesca sauce, and ricotta 
Meat Assorti: Trio of shaved meats with baby arugula, pickled mustard seeds, truffle oil, and grilled ciabatta 
Beverages: 
Krombacher Pilsner 
North Coast Laguna Baja Vienna Lager 
Motorworks Brewing Midnight Espresso Coffee Porter 
GoGi 'Birdie' Pinot Noir
Bloody Mary with Seaside Grown Bloody Mary Mix and Kurvball Barbecue Whiskey 
Beer Flight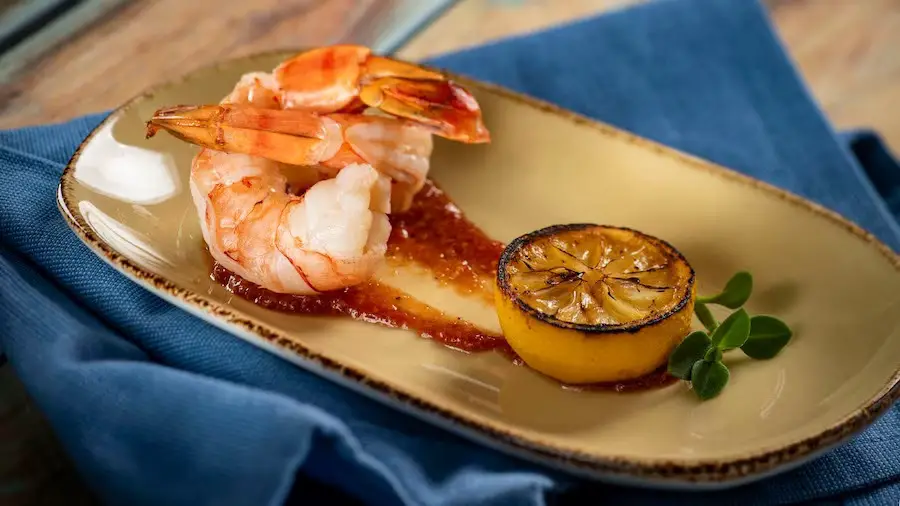 NEW! Bubbles & Brine  (Available Sept. 22 through Dec. 30)
Food Items:
Jumbo Shrimp Cocktail with prosecco cocktail sauce and grilled lemon 
Jonah Crab Claw Cocktail with stone-ground mustard sauce
Beverages: 
Moët & Chandon Impérial
Veuve Clicquot Rosé
Dom Pérignon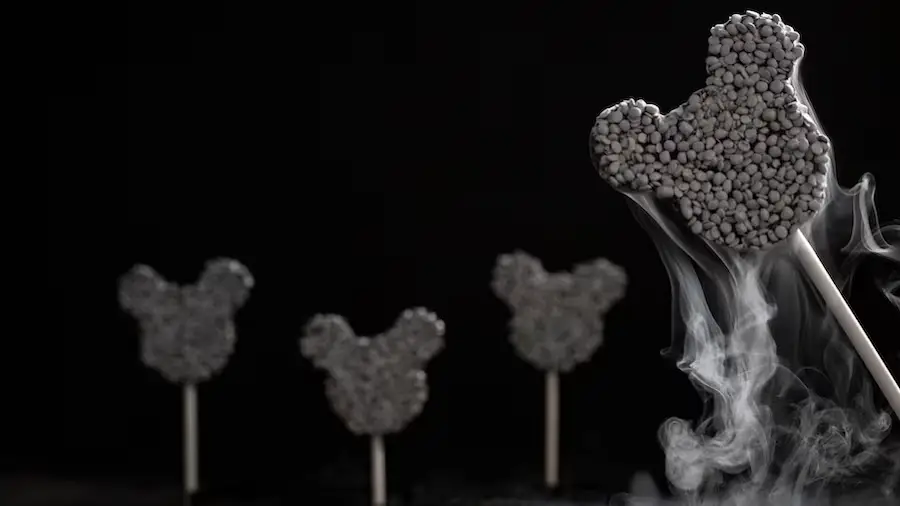 NEW! Swirled Showcase (Coming Soon!) 
Food Items:
Mickey-shaped Liquid Nitro Cake 
Soft-serve in a Waffle Cone

Vanilla
Apple-Cinnamon
Salted Caramel

Cream Soda Float with vanilla soft-serve 
Fanta Grape Float with vanilla soft-serve 
Beverages: 
Frozen Apple Pie (Non-alcoholic)
Cinnamon Apple Cider (Non-alcoholic)
3 Daughters Toasted Coconut Porter
3 Daughters Toasted Coconut Porter Float with salted-caramel soft-serve
Berry Fizz Fragolino Red Sparkling Wine Float with vanilla soft-serve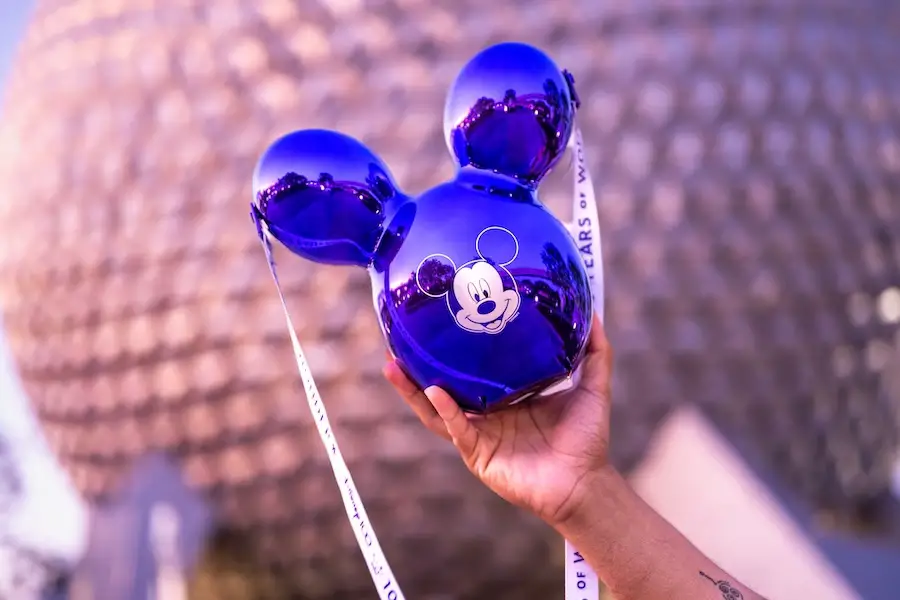 Popcorn Carts Throughout EPCOT (Available starting Sept. 22)
Disney100 Purple Mickey Mouse Balloon Bucket 
What do you think of all of the new offerings coming to EPCOT? Which one are you most looking forward to? Share your thoughts and opinions in the comments below!