There were many announcements made at Destination D23. During a panel hosted by Disney Parks, Experiences and Products Chairman Josh D'Amaro, one of the announcements revolved around the future of Disney's Animal Kingdom. One announcement, in particular, focused on what is currently Dinoland U.S.A. It was announced that Dinoland U.S.A will be going the way of the dinosaurs and will be reimagined.
At this point, the new land does not have a name. However, it does have an inspiration. It was shared that the new land will be inspired by a region that is often referred to as the "tropical Americas."
Imagineers have been researching for this new land. To do so they are looking at some of th emost diodiverse areas. ofthe planet. They are found in the regions just north and south of the equater in the Western Hemisphere. This is the northern part of South America and continues up into Central America.
Concept art for what this land could be shows some of the possibilities for the area could be. Disney shared that "New experiences inspired by Encanto – the Academy Award winning Walt Disney Animation Studios film – and the fan-favorite adventurer Indiana Jones are being considered." The concept art shows locations from Encanto brought to life in Disney's Animal Kingdom, along with what looks like the entrance to Indiana Jones Adventure in Adventureland at Disneyland.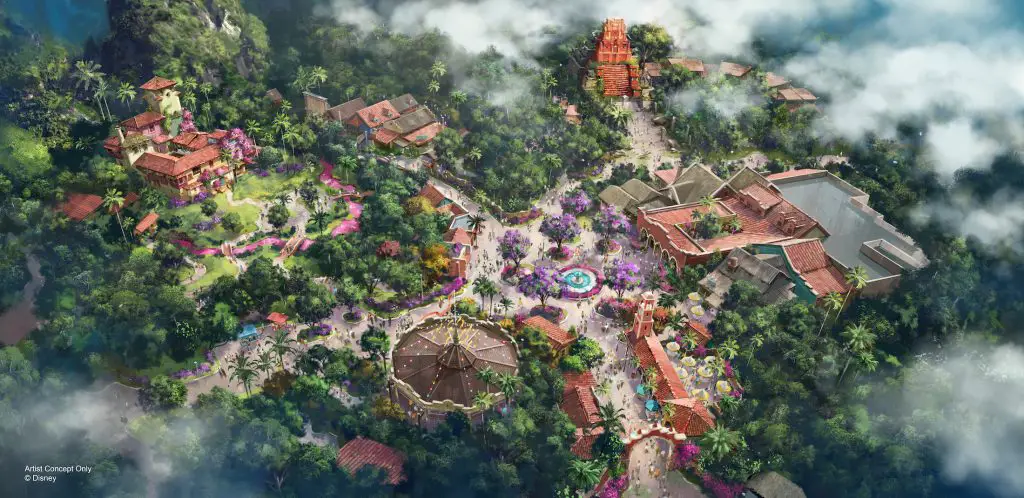 Dinoland U.S.A. originally opened on April 12, 1998. It focused on dinosaurs and other prehistoric life along with related modern life. The backstory for the land was that it was small highway town where an amateur fossil-hunter found dinosaur bones in 1947. After reaching out to some friends who were scientists, the land was purchased and scientists, volunteers, and grad students have lived on the site and attempting to learn more about dinosaurs ever since.
Currently the following attractions can be found in Dinoland U.S.A.:
Dinosaur
The Boneyard Playground
Cretaceous Trail
Dino-Sue
Chester and Hester's Dino-Rama

TriceraTop Spin
Fossil Fun Games
The following attractions were once in Dinoland U.S.A.:
Lucky the Dinosaur (2005)
Dinosaur Jubilee (1998-2000)
Fossil Prep Lab (1998-2000)
Primeval Whirl (2002-2020)
At this time, there isn't a schedule for when Dinoland U.S.A. will be closed to make way for the new reimagined land. The two concepts of Encanto and Indiana Jones also have not been confirmed as the replacements for the land. They are at this point just being considered. Bruce Vaughn—Chief Creative Officer at Walt Disney Imagineering—said at Destination D23 that "there's a long way to go and a lot more to discover but Imagineering teams in Florida are up for the challenge."
What do you think about these possibilities for Dinoland U.S.A. at Disney's Animal Kingdom? What would you like to see go into this space? Share your thoughts and opinions in the comments below!
More Destination D23 News: