Tim Burton's The Nightmare Before Christmas: Beyond Halloween Town is now available. This book was written by Emily Zemler and was released 30 years after The Nightmare Before Christmas originally arrived in theaters. The book looks at the story, the characters, and also the legacy. Along the way, there are a lot of fun photos that bring the creation of this movie and its continued popularity to life in a completely different way. Zemler is both a writer and journalist who can be found contributing frequently to the Los Angeles Times and also Rolling Stone, among others. She has also written Disney-related books like The Art and Making of Aladdin and Disney Princess: Beyond the Tiara.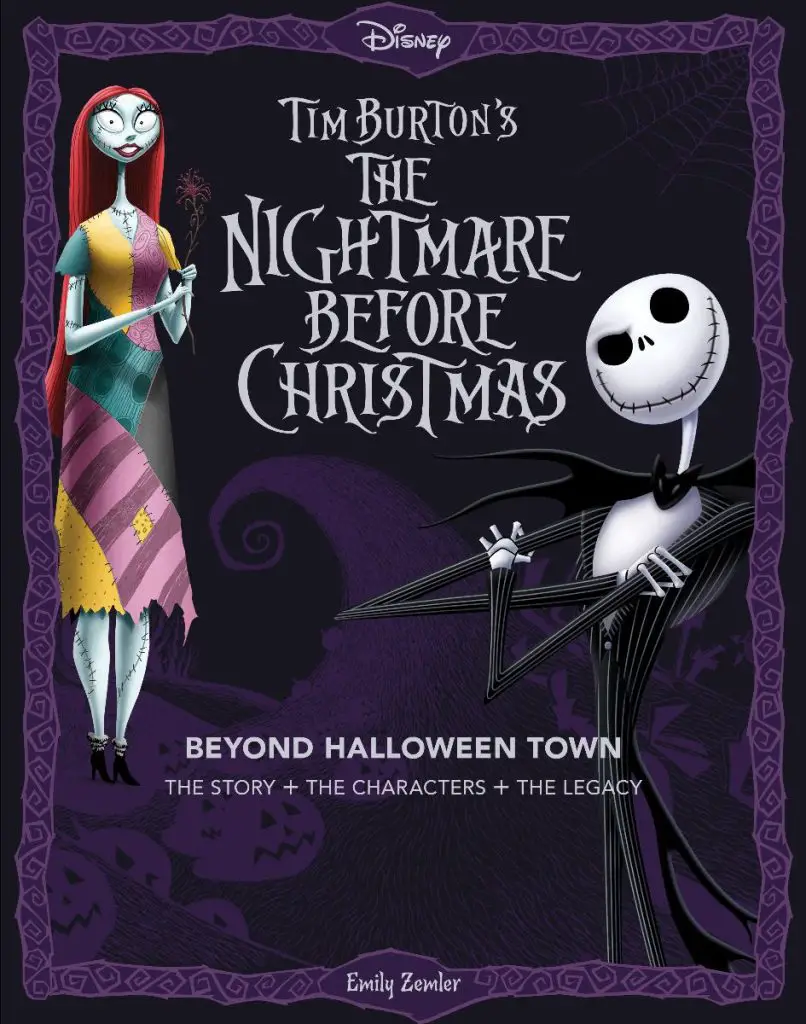 In my humble opinion, there is never enough information about the making of any movie I love. The Nightmare Before Christmas is one of them. This book helps assuage that need for more about this movie. Immediately upon opening it and skimming through it, I found photos I hadn't seen before. As I sat down to read it, the stories started coming out. Some of them were familiar, and some of them weren't. I enjoyed that this book took a look at the creation of The Nightmare Before Christmas from several different perspectives. This included the backstory (and it went much further back than I realized) for the creation of the story by Tim Burton. This continued on with stories about the making of this film and the stories behind the director, animators, and other artists who helped bring Jack Skellington and the rest of Halloween Town (and beyond) to life. There was also a look at how the vocal talent came to the project, along with the music.
One of the things I liked most about this book wasn't just recognizing the amount of research that went into it. Yes, that was shared (with I'm sure more that never made it into the book). The research was put into a format that really brings the movie to life and progresses forward and builds on itself. This creates a comprehensive look at The Nightmare Before Christmas. It also really shows how much work from so many different people it took to bring this story together.
Along with examining the creation of The Nightmare Before Christmas, this book delves into the legacy that this movie has continued to have over the last three decades. It is a legacy that continues to grow in popularity as well. It has included the holiday overlay at Disneyland's Haunted Mansion, concerts, merchandise, apparel, games, and more! This book provides an interesting look at how the legacy has evolved over the last three decades, along with some fascinating photos and tidbits.
The Nightmare Before Christmas is a fan favorite that has only grown in popularity since its initial release (which wasn't super strong). The story of how it came to be is a fascinating one that is told in Tim Burton's The Nightmare Before Christmas: Beyond Halloween Town. It is such a wonderful and enjoyable look at this classic holiday film. The exploration of the ongoing legacy of the film is also enjoyable to read about. This is a book that should definitely be in the collection of every fan of The Nightmare Before Christmas and/or stop-motion animation. Disney fans will also certainly enjoy it. I take my hat off to this one, and it has been sitting on my coffee table since I reviewed it… which has led to me opening and reopening it. Order this book today and then share with me what you think of it! I hope you enjoy it as much as I did!
Mr. DAPs Hat Rating Scale
No Hat – Didn't meet expectations
Hat Nod – It was ok
Hat Tip – It was good
Hat's Off – Loved it!
<i>Daps Magic received a sample product or experience for this review in exchange for an honest review. The views of the reviewer are wholly their own. Read full disclosure policy at dapsmagic.com/disclosurepolicy.</i>
This article contains affiliate links that help support Daps Magic.