TRON Lightcycle / Run will be officially opening to the public on April 4, 2023. When it does, users will be headed to the Grid to race against other Programs. Going on the attraction is just half of the experience, though. Getting to dress up, accessorize, and take home souvenirs also adds to it. Eating is also a part of the experience as well! Yesterday, menu items for Energy Bytes near the attraction were shared. Today, Disney has given a look at the merchandise that will be available to accompany the attraction.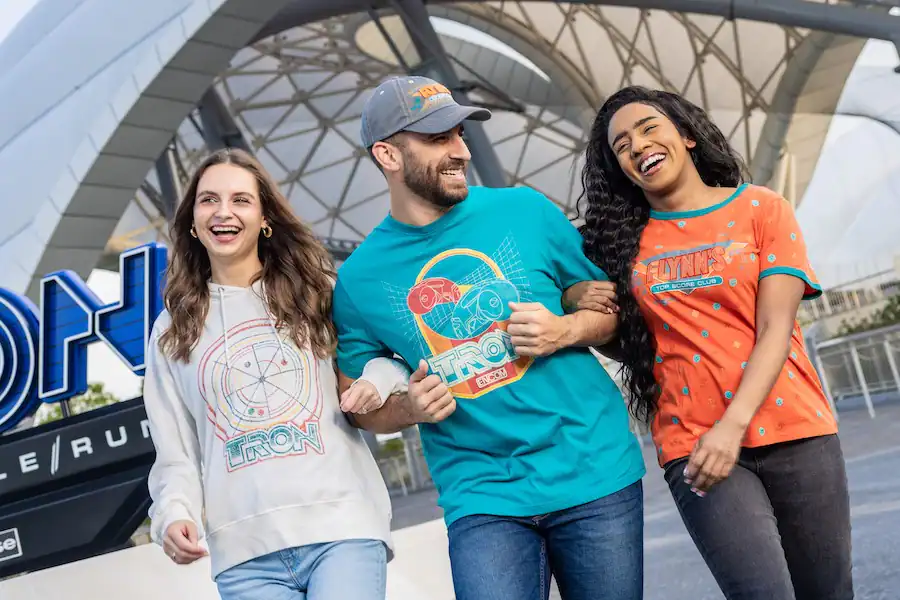 Users who make the trek to venture the Grid are going to find that there are three merchandise experience. The first will be released to the attraction itself, th second for the film TRON: Legacy, and then the third will focus on the 1982 original TRON.
"There are generations of guests now visiting Walt Disney World who grew up playing the TRON video games and imagining their bicycles were Lightcycles," explained Taryn Johnson, Senior Manager for Brand Merchandising with Global Product Creation. "These collections have a dash of 1980s nostalgia mixed with incredibly fun items that continue the thrills of this new Tomorrowland attraction at home."
The Back to the Arcade collection hearkens back to the 1980s arcade scene. This includes appropriate nods to Flynn's Arcade from the original movie. Parts of video game cabinets were transformed into backpacks and also wall signs that light up. There is also a tumbler with classic Lightcycles that can race around the domed top.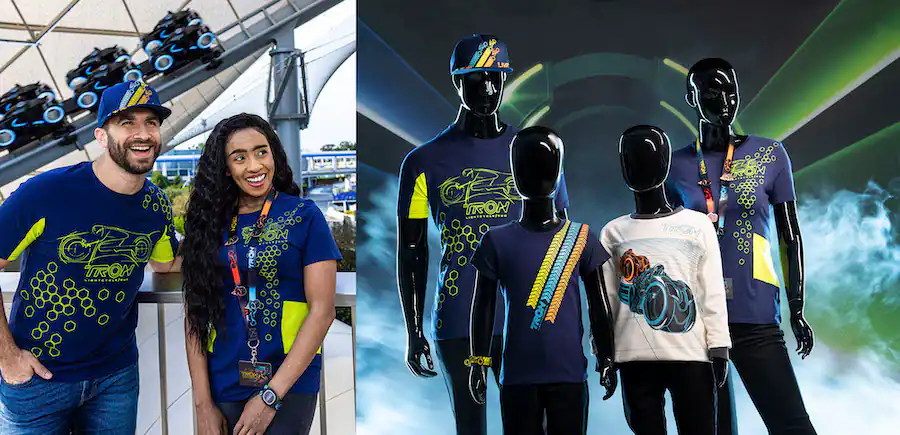 The Thrill of the Race collection is comprised of racing-inspired apparel for fans of Lightcycles of all ages.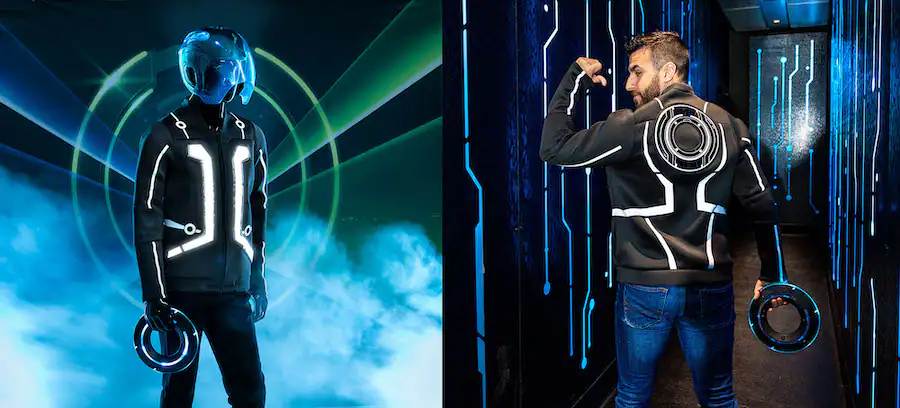 There is also a light-up replica of Sam Flynn's helmet as seen in TRON: Legacy. The original costume piece was used as reference. There is also a decorative helmet bag that is sold separately that can carry this or any other racing helmet.
If just riding the attraction in the park isn't enough, the TRON Lightcycle Handlebars allow Users to continue racing after their visit to the Grid. This is an interactive toy that has lights and sound effects from TRON. It can also turn into a four player interactive game.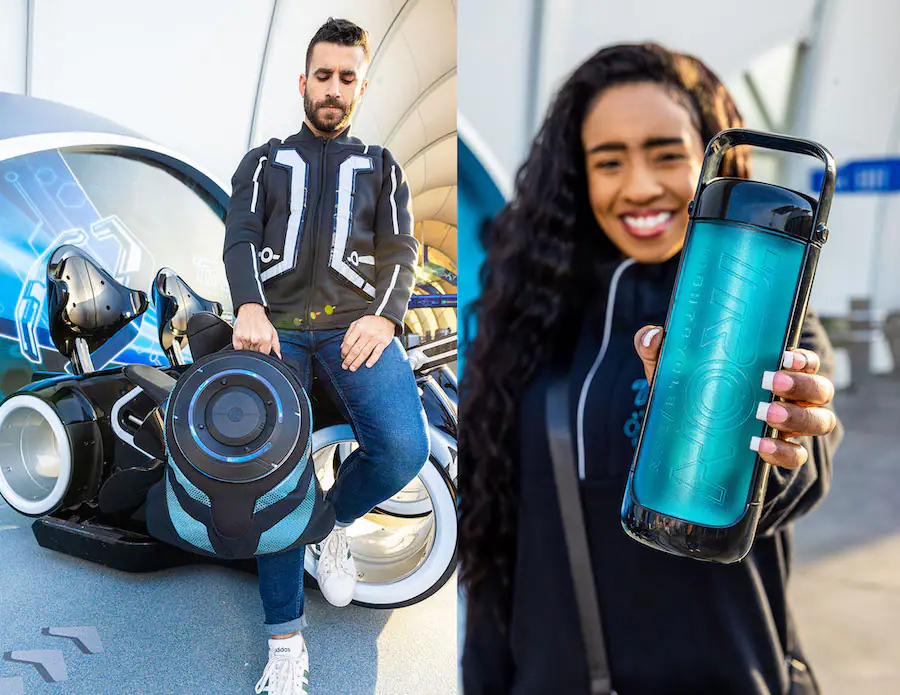 There is also an incredible collection that is inspired by "Life on the Grid." This includes light-up jackets for adults, a backpack that holds a new interactive Identity Disc, which also happen to double as an audio speaker, and also other accessories!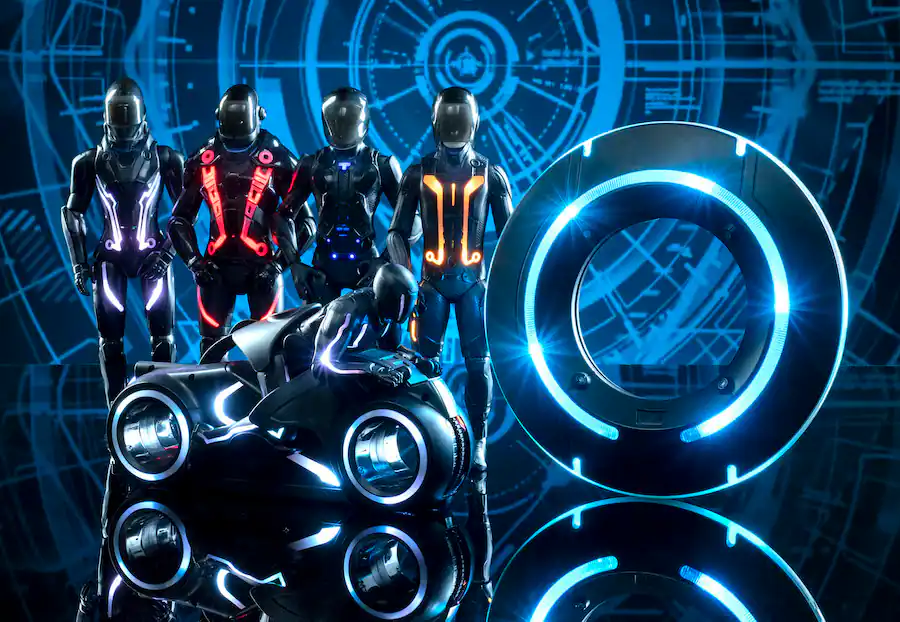 The TRON Identity Program is an immersive experience where guests can get a customizable "Program" action figure and identity chip. This can then be mused to "re-program" other merchandise, including the interactive Identity Discs and Remote Control Lightcycles.
This interactive experience does require reservations. Guests will be able to start making reservations on March 21 at: disneyworld.disney.go.com/shops/magic-kingdom/tron-identity-program/.
On April 4 when TRON Lightcycle / Run opens to the public, there will two places to go shopping. There will a be a pop-up shop area that will be found in Tomorrowland across from Monsters Inc. Laugh Floor's entrance. Those who have a reservation for the TRON Identity Program can visit Tomorrowland Launch Depot for the experience. This is the shop that is located between the entrances of TRON Lightcycle / Run and Space Mountain.
Merchandise Mobile Checkout will also be available through the My Disney Experience app at select locations. This makes things quicker and easier as guests can shop, scan, and pay for items using their phone.
What do you think of the merchandise options that will be offered for fans of the world of TRON once TRON Lightcycle / Run opens on April 4? What are you most excited about? Share your thoughts and opinions in the comments below!