The 2022 D23 Expo begins on September 9 and continues through September 11, 2022. Members of the media were able to get a first look at the Wonderful World of Dreams Pavilion on Thursday night ahead of the start of this year's D23 Expo.
Attendees at the expo will get a first look at the updates that are coming to Splash Mountain at both Disneyland and Magic Kingdom. This includes Tiana's Bayou Adventure at both Disneyland and Walt Disney World Resorts. At Disneyland, there will also one Eudora's Chic Boutique Featuring Tiana's Gourmet secrets opening on September 20, 2022. They will also get to see a look at the updated Mickey's Toontown at Disneyland. There is a whole lot more to see and experience at the Wonderful World of Dreams Pavilion.
Ahead of the first look at the pavilion, the media was welcomed by President of Walt Disney Imagineering Barbara Bouza and Josh D'Amaro, Chairman of Disney Parks, Experiences and Products.
Following the welcome, the media was allowed to tour the pavilion. Take a look at the tour video and photos of the Wonderful World of Dreams Pavilion below.
Here is a look at the highlights of the Wonderful World of Dreams Pavilion:
Tiana's Bayou Adventure Model
Coming to both the Disneyland Resort and Walt Disney World Resort in late 2024, Tiana's Bayou Adventure will bring guests down the bayou along with Tiana, Naveen and their friends. Here you can see a model of the upcoming attraction and new artwork that expands upon the next chapter in Tiana's story.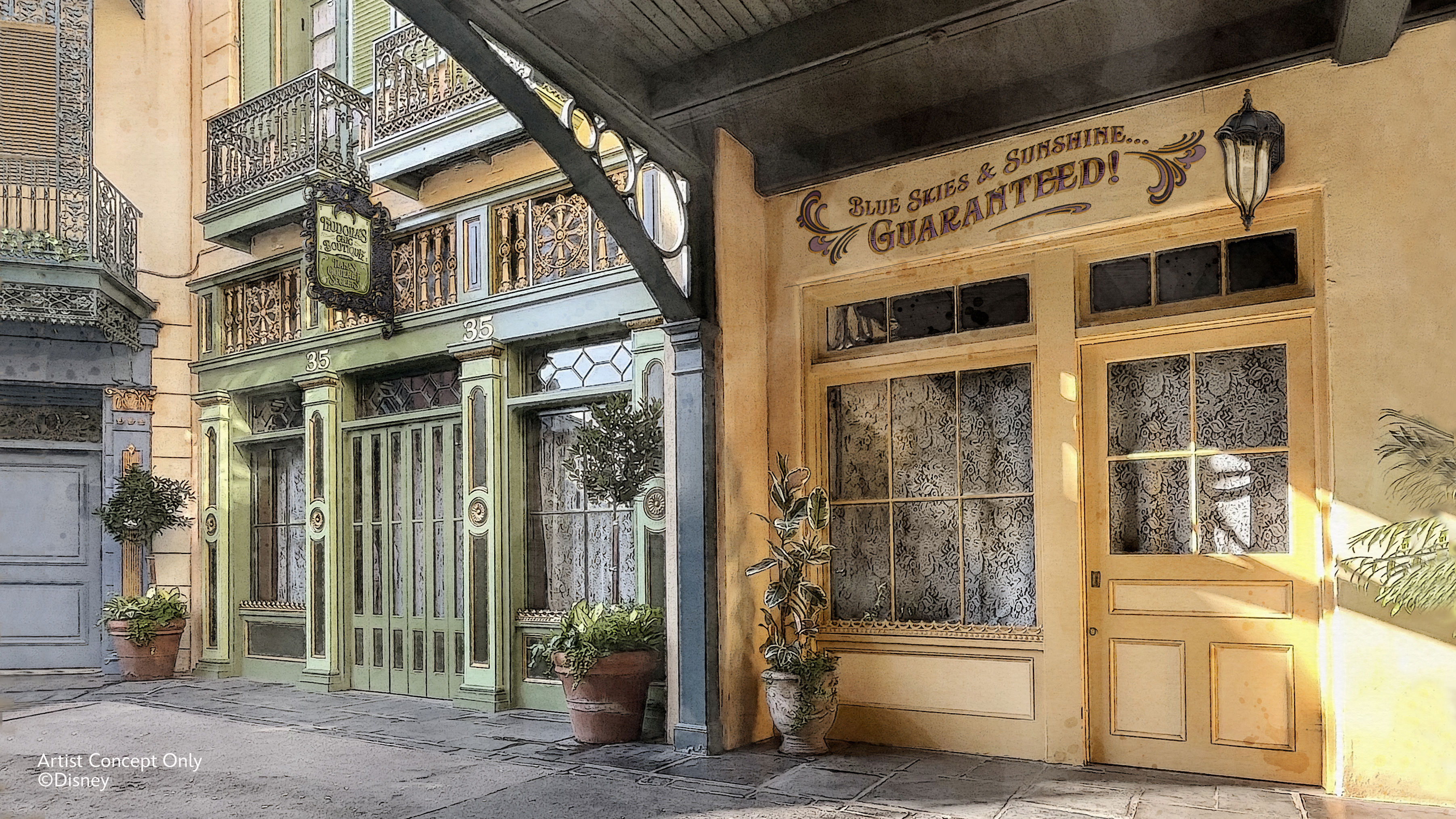 Eudora's Chic Boutique Featuring Tiana's Gourmet Secrets
At Disneyland park, Tiana's Bayou Adventure will be in New Orleans Square, which allows for the opportunity to tell even more Tiana stories.
An all-new retail store will be opening in New Orleans Square at Disneyland park on Sept. 20, 2022, called Eudora's Chic Boutique Featuring Tiana's Gourmet Secrets. Tiana is collaborating with her talented dressmaker mother, Eudora, to open this fantastic little shop, with accessories to create and serve masterful Orleans-style cuisine and more.
Mickey's Toontown and Mickey and Minnie's Runaway Railway
Mickey's Toontown at Disneyland park is currently undergoing an exciting transformation into a vibrant symphony of sights, sounds and sensations. Here you can see a sneak peek of models of what the land will look like when it reopens in 2023, including Goofy's How-to-Play Yard. Part of this reimagining includes the addition of the new attraction Mickey & Minnie's Runaway Railway, complete with a brand-new attraction poster
Transformation of EPCOT
EPCOT's ongoing historic transformation will bring the next generation of immersive storytelling to life through a collection of new attractions and experiences. Journey of Water, Inspired by Moana is one of those new experiences, and guests can see behind-the-scenes photos of its development and a model of Te Fiti in the pavilion.
At Destination D23 last year, we shared a look at a new Walt Disney statue, created by Imagineers for a special area in EPCOT called Dreamers Point. Inside the pavilion, you'll see the statue that we can now share will be called "Walt the Dreamer," which will inspire guests as he gazes out at EPCOT, encouraging everyone to follow their dreams right along with him.
Around the World at International Parks
We're thrilled to bring our first-ever land themed to Walt Disney Animation Studios' "Zootopia" to life at Shanghai Disney Resort. Inside the pavilion, guests will discover some of the citizens of Zootopia, brought to life just as they will be when the land opens. To represent the future of Tokyo Disney Resort, new posters and attraction ride vehicle maquettes from Fantasy Springs, the newest theme port (port of call) based on Walt Disney Animation Studios movies "Peter Pan," "Tangled" and "Frozen," are on display. Lastly, a new poster and details about the beautiful new land inspired by Frozen coming to Hong Kong Disneyland will leave guests eager to venture into the unknown.
Hey Disney!
Disney and Amazon teams continue to prepare for the rollout of Hey Disney!, a new digital voice assistant built on Alexa technology which will let you interact with some of the most beloved Disney characters and enjoy special Disney experiences at Disney Resorts and at home, with new experiences and characters being added over time. The first new addition coming to the Hey Disney! roster to join the ranks of characters like Olaf, C3PO and Tiana is Mirabel from Walt Disney Animation Studios' "Encanto," voiced by Stephanie Beatriz.
DisneyMe D23 Expo Quest
Guests at D23 Expo will get first access to DisneyMe, an all-new digital avatar in the Play Disney Parks app. This experience empowers guests to express their Disney style by creating their own unique DisneyMe. To celebrate the launch of DisneyMe as part of Disney Uncharted Adventure on the Disney Wish, guests at D23 Expo are invited on a quest that can only be completed at the Expo. Attendees will uncover specially designed Disney Wish and D23 Expo digital clothing and accessories for their DisneyMe around the show floor. D23 Expo guests will need to download the latest Play Disney Parks app to be ready to create their DisneyMe and join the DisneyMe D23 Expo Quest during the convention.
The Wonderful World of Dreams Pavilion will be open for D23 Expo attendees throughout the weekend. There are also some live moments that are worth catching. This includes some of the workers from the world of Zootopia and also an interactive opportunity to create a new ending for Harmonious.
What do you think of this pavilion? What is your favorite part? Share your thoughts and opinions in the comments below!