On August 27, 2022, supporters of CHOC will descend on Disney California Adventure for a night full of magic in celebration of CHOC Walk's 30th anniversary. Because of the global events of the last two years, the 30th anniversary of CHOC Walk in the Park has not been able to be celebrated properly. This year, all that changes. The CHOC Adventure will be a party in the park to celebrate 30 years of walks.
JOIN TEAM DAPS MAGIC'S CHOC ADVENTURE TEAM HERE
On the evening of July 6th, a few select members of the media and influencers were invited to hear about what this CHOC Adventure will be. In short, it will be a night that nobody will want to miss! It has been in the works for quite some time and it is going to be a celebration that is both magical and safe! The night will include a mixer that begins at 5:00 PM at Disney California Adventure and then starting at 9:00 PM, the night will be solely dedicated to CHOC Adventure!
From 9:00 PM – 12:00 AM, there will be plenty to do at Disney California Adventure. This includes the attractions in the park, food, entertainment, shops, and some extra Disney magic. This will include a special presentation of World of Color and also a "magical moment" teased Assistant Vice President of Community Engagement for CHOC. There will also be some discounts at hotels for those attending the event.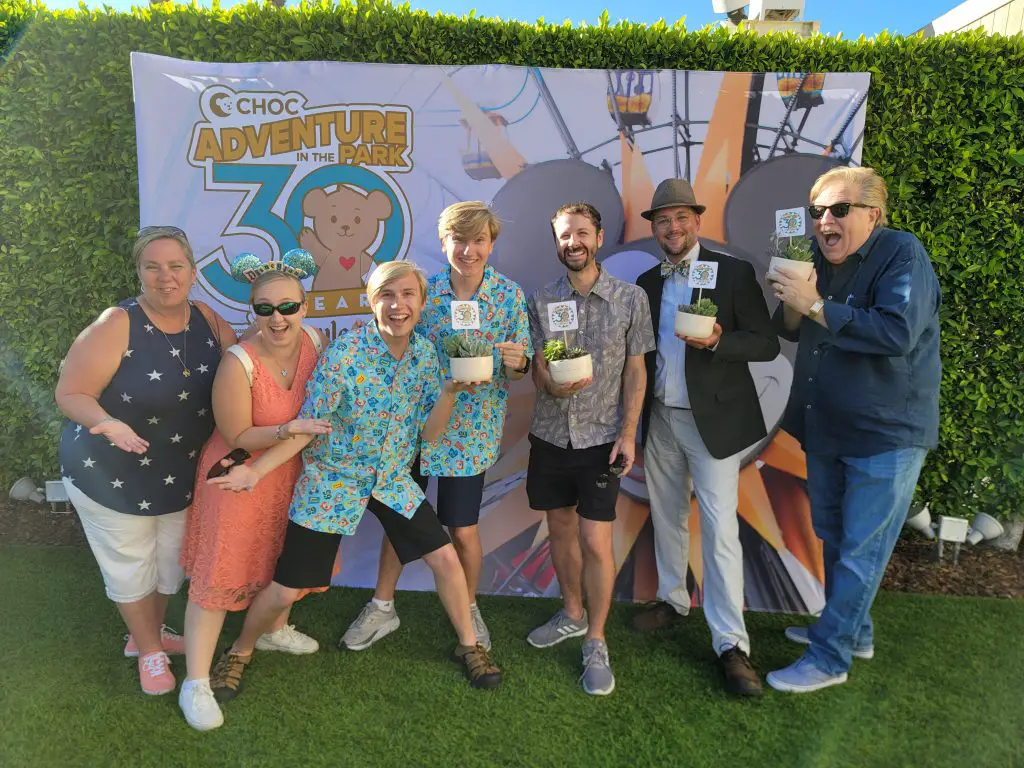 It is only appropriate that this party celebrating 30 years of CHOC Walk is being held at Disney California Adventure. Disneyland Ambassador Nataly Guzman shared of the long and rich history between the Disneyland Resort and CHOC. It is a history that dates back to 1960 and Walt Disney himself! That partnership that began with Walt Disney over sixty years ago continues to thrive today. Just through the CHOC Walk alone, over $37.5 million has been raised through this partnership with the Disneyland Resort!
As the partnership between Disney and CHOC has continued to grow and thrive through the years, so has the hospital itself. What was once just a little community hospital is now a pediatric hospital that serves five counties and has over forty locations!
One tradition that continues today that has been going for decades is that of having a CHOC Walk ambassador. This year, the CHOC Walk Ambassador is Robby Gomez, who is represented by his family. The Gomez family shared during this event how Robby was born in 2001 and found himself in CHOC almost immediately. He sadly only lived to be 5 years old and passed away in 2006. The family has been walking in the CHOC Walk for 17 years in his honor. In 2018 they started the Robby Gomez Foundation, and have a yearly golf tournament to raise money for CHOC. Both their CHOC Walk fundraising efforts and their golf tournament fundraising efforts have raised around $100,000 each for CHOC.
Stories like those of the Gomez family are really what CHOC Walk, or this year's CHOC Adventure, is all about. It's about helping the millions of kids who walk through the front doors of CHOC get the care they need in the dignified and caring way that CHOC gives it. The funds raised during CHOC Walk and CHOC Adventure change lives and help provide hope for families who are desperately seeking it.
This year's CHOC Adventure is not a walk. It is a party at Disney California Adventure to celebrate 30 years of walking! Seeing that it is a party in the park, it also has a cap on how many people can attend. To attend, participants need to raise $250 dollars before August 5th! Because of the capacity cap in the parks, weekly emails will provide updates on how much space is still available as people reach their $250 threshold to go to the party. When it is full, it will be full.
What's this mean for those who want to participate?
If you want to attend the CHOC Adventure, register NOW! Space is limited and the CHOC Adventure will fill up! Once registered, raise the $250 to attend the party and join us for a night of magic and fun as we celebrate CHOC and 30 years of CHOC Walk!
This year we really want to make a HUGE difference for CHOC and CHOC Walk! Please consider joining Team DAPS MAGIC whether or not you plan on attending the actual CHOC Adventure in Disney California Adventure. Every dollar raised and every person who joins the team will help make a difference for the children who go to CHOC.
Join Team DAPS MAGIC right now and encourage anyone you know to join and support as well at chocwalk.org/dapsmagic! Help us make a difference as we've never done before for this very special event! Let's raise some funds for CHOC and then after, we'll see you all in the park and we'll enjoy a magical evening together and get some photos together!