Shanghai, February 26, 2021 – This spring, Shanghai Disney Resort is celebrating the warmth, vibrancy and colors of the season with vivid décor, exciting entertainment, and a range of outdoor activities that are set to delight and inspire. From March 1 through April 5, guests can indulge in a color-filled world as fresh flowers and blossoms enchant the senses as a prelude to the resort's Fifth Anniversary celebrations. With multiple ticket offerings available, guests of all ages are invited to spend their spring vacation at the magical resort.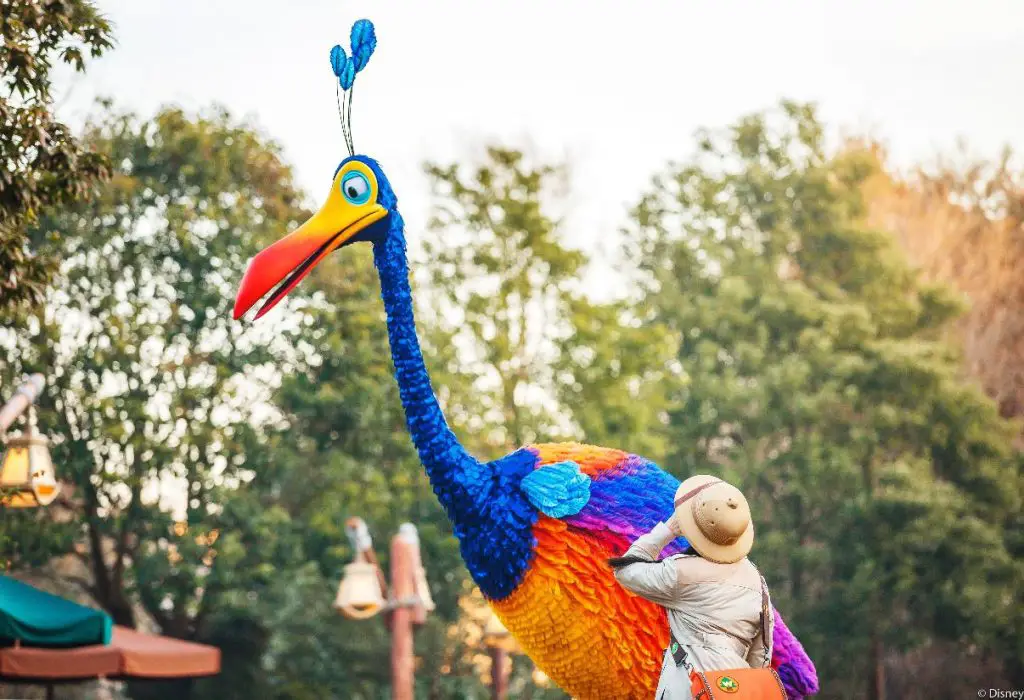 Celebrate International Women's Day with Unforgettable Experiences and a New Friend!
As the chill of winter melts away and birds begin to migrate back to Shanghai, starting March 1, guests will be able to meet Kevin, the exotic chocolate-loving bird from the beloved Disney and Pixar film, "Up", as she makes her debut in Asia at Shanghai Disney Resort. The feathery friend is a strong, independent mother who loves exploring, and guests will be able to catch a glimpse of Kevin wandering around Adventure Isle throughout the spring season.
Springtime also marks a celebration of female empowerment at Shanghai Disney Resort, with the return of the International Women's Day celebration. In recognition of this important date, as guests arrive at Shanghai Disneyland, Minnie Mouse's custom-made sign will once again greet them on the Entry Portal – presenting the feminine form of one of the Chinses characters that make up the park's Chinese name. Select Disney Princesses and Princes will also appear on the Enchanted Storybook Castle balcony and as part of Mickey's Storybook Express, inspiring guests with their charm, strength and grace.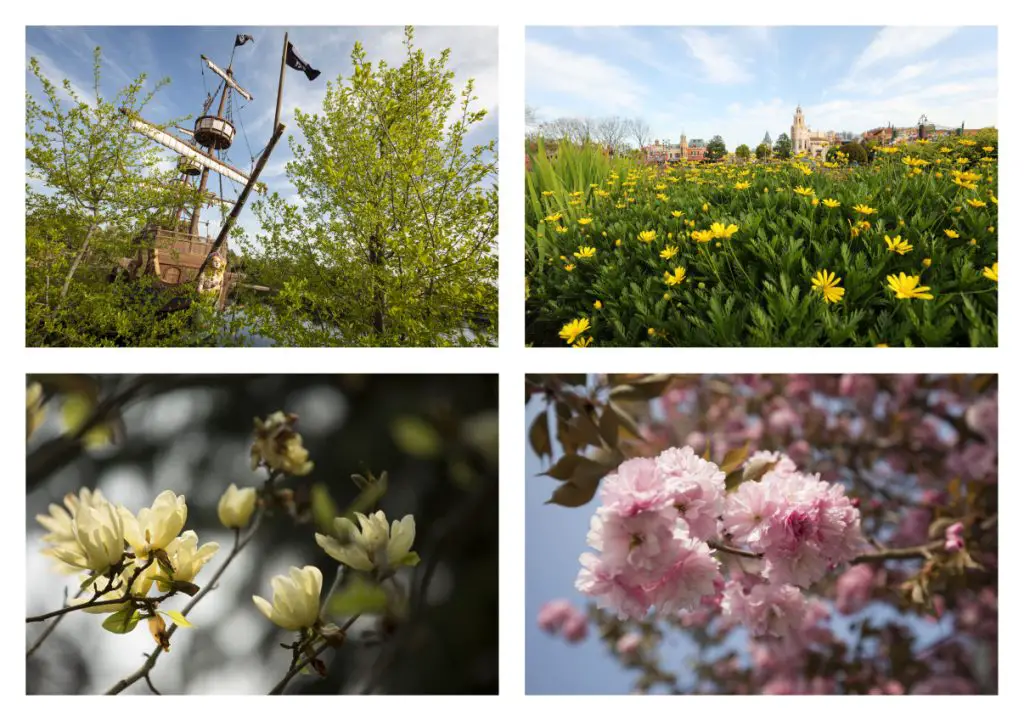 In honor of International Women's Day, Shanghai Disney Resort is also rolling out limited-time Half-Day tickets for guests to visit on March 5 and March 8. On sale from March 1 through March 8 and available for purchase across a number of official channels, the International Women's Day ticket provides special access to Shanghai Disneyland after 14:00 on the pre-selected ticket date, for just RMB 199 for a standard ticket and RMB 149 for children, seniors and guests with disabilities.
Magical Entertainment Flourishes Across the Resort
Shanghai Disney Resort is also welcoming the return of warmer weather with a range of seasonal entertainment experiences and offerings. Guests can gaze upon a beautiful projection of colorful springtime images that float up towards the sky on the castle walls in the new "Color Your Dreams" pre-show before viewing Ignite the Dream – A Nighttime Spectacular of Magic and Light. A colorful new social wall will also appear near Il Paperino where guests can take selfies in front of seasonal scenes. From March 9 through April 5, guests can also join StellaLou and her friends for a star-studded show in Celebration Square, where they are encouraged to follow their dreams – and dance along!
On April 2, guests will have the chance to celebrate Chip 'n' Dale's birthday with a special ceremony in front of Storytellers Statue. During the celebration, guests are encouraged to join in with a group sing-along of "Happy Birthday" and take part in a unique Disney photo experience for families and friends.
Spruce Up Your Springtime Accessories with Exciting New Merchandise
This spring, guests will find a new range of fun seasonal merchandise collections at Shanghai Disney Resort, including the highly anticipated Spring Mickey and Friends Collection and the Spring Duffy and Friends Collection. Guests are sure to love the fresh pink colors and cute flower accents in the adorable Spring Mickey and Friends Collection, which includes plush in royal European-style costumes, apparel, stationery, home décor and more.
The equally adorable Spring Duffy and Friends Collection features spring-inspired designs, including eggs, fluffy bunny ears and other seasonal elements, allowing guests to don ShellieMay bunny ear headbands, accessorize with a StellaLou egg-shaped cross-body bag and even find a new plush friend to bring home and cherish forever.

Nothing Says Spring like Fresh Treats and Seasonal Sips
Colorful Disney experiences can even be found in seasonal specials at restaurants, kiosks and outdoor vending carts throughout the resort, allowing guests to celebrate spring in a new and tasty way. Pink flowers and fresh flavors will feature in Minnie Mouse-inspired treats at Il Paperino, with offerings like Minnie strawberry and vanilla ice cream and a Minnie waffle. At Remy's Patisserie, guests can enjoy sweets with floral designs and chocolate Mickey, Minnie and Donald Duck toppers. Mickey & Pals Market Café is also hosting a limited-edition Duffy and Friends Spring Afternoon Tea, with delicious brownies and cakes, carefully crafted with cute Duffy and Friends elements and a variety of beverages. Guests can also find adorable Chip 'n' Dale delights throughout the park, including a new commemorative Chip 'n' Dale birthday bucket.

This spring, Wandering Moon Restaurant is also releasing a new seasonal menu with traditional delicacies, all with Disney touches that make dining an occasion to remember. In addition, available every Friday and Saturday from March 5 through April 24, Shanghai Disneyland Hotel's Aurora is presenting a Sleeping Beauty Dinner for two, where guests will see Disney friends before looking out at Shanghai Disneyland's Nighttime Spectacular.
Spring is in Full Swing at Disneytown and Resort Hotels
Guests can take in the sights, sounds and scents of the season with a visit to Disneytown, where spring-inspired additions, new cuisine, recreational activities and more await. A magical new chapter of the Wishing Star Park Adventure will also premiere in March, with three separate explorations taking place over three months to educate children on the importance of biodiversity and other surprising spring secrets in advance of the resort's Earth Month celebrations in April.
For guests looking to extend their magical Disney experiences this spring, Shanghai Disney Resort's two hotels are offering guests an idyllic environment to relax and rejuvenate during a multi-day visit to the resort. Complete with family-friendly outdoor activities where guests of all ages can get involved in fun-filled games during weekends and holidays, the hotels will also be hosting a series of DIY sessions where guests can make magical creations to take home.

Seasonal Ticket Offers Create New Opportunities to Visit
As part of the special springtime offers, Shanghai Disney Resort is introducing a new limited-time Early Bird ticket. From February 27 through March 26, guests can purchase an Early Bird ticket to enjoy a discount of up to 15% for a visit from March 6 through April 2. Tickets are available for purchase on the Shanghai Disney Resort Official Website and App, the Shanghai Disney Resort Official WeChat account, Disney Reservation Center and via the resort's Official Fliggy Store and JD Store. Be sure to get the most out of spring this season, and prepare to join in on the Fifth Anniversary celebration at Shanghai Disney Resort!