Today it was announced that Imagineer Kevin Rafferty will officially be retiring on April 1, 2021. no, this is not a joke. In an interview posted on the D23 website, the news was made official. In the interview, Rafferty shared simply that his decision to retire was because "It feels like it's time."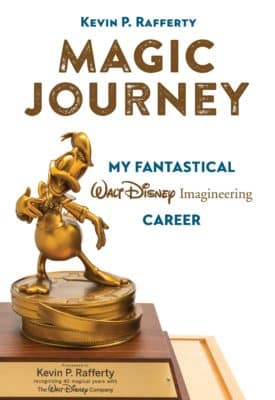 Rafferty began his career at Disney working at Disneyland. Rafferty shared, "I started my career washing dishes at the Plaza Inn at Disneyland, which was just a crazy hard job to do. But I stuck with it because I wanted to work for Disney." And work for Disney he would. In his book, Magic Journey: My Fantastical Walt Disney Imagineering Career (read my review here),  Rafferty shared how he saw a sign in costuming one day that would lead him down a path that would become a career in Imagineering.
This path wasn't always easy for Rafferty. While he has worked on many attractions that are beloved by Disney guests, he had to jump some hurdles along the way as he pursued his dream. While pursuing this dream, he helped bring to life attractions like Toy Story Midway Mania!, The Twilight Zone Tower of Terror, Mickey & Minnie's Runaway Railway, and also Cars Land at Disney California Adventure.
As he reflected over the past 42 years, Rafferty shared some insights that he had gleaned from his career as he thought about what he would miss the most. Working with his friends and team members really is what he said he would miss the most. "'Dreams come true because teams come through.' We all learn from each other, and what one person lacks, another person picks up. The magic of Imagineering is that people figure things out. It's one thing to come up with an idea; it's another thing to deliver it."
"When I started, there were only two Disney parks in the world. It's really been my honor, my pleasure, and my joy to be around and watch the expansion of the magic that Walt Disney Imagineering has made," Rafferty said. "I've been there for all that. It's been an amazing ride."
DAPS MAGIC wishes Kevin Rafferty all the best in retirement! Thank you for all of the magic you have created over the last 42 years!