Hamilton, the hit Broadway musical that was both written and starred Lin-Manuel Miranda, is now streaming on Disney+. Since the first premier at the Public Theater in February 2015, it has been incredibly popular. This musical telling of the story of the American Founding Father Alexander Hamilton is described as "America then, as told by America now." Now all of America and the world can enjoy this musical  This presentation was filmed at the Richard Rodgers Theatre on Broadway in June of 2016.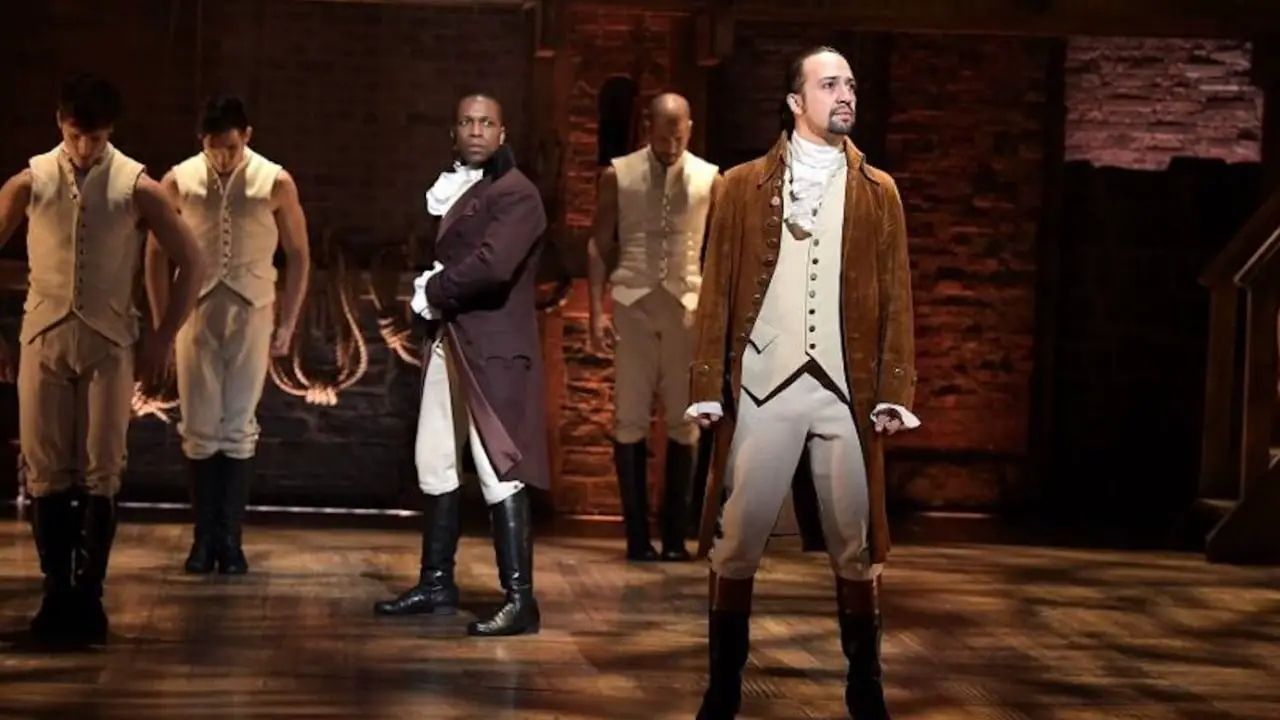 The Cast
The cast of Hamilton is a collection of stellar talent. Lin-Manuel Miranda not only stars in this show, but he also wrote it as well. The cast that surrounds him is all more than qualified to play the roles that they bring to life. Many of the cast have multiple roles they are playing. None of the cast is a weak link. Most theatergoers would be thrilled to have just one or two stars of this caliber in a Broadway show. Hamilton has a full cast of incredible talent, each of them getting their moments to shine.
The original Broadway cast of the show includes Lin-Manuel Miranda (Alexander Hamilton), Leslie Odom Jr. (Aaron Burr), Daveed Diggs (Marquis de Lafayette/Thomas Jefferson), Renée Elise Goldsberry (Angelica Schuyler), Jonathan Groff (King George), Christopher Jackson (George Washington), Jasmine Cephas Jones (Peggy Schuyler/Maria Reynolds), Okieriete Onaodowan (Hercules Mulligan/James Madison), Anthony Ramos (John Laurens/Philip Hamilton) and Phillipa Soo (Eliza Hamilton).
Lin-Manuel Miranda as Alexander Hamilton is something very special to see. It is clear the deep connection he has with the character that he has brought to life through this musical. While he may not have the most powerful or beautiful voice, he makes up for this with heart and enthusiasm. Watching Miranda bring Alexander Hamilton to life is nothing short of magical.
Phillipa Soo portrays Alexander Hamilton's wife Eliza in this film. Her voice is simply beautiful. Throughout the show, she brings to life the highs and lows that came with her life with Hamilton. When she is going through the happy parts of their life, her performance is charming and vibrant. During the tragic parts, her performance is heartbreaking. Throughout all of the show, her voice is absolutely incredible and shows a wide range of feelings while also showcasing the powerhouse that is her voice.
Daveed Diggs brings to life two roles in this show. For the first half of the show, he plays the Frenchman Marquis de Lafayette. The second half he returns as Thomas Jefferson. In both of these roles, Diggs brings a playfulness that accompanies a very enjoyable performance. His performance is solid vocally and also physically as he brings both of these characters to life. Many of the most humorous moments in the show are carried by Daveed Diggs.
Renée Elise Goldsberry as Angelica Schuyler is a powerhouse. Her performance is spot on. It is sharp, intelligent, flawless, and full of heart.
George Washington is brought to life quite capably by Christopher Jackson. His performance brings the gravitas of "The Father of His Country." He also brings pain, struggle, and passion to the role as he tries to lead the United States through the Revolution and then through the growing pains of what that brings. His performance has a gentle strength and maturity to it that is fitting for America's first president.
Jasmine Cephas Jones also pulls double duty with the roles of Peggy Schuyler and Maria Reynolds. Her performance for both roles is spot on and beautiful. For the first, she convincingly pulls off the younger sister of two more determined and daring older sisters. As Reynolds, she drops the lack of confidence of the younger sister and trades it for bold passion.
Okieriete Onaodowan has one of the most solid performances as both Hercules Mulligan and James Madison. His voice has a wonderful depth to it that exudes strength. In both roles, Onaodowan brings depth and strength to help move the story along as he supports the main characters and helps move them through the story.
John Laurens and Philip Hamilton are ably played by Anthony Ramos. In both roles, Ramos brings a youthful exuberance that brightens up the scenes he is in. As the younger Hamilton, this is also coupled with some heavier moments that he tackles with equal passion and contributes to one of the more emotional moments of the play.
Jonathan Groff as King George is one of the most humorous performances in Hamilton. It is a wonderful comedic combination of great lyrics, a great performance with subtle moments, and is completely enjoyable. Every time Groff made his way to stage there is sure to be a laugh. What could be a very underwhelming role in the wrong hands instead is one of the most hilarious.
It could be argued that Hamilton is really the story of Aaron Burr brought to life by Leslie Odem Jr. Odem's performance of Burr is absolutely incredible as it frames the narrative of Alexander Hamilton's life as it intertwines with his. This performance is packed with emotion that is combined with an absolutely beautiful voice. His performance brings to life the multitude of emotions that Aaron Burr experiences throughout the show. Lin-Manuel Miranda may play the lead in Hamilton but Leslie Odem Jr. is the standout star as Aaron Burr.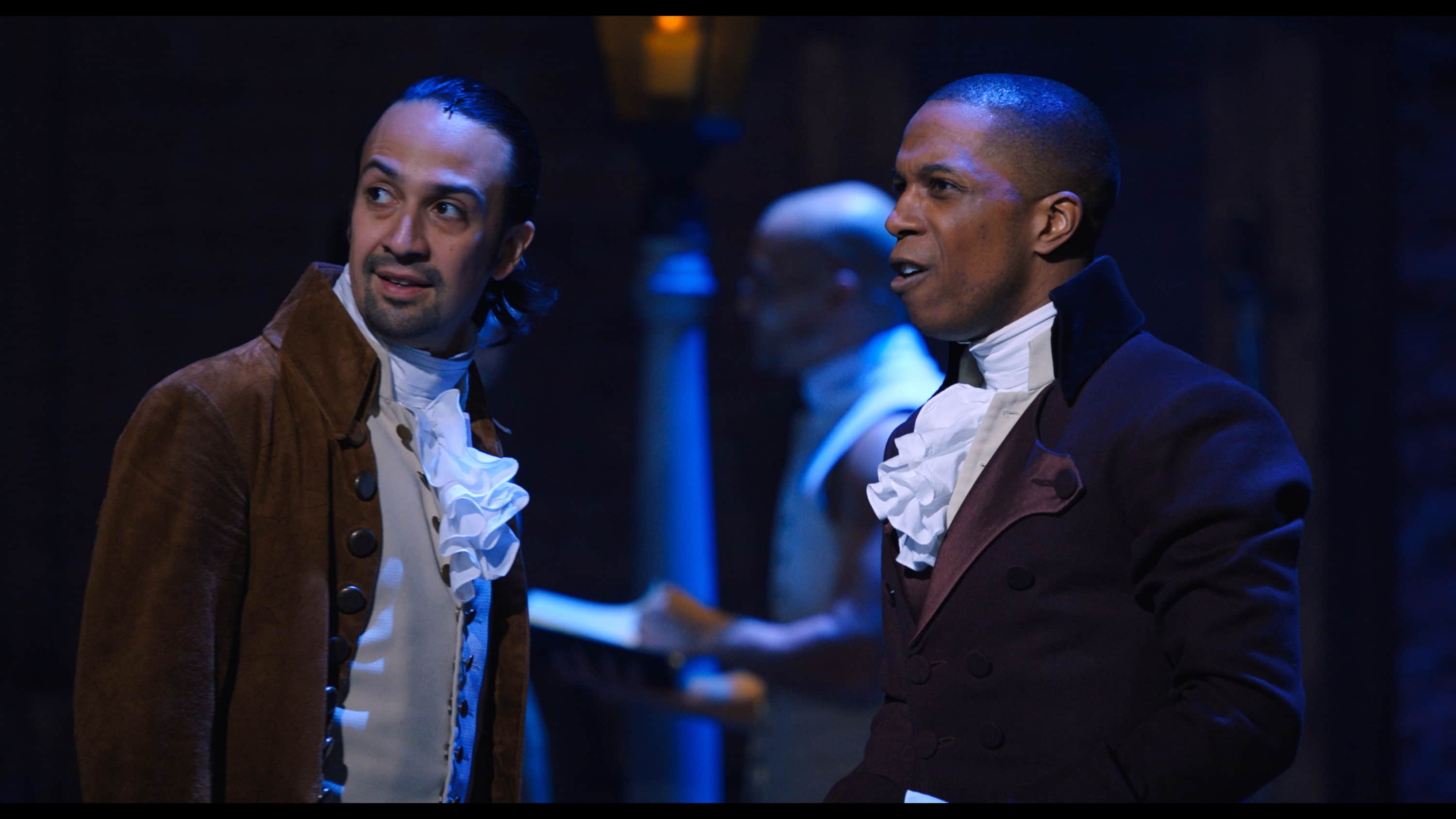 The Music
Hamilton the Broadway musical is basically nonstop music throughout the course of the entire show. It is a musical at its very core. What distinguishes it from other musicals though is the varied collection of musical styles found in it. It has a strong Hip Hop influence but also includes R&B, pop, soul, and even traditional-style show tunes. Anyone who has listened to the soundtrack most likely recognizes how much is going on and how much talent goes into bringing the music to life. There are some absolutely incredible musical moments in this show.
Incredible musical moments on a soundtrack are one thing but recreating those musical moments on a daily basis in a live scenario is another. Thankfully, in Hamilton, this is effectively done. The live performance is solid and strong. Perhaps the greatest compliment that can be given to this performance is that the musical performances never get in the way of the story being told. Instead, they help move it forward. The worse thing in a musical is when a musical moment distracts from the story that is being told. Watching the original cast bring Hamilton to life really is something that is very special. It really is a gift that this was captured and now shared with the world.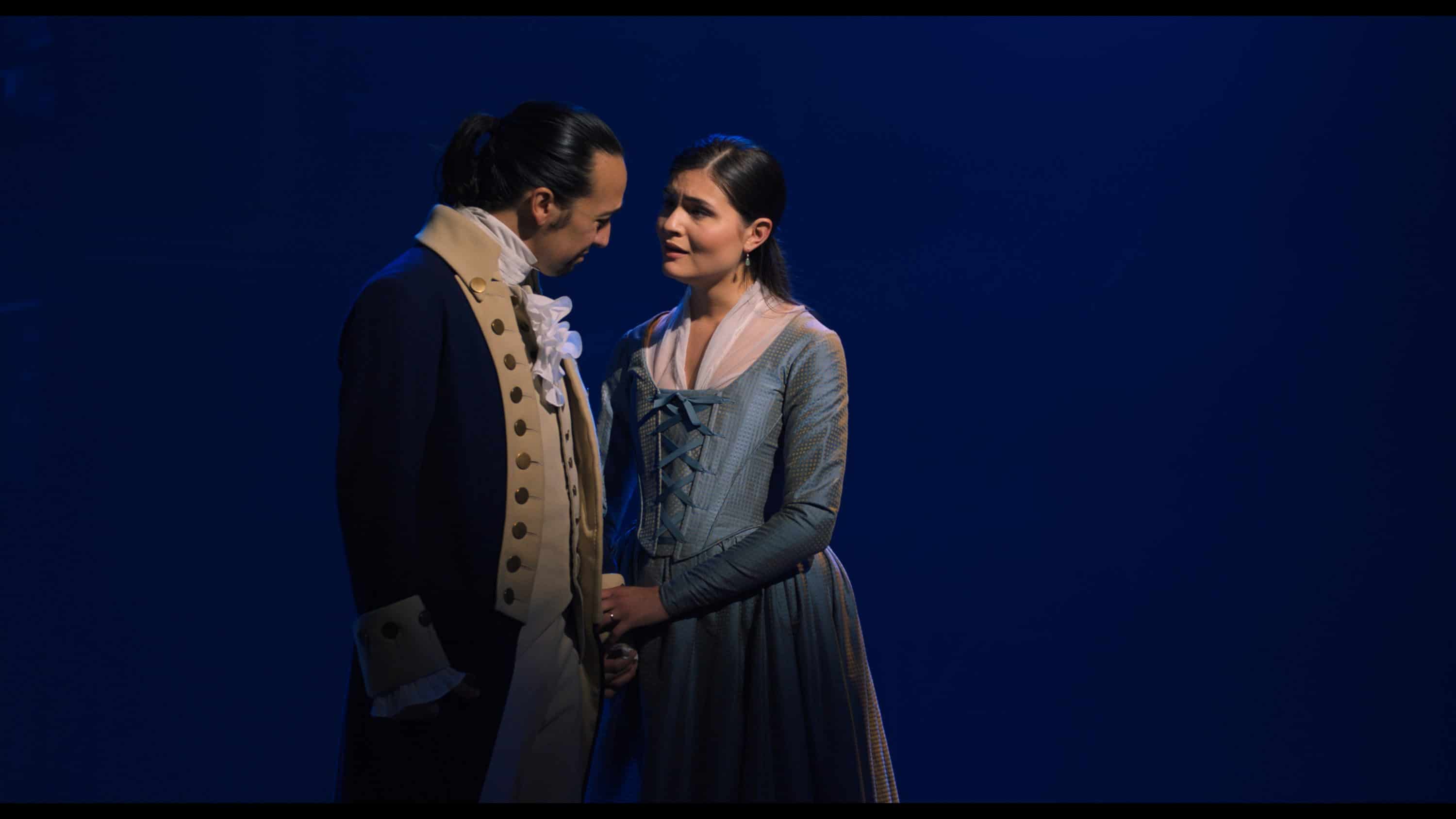 The Film
Through the years many different Broadway musicals have been filmed and then brought to screens with varying levels of effectiveness. Hamilton is one of the more effective ones. Part of the challenge with filming a live show like this is that there is so much going on throughout the show on different parts of the stage. It becomes a balance of trying to capture what is important to each individual scene while also give the bigger picture of what else is happening on stage. For the most part, Hamilton does a really good job of striking that balance between showing the scope of what is happening on stage and the brilliant moments happening on someone's, say, Leslie Odem Jr., face. And that is the real challenge. There are some really powerful moments on individual faces but the bigger picture is also important.
Another challenge with bringing a stage show to the screen is the lighting. For the most part, this works well throughout the show. There are moments that show that this is definitely a stage show and not lit specifically for filming. However, from a big picture of looking at how Hamilton was lit the show is captured quite masterfully. The lighting design definitely adds more to the show than it detracts and really is an important part of the storytelling. It helps bring the stage to life and believably creates different scenes and locations. It effectively directs the eye of the viewer, or the camera, where to go in a way that really is beautiful to look at.
The stage itself is a work of art. It is a fairly simple stage at first glance. However, two areas of the stage rotate like a roundtable throughout the show. This showcases what is happening in the story and also moves things along. There are also staircases, ropes, and props that are moved throughout the show that change scenes and settings without the use of large sets moving in and out of the scenes. Pretty much every inch of the stage is utilized throughout the show in a way that is both creative and effective. A lot of this works because of the skill of the aforementioned lighting design.
The audio capture for the filming of Hamilton really is impressive as well. Clearly great care was taken to get a clean recording of the performance through the course of the three-day shoot. Yes, there are moments where the audience is heard. However, the room noise that sometimes distracts from a show like this is never an issue. It creates a wonderful listening experience while watching the show.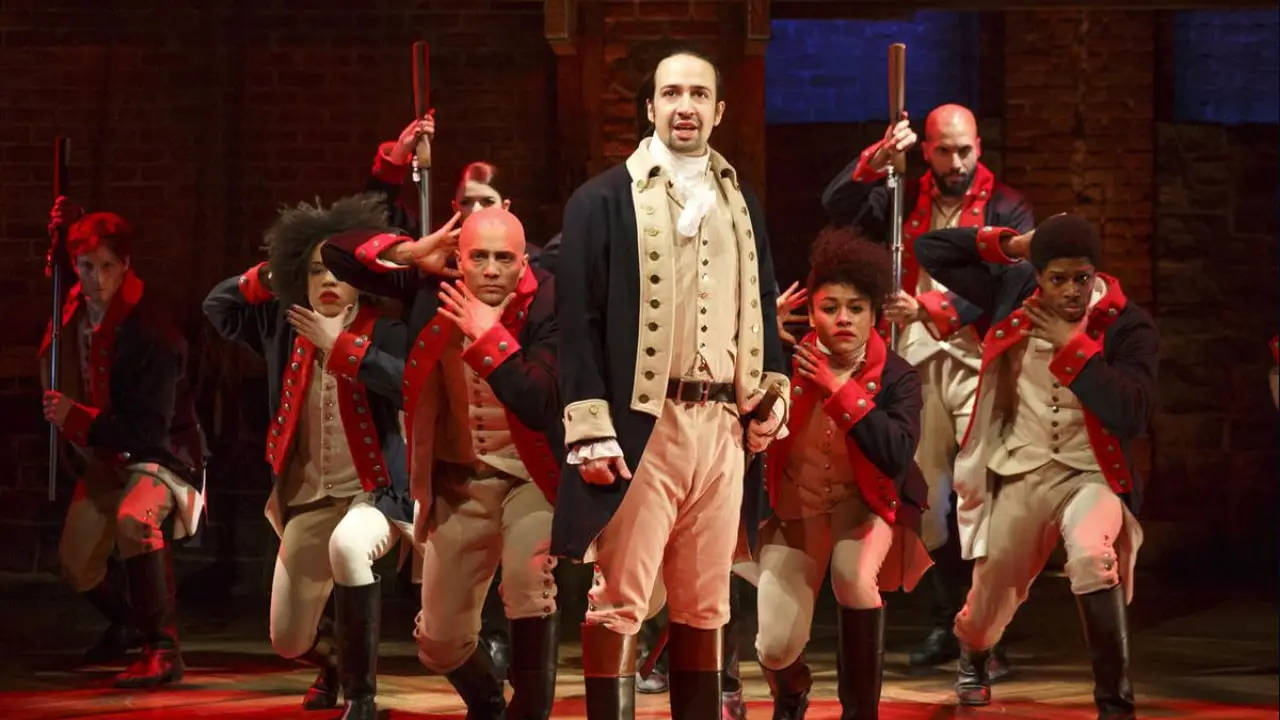 Final Thoughts
So much more could be written about Hamilton. From a historical perspective, this is a Broadway musical that takes poetic license to tell a story that is inspired by the Ron Chernow biography of Alexander Hamilton. It also appears to pull some from Chernow's biography on George Washington as well. With that in mind, this is a show that is meant to entertain and inspire and not be a history lecture. There are definitely some nods at historical moments. There are also some moments that are changed so that the story is more cohesive and entertaining. The result is an incredibly entertaining Broadway musical that has exposed millions of people to the story of Alexander Hamilton.
Hamilton is a wonderful starting point to start digging into the lives of America's Founding Fathers in a way that shows some of their strengths and weaknesses. It shows inspiring leaders who are very flawed in a way that is accessible to modern viewers. Not only does it expose viewers to history, but it also exposes people to musical theater. Both of these things are wonderful gifts that will hopefully inspire people to explore history and theater more moving forward.
The Hamilton experience is a very special thing that really is something that happens maybe once in a generation. It is a show full of heart that comes from the heart that Lin-Manuel Miranda brought to it when he created the show. He then surrounded himself with people of incredible talent and passion that has a magical effect. Hamilton is what happens when smart, passionate, and talented people partner up with more smart, passionate, and talented people. It is a wonderful show to watch and I easily can give it a hat tip. Head on over to Disney+ and see this performance with the original Broadway cast in the room where it happened.
Have you watched Hamilton on Disney+ yet? If so, what did you think? Share your thoughts in the comments below or with DAPS MAGIC on Facebook or Twitter!