A new puppet show is making its way to Disney+. This one won't be the Muppets though. Instead, it will be coming from the Jim Henson Co. Earth to Ned is a comedic talk show that will be a half-hour long when it arrives on the streaming service. In it, an alien named Ned will be hosting a late-night style talk show with his sidekick Cornelius.
The premise behind Earth to Ned is that Ned, a blue-skinned alien, and his lieutenant Cornelius, were sent to Earth as scouts ahead of an eventual invasion. However, upon their arrival, they became obsessed with pop culture. Now, the host the talk show from the bridge of their ship which is hidden deep underground. On their show, they interview celebrities as they are apparently Earth's most precious commodities. Together they will talk about Ned's current pop culture obsessions. The show will bring real-life celebrities from across the galaxy. With this, Ned hopes to produce the ultimate talk show and while doing it, become a celebrity in his own right. This, of course, gets Ned off track on his original scouting mission.
"Disney has a long history of giving audiences a glimpse at faraway lands and bringing new talent into the spotlight. We believe Ned is next in line," said Dan Silver, VP unscripted originals at Disney+. "We're lucky to have the talents of the Jim Henson Co. and the folks at Marwar Junction Productions helping Ned, Cornelius, BETI and the Clods to execute and fully realize their vision. And I'd be remiss if I didn't thank Ned for promising to entertain us, rather than destroy us all."
The Jim Henson Co. is producing Earth to Ned along with Marwar Junction Productions. Brian Henson (Jim Henson's son), Jim Henson Co. Chairman, and head of development and production Vince Raisa will be executive producers with Marwar's Joseph Freed and Allison Berkley.
The main puppet characters for the show are all being created by Jim Henson's Creature Shop. This includes Ned, Cornelius, their artificial intelligence BETI and the army of "Clods" (cloned living objects of destruction).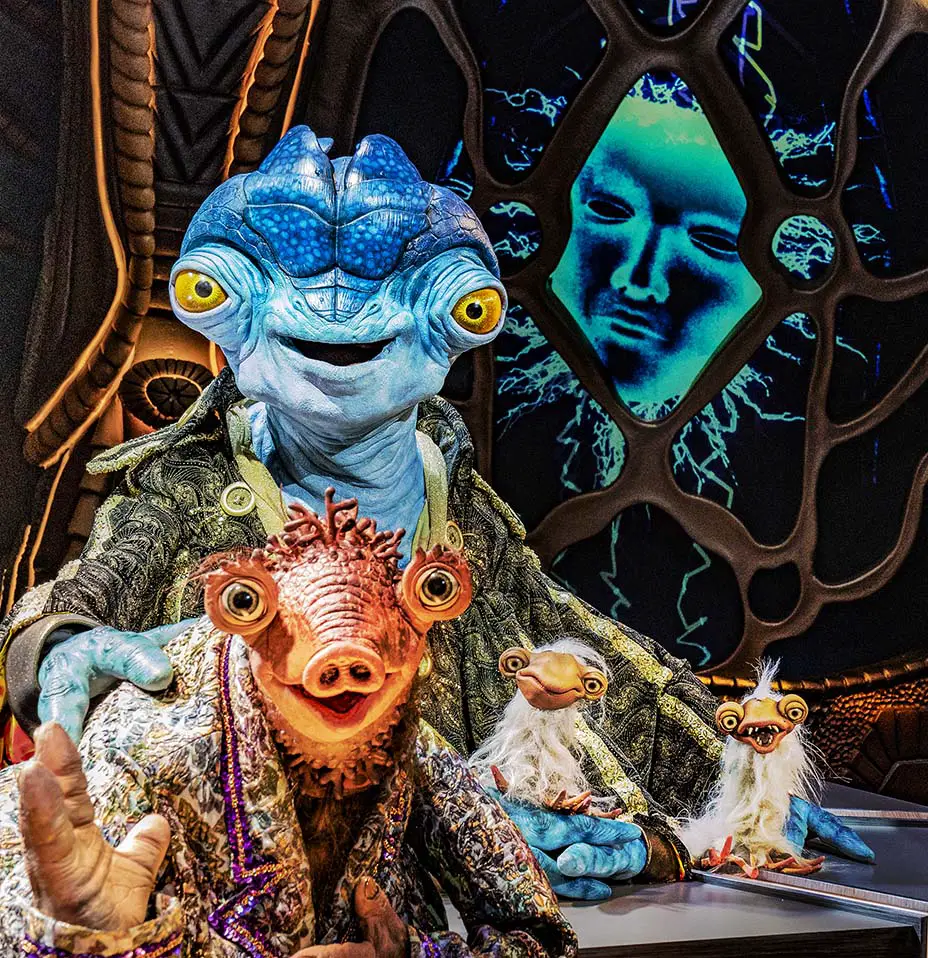 Disney+ will be arriving on screens in the United States starting on November 12. The Hollywood Reporter broke this story. What do you think about this new puppet series coming to Disney+? Do you think it will compete with Muppets Now? Both are having a central puppet/Muppet interacting with celebrities. It appears that Earth to Ned will be longer than Muppets Now. However, Muppets Now will also be centered around Kermit. Share your thoughts in the comments below!