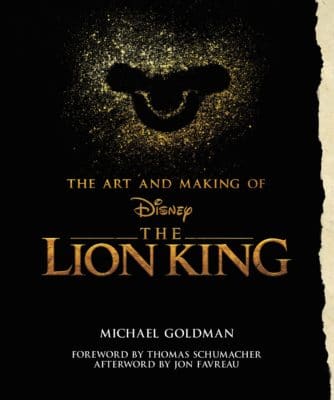 Jon Favreau and the Walt Disney Studios this summer re-imaged The Lion King and released it to the delight of a whole new generation of Disney fans. The Lion King was one of the biggest animated films of all time when it was originally released in 1994. Now the new CGI version that looks life-like is setting records as well. The Art and Making of The Lion King was provided to DAPS MAGIC to review.
In The Art and Making of The Lion King, Disney fans can get a behind the scenes look at what went into making this new version of the movie. This goes into how they created a lifelike look in a virtual world. This includes how the team went off to Kenya in Africa for research. There, they gathered photos, scans, and other things to help them recreate the world digitally. Back in the studio, they combined what they had gathered in Africa with modern filmmaking tools to make the movie that came out this summer. Music is also an incredibly important part of The Lion King and this is explored extensively as well. This book not only gives a look at how this was all done but also connects with the conservation program called the Lion Recovery Fund.
First off, The Art and Making of The Lion King is a simply beautiful book. There is concept art, musical scores, and so many other photos of different parts of the process. It is enjoyable just to look at. Then there is the content. It goes behind the scenes into what went into making The Lion King. The combination is almost more fun than watching the movie. It adds so much context and depth to various scenes in the movie, the characters, and also the songs.
There is a lot of information in this book. Reading through it once there is a lot to take in and a lot of trivia to walk away from. However, this is another book where it really is nice to have in an easily accessible place and then read it in doses. The way this book is organized, this is very easy to do. Fans of The Lion King will enjoy it as will Disney fans and amateur historians. This was a joy to read and review. It is an enjoyable book that I will be returning to in the future (yes, it is on my coffee table). Fans of the original and the new movie should check out this book. It won't disappoint!
<i>Daps Magic received a sample product or experience for this review in exchange for an honest review. The views of the reviewer are wholly their own. Read full disclosure policy at dapsmagic.com/disclosurepolicy.</i>