The Haunted Mansion is celebrating its 50th anniversary of opening.  This attraction is as popular now as it was when it opened.  But, when you have state of the art attractions younger right next door why is this such a long time favorite?
The Haunted Mansion Hype
Disneyland started making its ride popular 8 years before it opened.  The mansion was depicted on a map with future additions, which was New Orleans Square.  A dilapidated, spooky mansion was visible for many to see.  The mansion itself was built and finished just as New Orleans Square was, but still way before the opening of the attraction.  Marketing and even an in-park fun teaser advertisement for ghouls to take residence to let the public know something big was coming.  This was all way before the internet.  Disney fans were rabid back then as they are now, but without any solid information to know what would lurk inside.  Rumors and speculation abounded for all those years leading to the opening.  It is this stir that had many so eager to see the ghostly apparitions.  And the ride didn't let any of them down.  So much so that it inspired Imagineers that work today and created fans that still go back just to ride today.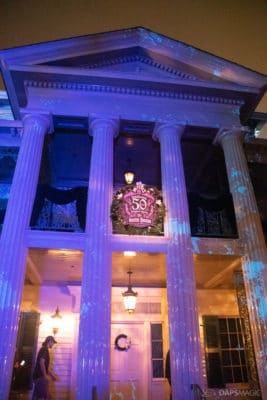 Room For a Thousand
There are actually elaborate stories throughout all of the Mansion.  Some pertain to the ghosts themselves and others are what could have been for the ride's plot, but now reside as visual cues.  Quite a few have names that have become infamous with the attraction.  Madame Leota is the most known, but Constance, Ezra, and Phineas are few others that are famous residents.  Having specific characters create a whole mythology around an already mysterious attraction.  Though there are stories and even a simple plot for the ride, having 999 happy haunts means that we try to piece together how everything fits.  Why these ghosts?  What do they want?  It's something that still haunts many riders enough to consider being the thousandth resident.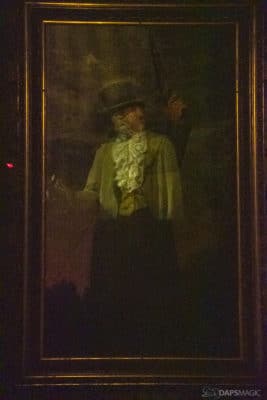 The Ethereal Seen and Heard
Haunted houses are known for having effects to bring frights to guests.  Haunted Mansion is no exception.  It's interesting that the main effects still astonish and baffle many guests today.  However, they are old theater effects that were used on stages well before the ride was thought up.  Ghosts appear not by hologram or projection but a very simple Pepper's Ghost effect using glass and lights.  Statue busts that follow you have much more to do with our own eyes than anything technically done.  These simple effects pull off huge illusions that guests still get a kick out of.
Then there's the song, Grim Grinning Ghosts.  It is a song that was written to take many forms within the Mansion.  It's a slow organ tune, a swinging graveyard party song, and sometimes a music box melody.  In Paris, it's a wedding waltz.  It's an identifiable song not just for the ride, but for all of Disneyland!  X Atencio was a genius at penning the song that gives both exposition and is catchy to carry itself all over.  It has taken on qualities of a ghost – it haunts you even after you leave the ride.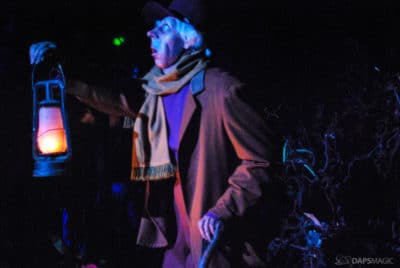 Around the World
The Haunted Mansion has proven itself to be such a success it has a version in almost every magic kingdom park.  Walt Disney World and Tokyo have similar versions to Disneyland's.  Yet, the amazing possibility of the ride is seen in them where variations from architecture to rooms have shown this has its own universe of imagination.  Paris took it to the next level at having a specific story that was recently enhanced with a refurbishment.  In Hong Kong, an entirely new version was created called Mystic Manor, which showed that it's possible to adapt the Mansion to various cultures.
From beckoning visitors before the doors opened to creating new worlds of entertainment the Haunted Mansion is a hugely successful attraction that shows no sign of slowing down in popularity.  So a very happy 50th anniversary, and here's to many more!