LAKE BUENA VISTA, Fla. June 24, 2019—Thirty Central Florida high schoolers, who double as teammates on a local FIRST Robotics team, were celebrated today during an exclusive early morning experience at Magic Kingdom Park.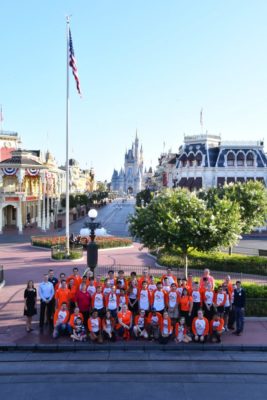 Together, the students and their leadership team—which includes several Walt Disney World Resort Disney VoluntEARS—spent an early morning in Tomorrowland prior to Magic Kingdom Park opening to guests for the day. The group enjoyed exclusive attraction access to Space Mountain, where they had the opportunity to speak with a group of Disney Engineers about the science behind the thrilling attraction.
"Bringing these students out to Tomorrowland, a land dedicated to celebrating innovation and looking ahead, was a way to share the direct impact STEM education has on Walt Disney World Resort, and showed these students how their passion can turn into magic for others," said Tajiana Ancora Brown, director of external affairs for Walt Disney World Resort.
The team, creatively named "Exploding Bacon," was recently honored with the Chairman's Award at the worldwide 2019 FIRST Championship, the most prestigious title awarded through FIRST for consistent demonstration, excellence, and impact within the FIRST and student's local communities.
"The FIRST Robotics program builds Florida's high tech workforce by empowering and enabling our youth to be innovative and creative in working together to build a better, more sustainable future for themselves and those around them," said DeAnn Davila, Chair of the Florida FIRST Robotics Foundation. "For Walt Disney World Resort to transform into a classroom for some of our students further demonstrates how closely-knit the STEM community is, and how, together, we can all work to encourage these young people to chase and achieve their dreams."
FIRST is a nonprofit organization advancing youth STEM (Science, Technology, Engineering and Mathematics) education that aims to inspire young people to be science and technology leaders and innovators by engaging them in exciting mentor-based programs that build skill and inspire innovation. Disney has supported FIRST for more than 20 years as part of its commitment to providing today's youth with inspiration and opportunity through transformative programming.