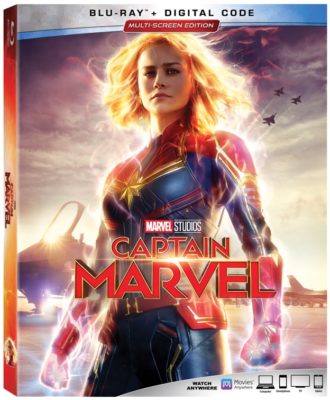 It's time to go higher, further, faster! In just a few short weeks, you'll be able to bring the power of Marvel Studio's Captain Marvel into your own home. The film will be available on digital on May 28 and will come to Blu-Ray collections on June 11. Spend your summer with one of the strongest heroes in the galaxy!
Not only will you be able to see the film like never before but you will get to see some exciting new featurettes!
Captain Marvel Featurettes:
See into the transformative journey of Brie Larson and her influence around the globe
Nick Fury's influence on the MCU
See the perfect pairing of directors Anna Boden & Ryan Fleck
The ongoing conflict between Skrulls and Kree
Purr-fect talent behind Goose on screen
Want more? You can also see six deleted scenes from Marvel Studio's Captain Marvel, director commentary, a gag reel loaded with funnies, flubs, and Flerkens, and never-before-seen concept art and production photography.
Viewers can bring home the film two weeks early on Digital 4K Ultra HD, HD and SD and gain access to two exclusive features, including a behind-the-scenes visit with the Visual Effects team that makes the filmmakers' visions of the MCU come to life and an inside look at the epic team effort that goes into an action-packed sequence within a Marvel Studios film. A physical copy of "Captain Marvel" is available as either a 4K Cinematic Universe Edition (4K UHD+Blu-ray+Digital Copy) or a Multi-Screen Edition (Blu-ray+Digital Copy), granting fans the flexibility to watch on devices of their choice
What do you think of the newest release coming to your home theater? Are you excited? Connect with us on Twitter and Facebook to let us know!