If you've been to any Disney Park recently, you know that "Instagram Walls" and "Selfie Spots" are one of the definitely trending topics out there right now! Of course, who wouldn't want to capture some great memories of the fun they've had at the Disneyland Resort and why not do it in front of something iconic and easily identifiable that clearly says "I was at the Disneyland Resort"? Thanks to Instagram, it's not too hard to see that the some of the most popular photo spots in the parks get plenty of attention on a daily basis, which got me to thinking – could I find some beautiful and iconic locations inside the Disneyland Resort that were still quintessentially Disney, but were more undiscovered gems? So I set out on a quest to find these locations that are a little less "Buzz Wall" and a little more "off the beaten path". My first stop was Disney California Adventure Park. I was on a mission to find some beautiful and mostly undiscovered photo locations to jazz up your memory books and Instagram accounts. As a professional photographer, I am always looking for ways to take whatever location I'm in and shape it in such a way that it becomes a beautiful background for a photo that enhances the story of the photo. Sometimes, all it takes is seeking out a new angle or a new perspective on old favorites in order to happen upon some beautiful photo spots. But once you read this article, you might see them trending shortly thereafter since they are so good.
For all you DAPS MAGIC readers, here are my Top 7 Yet-To-Be-Trending Photo Spots at DCA!
7. The Stage in Hollywood Land
I'm not sure if this space is currently being utilized during the day for any official Disney California Adventure entertainment offerings or just for guest performing groups, but previously it was home to the "Avengers Training Initiative" during the Summer of Heroes. But if you want to talk a super throwback, it used to be home to "Drawn to the Magic" – one of the best daytime shows at DCA that I wish still existed! I digress. The current overlay on the stage and the surrounding areas are great if you're celebrating a "super" day with all of your hero friends. Of course, I'm not suggesting you take photos ON the stage, because we all know that's a big "no-no". But the fun walls near it make for a great background that is a little out of the ordinary compared to the Avenger meet and greet locations located throughout Hollywood Land. Great colors and great texture for a unique and fun photo spot in Hollywood Land. While everyone is lined up by the "Up Wall" and the original "Blue Wall" you'll likely have the area near the Hollywood Land Stage all to yourself!
6. Lizzie's Radiator Springs Curios
For all the vintage-loving folks and those enchanted with wanderlust, the entrance to Lizzie's curio shop is the essential road trip stop! The combination of the gas pumps, old license plates, and neon signs make for a visually interesting and quintessentially Radiator Springs backdrop. Both the gas pump side of the building and the Route 66 signs side of the building really give you the feeling of being in Radiator Springs, without of course all the traffic that is backed up on Route 66. Because of all the different signs, the location certainly makes photos more interesting to look at.
5. Carthay Circle Restaurant and Lounge
Ever since the re-imagined Disney California Adventure Park opened with the beautifully themed Buena Vista Street, the Carthay Circle Restaurant has quickly become one of the most popular and beautiful iconic landmarks of the park. Modeled after the Carthay Circle Theatre, which was home to the premiere of "Snow White and the Seven Dwarfs", this building oozes old-timey elegance straight out of the golden age of Hollywood! Where most people opt for a photo that has the Carthay Circle marquee and entrance in the shot, I discovered that the corridor to the right of the entrance (when you're facing the entrance) is a dream location for some romantic portraits with your honey. This one might take a bit of time to plan out while you wait for your moment, but patience will definitely work to your advantage here. If you're celebrating an old-Hollywood themed day, or a special date night, or maybe even Dapper Day, this will be a perfect location that truly encapsulates the romance that coming to Hollywood had to offer in the 1920's and 1930's when Walt arrived from Marceline, MO with nothing more than a suitcase and a dream.
4. Red Car Trolley Flood Gates in Hollywood Land
As a former Cast Member, I'll be honest that this rising trend in using the floodgates around the Disneyland Resort as an Instagram backdrop is very strange for me – especially considering I had to spend countless hours explaining to guests that they were working gates and that they couldn't stand directly in front of the floodgates, because safety. Now, however, Disney is not only allowing guests to stand in front of the floodgates, they are encouraging it. Yes, I'm still puzzled by it, but since it's now approved and endorsed by the big cheese, I'll add my favorite "Wall of Disney". If you follow (or ride, duh) the Red Car Trolley all the way from Buena Vista Street to Hollywood Land, the Hollywood Land stop is picture perfect for your next Instagram post. This location has a couple of options, which is why it's one of my favorite hidden gems. You can take a picture just with the floodgates in the background with the beautiful Red Car Trolley postcard painted on them. Or you can wait until the Red Car Trolley is picking up passengers for a trip back to Buena Vista Street and get the trolley in the photo as well. The Red Car Trolley is another one of those Disney California Adventure Park icons that are worth taking a photo with.
3. Cadillac Range in Radiator Springs
For me personally, this is one of my favorite views of Radiator Springs. I love the clever nod to the Cadillac Ranch installation in Amarillo, TX. Although really, who am I kidding, I love almost everything about Radiator Springs and the fact that nearly everything was inspired by real people and places along Route 66. This particular location is just before the signs that remind you to "Mind Your Speed" and across from Flo's V8 Cafe outdoor seating. Most people like to capture their iconic Radiator Springs photos a little further on down the road. This location is a great view of the finish line of Radiator Springs Racers as well as Cadillac Range and plenty of the greenery. Because this location is off the main highway of Route 66, there is a little less traffic trying to turn into town. If you time it just right, you might actually catch some of the racers in your shot as well.
2. The Lamplight Lounge
Since opening this summer, the Lamplight Lounge has become an instant "fan favorite" dining location for park-goers. It also makes for a gorgeous photo backdrop! I love the gorgeous architecture of the building and when the lights come on, it's so whimsical and romantic!! I think the best location to snagging the Lamplight Lounge in the background is in-between the Incredicoaster launch and Señor Buzz Churros. You can either be outside of the awning or be under the awning to add some extra architectural elements to your photo. This spot is especially adorable if you're having a vintage-inspired dress up day at the Parks. Another great location to see the Lamplight Lounge is right between the entrance of the Pixar Pal-A-Round and Angry Dogs. You probably want to take the photo earlier in the day than when I did, but you can get all of the Lamplight Lounge in the photo and it's a pretty mellow part of the park.
1. Pixar Pal-A-Round (formerly Mickey's Fun Wheel) and Incredicoaster (formerly California Screamin')

Now, I know what you're probably thinking, "Krystyn, people already take a ZILLION photos with the Pier in the background. That's not even close to an undiscovered spot". True! But more often than not, people are looking to capture their Pier photos on the bridge over the Pacific Warf and that location is always swarming with people and getting a clear view can be near to impossible, especially on a peak day or prior to World of Color seating. Because it is such an iconic location in Disney California Adventure Park, I wanted to find a way to still incorporate the iconic elements like the Fun Wheel (oops, Pixar Pal-A-Round), while also making the location a little less cluttered with tons of people trying to take the exact same photo. There are two locations that I absolutely adore for a Pal-A-Round and Incredicoaster background that still include all of the iconic Paradise (I mean Pixar) Pier elements.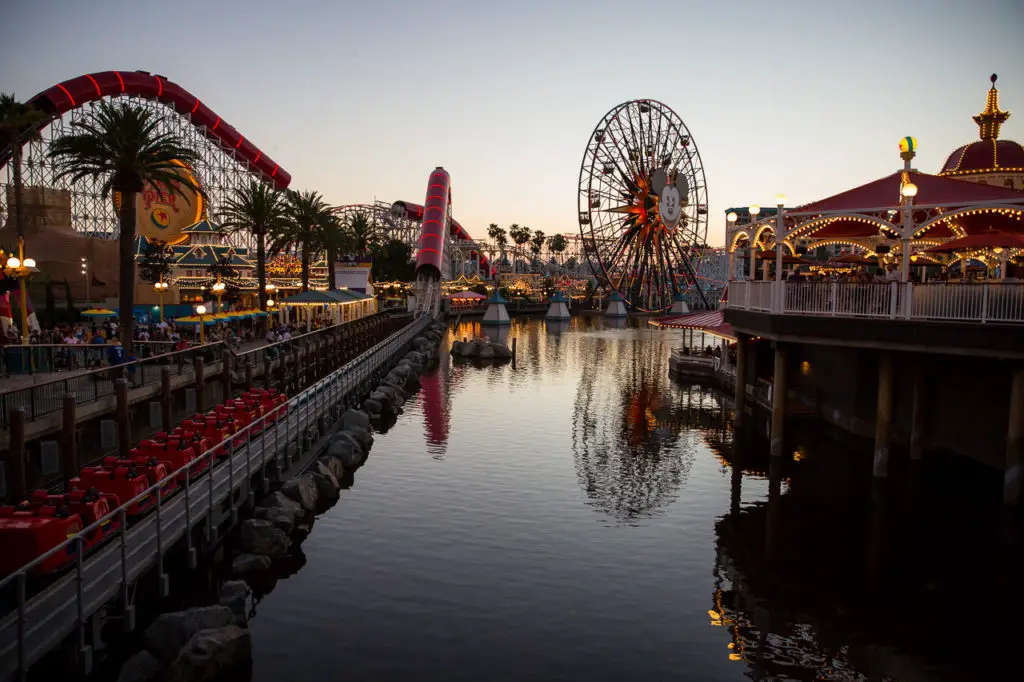 The first is just across from the Adorable Snowman Frosted Treats quick service dining location. Here you can see the Incredicoaster, the Lamplight Lounge, AND Pixar Pal-A-Round all in one photo. And depending on the time of day, you can also get a pretty decent sunset view in there. More often than not, I see people just meandering into the Adorable Snowman line for a tasty treat or down to the Incredicoaster. They don't spend too much time stopped on that part of the bridge, which makes it a perfect location for an iconic and Instagram-worthy Disney California Adventure Photo, without having to wait long for people to move out of your frame.
The second Pixar Pier icon shot location is just across from the Hollywood Bowl-looking portion of "The Little Mermaid ~ Ariel's Undersea Adventure". I don't know the official name of that portion of the show building for Ariel's attraction, but it definitely reminds me of the Hollywood Bowl. For this photo spot, you don't want to go down toward the water. Instead, stay near the entrance of the World of Color seating in that area. By pulling yourself a little further from the water's edge, the other guests having their own "Incredible" adventures become less distracting in your photo. You may have to wait a moment or two before taking the photo if people are passing by, but it is also usually one of those more mellow areas in the park. You'll obviously want to snag this photo before World of Color viewers start lining up, but it's another great location to get all of your iconic Pier icons in the background.
Krystyn Slack is a long time friend of Mr. DAPs and professional photography. She is the first woman to cover an entire season of professionally sanctioned motocross in the United States. She has a wide range of photography and subjects she has taken through the years. Visit her website at: krystynslackphotography.com
Thank you for your guest post, Krystyn! – Mr. DAPs