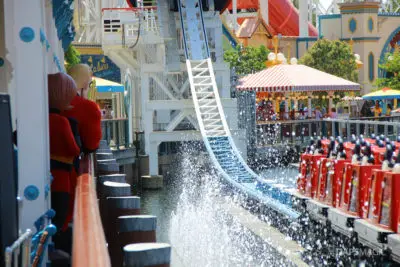 Today Pixar Pier opened to the public. As guests streamed into the new area of Disney California Adventure, it quickly became apparent that this is going to be a popular place to be. Pixar Pier's four developing neighborhoods are a perfect place to meet Pixar friends and experience some of their stories. This week the DAPS MAGIC team was on hand for the media preview, premiere party, and opening of Pixar Pier. On top of the Pixar Pier opening, a new Incredibles float has been added to Disney's Paint the Night Parade! All this to say, it's a good time to be a Pixar fan at the Disneyland Resort. These new releases are just the start as more will be added to Pixar Pier in 2019 and beyond!
There is a LOT to experience at Pixar Pier when you visit so here is a comprehensive look at all there is to do and see!
Attractions
There are two main attractions currently at Pixar Pier. The Incredicoaster brings guests into the story of Incredibles 2 as they zoom around Pixar Pier. This is an action-packed attraction with fun moments, views, and thrills! Right down the promenade, Pixar Pal-A-Round gives another type of Pixar experience. Hosted by Dory, this attraction gives guests a chance to go up and over Pixar Pier and Disney California Adventure. One option is a very tradition Ferris wheel, the other is a bit more exciting with swinging gondolas. Midway Mania is still on hand for guests to enjoy testing their targeting skills through various Toy Story themed games. You can read more about each of these new attractions and see videos here:
Food
There are quite a few different options for food at Pixar Pier. The premier option is the Lamplight Lounge. This has some fantastic offerings that are absolutely delicious. There are some out of the box drinks that are also a lot of fun to try out. Everyone on the DAPS MAGIC team that has experienced the Lamplight Lounge has absolutely loved it. There are some other options around Pixar Pier to get food as well. The Adorable Snowman Frosted Treats has a lot of frozen options that are quite refreshing. Jack-Jack Cookie Num Nums has some absolutely fantastic cookies, especially the main Jack-Jack Cookie Num Nums. This MUST be tried. The chicken at the Poultry Palace was delicious. Corn on the cob and turkey legs can also be purchased there. There are specialized churros at Señor Buzz Churros and special hot dogs at Angry Dogs. The DAPS MAGIC team tasted pretty much everything and reviewed it all so you can know what our favorites are. Check out our food reviews and videos here:
Entertainment
The entertainment in and around Pixar Pier is a lot of fun. Pixar characters are on hand to take photos with. The Pixarmonic Orchestra is playing throughout the day. There are also games to play themed to Pixar stories. At night, Disney's Paint the Night Parade is even more fun with the addition of the Incredibles float. Beyond Pixar Pier, both Pixar Play Parade and also the Together Forever fireworks celebrate the opening of Pixar Pier and this summer's Pixar Fest!
Atmosphere
The atmosphere for Pixar Pier is very relaxing, positive, and downright enjoyable. Pixar music fills the air. The architecture and paint schemes make for an experience that just feels right for something called Pixar Pier. Add to that some fantastic foods and experiences (especially the Incredicoaster), it's a wonderful addition to the Disneyland Resort! It is a wonderful place for Pixar friends to come together to meet with guests. While there are still additions on the way next year for the area, it does finally feel like the entire area around the bay is cohesive. It is beautiful both during the day and also at the night. I, for one, looking forward to many frequent visits there in the future!
Daps Magic received a sample product or experience for this review in exchange for an honest review. The views of the reviewer are wholly their own. Read full disclosure policy here.