Pixar Pier's Incredicoaster brings the Incredibles to Disney California Adventure.  It has actually been a long time coming.  Ever since the first Incredibles film, fans have been wanting an attraction with the superhero family.  Even though it's an update of an existing attraction, it does feel like a fresh start for the super-powered characters.
Incredibles Neighborhood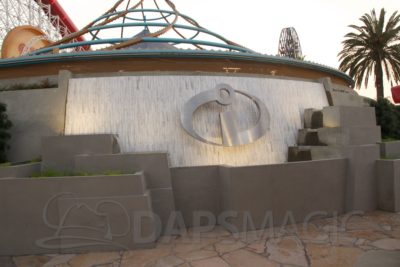 From the "neighborhood" it feels fresh and new.  An archway greets you as you approach the coaster.  To the right is a wonderful sculptured wall with the Incredibles insignia.  At night it's especially a good photo op.
At the entrance of the attraction, there is a definite retro feel to the area and the ride.  The wait time and FastPass clock have a modern look to fit other attraction looks.  From there the queue has various bios of characters as you wind through.
Catching Jack-Jack
Once on the ride, it gets you right into a plot.  Edna Mode is supposed to watch Jack-Jack, but he immediately disappears and the family is trying to retrieve him.  As you wind through the tunnels and dips each member of the family gets a chance at catching Jack-Jack.  Great light effects help enlighten the moments.  One such effect is towards the end with Jack-Jack lighting himself on fire and Violet creating a force field to control him.
Is It Incredible?
California Screamin' was one of my favorite rides at the park, maybe my favorite roller coaster of all time.  So, does Incredicoaster live up to that?
It is the same track and coaster cars.  So, yes.  But, having a fun plot and added effects makes this an incredible ride!  I love the music and new light effects!
There are some wonderful gags that enhance the plot and ride.  One is where Jack-Jack multiplies himself.  It caught me by surprise in a delightful way.  The other tongue-in-cheek humor is in the queue where actual brand new animation on tv screens explains that this is a roller coaster that was named after the family, and makes light of that it was a once existing coaster that suddenly bears their name.  I like that humor for this ride.  The only complaint I have is that I wish there were more music and a little less dialogue.  But, that's about it.
The Incredicoaster opens June 23 with the rest of Pixar Pier, and it's worth the wait and the ride!
Daps Magic received a sample product or experience for this review in exchange for an honest review. The views of the reviewer are wholly their own. Read full disclosure policy here.